Camp Bow Wow Delaware North's PARTNERS
Community Partners
Check out our community partners to learn more about the organizations and businesses that we work with.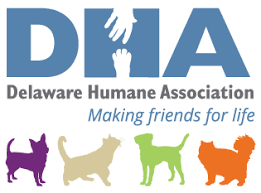 Delaware Humane Association
https://www.facebook.com/delawarehumane/ & http://delawarehumane.org/
Founded in 1957, Delaware Humane Association (DHA) is Delaware's premier nonprofit no-kill animal care and adoption center, serving a four-state area. We are committed to providing for the needs of homeless and owned dogs and cats in our community. We rely on volunteers and donations to complete our mission and provide quality services to the community, including pet adoptions, affordable spay and neuter surgery, low-cost vaccination / microchipping clinics, a pet food pantry, and more.
Mission: We make "friends for life" by connecting people with animals, and by building strong relationships to better serve our community.
Vision: We envision a day when every animal is loved, has a home and has a "friend for life."