Delaware North

Overnight Dog Boarding Services
Enjoy Peace of Mind While You're on the Go
At Camp Bow Wow Delaware North, a premier dog boarding facility, Overnight Campers enjoy all-day play and are tucked away each night in their individual Cabins where they sleep on cozy cots with fleece blankets. As the sun sets, each Camper unwinds by enjoying a delicious Campfire TreatTM.
Safety is Our Top Priority
We're proud to be recognized for our incredibly high safety standards as well as for our:
Certified Camp Counselors® who are extensively trained in dog behavior, CPR, and pet first aid
Assurance that all our Campers have passed the Camper Interview, are spayed or neutered, and are current on vaccinations. Learn about our Bordetella policy.
Live webcams that let you monitor your pup from your computer or mobile device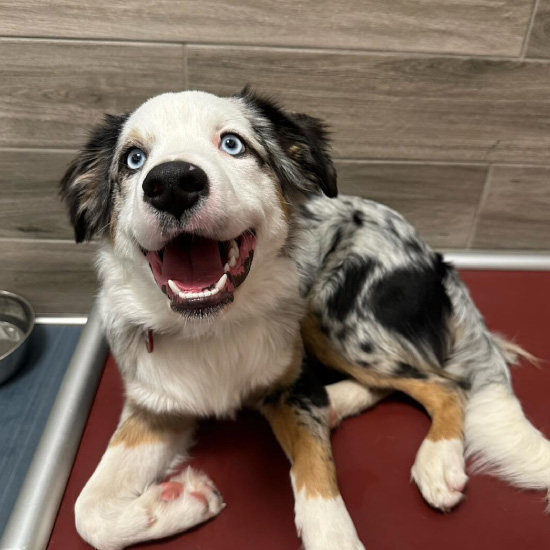 A Paw above the Rest
Your dog is your family – at Camp Bow Wow Delaware North, we understand that. As dog lovers ourselves, we take your pup's care very seriously. That's why we think of ourselves as so much more than just a dog boarding service. We are here to provide love and support for your furry family member while you are away—filling that gap as best we can until your return.
Our Enrichment Model
Dogs need physical, mental and emotional stimulation in order to live a happy and healthy life. While your pup is at Camp, they'll experience all-day play that emphasizes enrichment. Daily sensory stimulation during group play improves the physical and mental well-being of Campers by:
Stimulating natural instincts
Providing a mental workout in addition to physical exercise
Creating a well-rounded experience
Trust our dog boarding services for your next getaway! Make a Reservation
We'll do everything we can to ensure your dog is happy and healthy during Overnight Camp and you can feel confident knowing your dog will be well-cared for during their stay in our safe and secure environment.
Each Camper is required to
Pass a (free) socialization interview and spend at least one more 1/2 day before an overnight stay.
Be spayed or neutered if over 7 months old.
Be current on rabies, distemper and bordetella vaccinations. If the bordetella vaccination has never been given or has expired a waiting period is needed so dogs can build immunity before coming to Camp. The waiting periods are:

one-week period after receiving the injectable or oral vaccination
48-hours is required after receiving the intranasal vaccination
We strongly recommend Campers get bordetella boosters every 6 months no matter what type of administration their vet uses. This gives Campers added immunity and has been shown to reduce symptom severity if exposed. Staff dogs that come to Camp are required to follow this 6 month booster policy.

Strongly consider the Canine Influenza Vaccine. Canine Influenza is serious and can make dogs very ill. Please consult with your vet and/or visit the American Veterinary Medical Association CIV FAQ site.
Be on a monthly flea and tick medication. Oral or topical types are preferred; flea/tick collars are not allowed at Camp because they cannot be removed quickly in case of emergency. If you use a flea/tick collar it will be kept with your dog's leash while the dog is at Camp.
Come into camp wearing a quick release collar (pinch to open) and a name tag - these are required for safety. We sell quick release collars and name tags at low prices for owner convenience. If a Camper comes in without both of these and owner does not purchase them at drop off, we will select a collar ($8 or less) and/or make a name tag for $10 and charge the owner.
Be owned at least 10 days by the person bringing them to Camp. We want the best for each dog. Dogs must feel loved and settled into their new homes. Transitions are very disruptive for dogs and we don't want Camp to be overwhelming. We offer in-home pet care and dog walking to help you care for your new dog until they may come to Camp.
We require a FREE interview day and at least one additional 1/2 day (not free) prior to boarding. These two days REALLY help dogs become comfortable at Camp. We want every Camper to enjoy their stay with us and these two adjustment times help tremendously. Owners may use one of the discounted days in the warm-up package for the additional day.
Dogs need to be dropped off 3 hours before close so they can play a bit and we can get the Cabin and meals all set up for them.
Not come to Camp if coughing. We do all we can to prevent coughs and all other transmittable canine situations. If your dog has a cough, please do not bring the dog to Camp for at least 14 days after the dog stops coughing. Dogs can shed viruses after the symptoms end and we want to do all we can to stop the spread. Thank you for your cooperation and please let us know if you think you dog could have been exposed at Camp. We do track illnesses so we can take appropriate steps.
HOLIDAY WEEKS
We offer Day Camping all days except for 6 major holidays. Major holidays are: New Year's Day, Easter, Memorial Day, July 4th, Thanksgiving and Christmas Day. On these days we will be open 7:30-10:30 am and 3:30-6:15pm for boarder drop off and pick up only.
We typically operate weekend hours (7:30 am to 6:15 pm) on other holidays like President's Day, some dates near 7/4, Labor Day and others. We will have signs at Camp before these weekends and post updates.
Due to the number of overnight Campers near major holidays, we are no longer able to offer 1/2-day day care on:

Good Friday - Easter Sunday
July 2nd-5th
The day before Thanksgiving through the following Sunday
Christmas Eve through the day after Christmas
We will close one hour early (6:45pm) on the Wednesday before Thanksgiving, Christmas Eve and New Year's Eve.