Delaware North

Dog Training
Creating Healthy, Happy Dog-to-Parent Relationships Using Reward-Based Methods
Camp Bow Wow Delaware North's dog training services are designed to forge a healthy bond between you and your pup. Our premier dog training services offer variety, flexibility, and can cater to your dog's specific needs. Our goal is to help you and your pup establish clear communication and enjoy working together. We believe training is a life-long process and should be both fun and challenging.
The training we offer is based on scientifically proven methodology and aligns with the American Veterinary Medical Association (AVMA), the American Society for Prevention of Cruelty to Animals (ASPCA®), the Certification Council for Professional Dog Trainers (CCPDT), the International Association of Animal Behavior Consultants (IAABC), and other established animal welfare organizations.
One of our Camp Bow Wow Certified Trainers will work to design a program that meets your needs and your schedule. Contact Camp Bow Wow at (302) 738-2267 to schedule a session!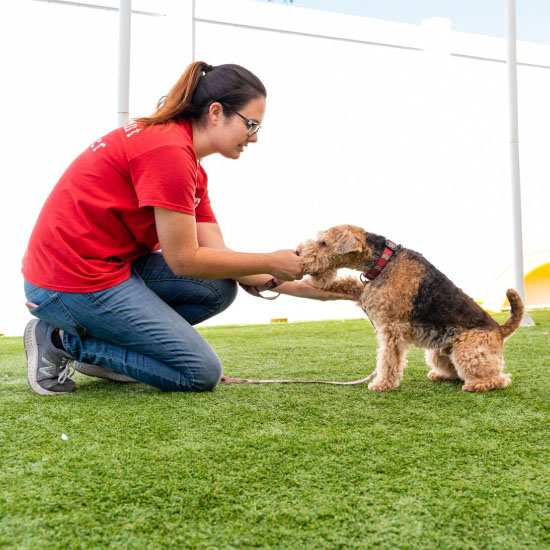 Training Program & Services
Regardless of age or experience, all dogs can benefit from learning. Whether your pup is starting out with the basics, you want to brush up on previously learned skills, or you're ready to up the challenge with your pup, our training services can accommodate your needs.
Training Your Dog Helps:
Build a stronger bond between your dog and your family
Channel energy into appropriate tasks and behavior
Create consistent communication between you and your dog
Maintain a sharp mind and problem-solving ability
Improve behavior in new environments
Owners of adult dogs trained at Camp Bow Wow must provide proof of current vaccinations:
Rabies
Distemper
Bordetella vaccinations. If the Bordetella vaccination has never been given or has expired a waiting period is needed so dogs can build immunity before coming to Camp. The waiting periods are:

one-week period after receiving the injectable or oral vaccination
48-hours is required after receiving the intranasal vaccination
We strongly recommend Campers get Bordetella boosters every 6 months no matter what type of administration their vet uses. This gives Campers added immunity and has been shown to reduce symptom severity if exposed. Staff dogs that come to Camp are required to follow this 6 month booster policy.

We also STRONGLY RECOMMEND THE CANINE INFLUENZA VACCINE. Please ask your vet about this important vaccination of get it at our monthly vaccination clinics for $30/dose.
Our dog training obedience classes are split into levels to help you and your dog learn at a progressive pace. Our classes will help you create the well-behaved dog you have always dreamed about using only reward-based training methods.
Group class fees are due at time of registration.
We will refund 75% if owner cancels at least 5 days before the class is to begin.
Since it is hard to fill spots that become open close to class start dates, we cannot offer refunds within 5 days of a class start date.
Level I – Basic Puppy or Basic Adult
Builds the foundation of reliable commands like sit, down, leave it, come when called, and leash walking.
Level II – Advanced Dog Obedience Training
Learn how to get your dog to heel by your side, go to their mat, and add distance plus distractions to all their behaviors.
Level III – Public Polishing CGC
This level teaches your dog to sit when you greet a stranger, heel in a crowd, and more. They will now be prepared for the Canine Good Citizen (CGC) exam.
Tricks are Fun
Our tricks class is great for teaching your dog some fun stuff you can show off to your friends, and your dog will love it, too! Teach them to spin and twirl, crawl, bow, shake and more. This is also a great class for kids to interact with their pup in a fun way.
​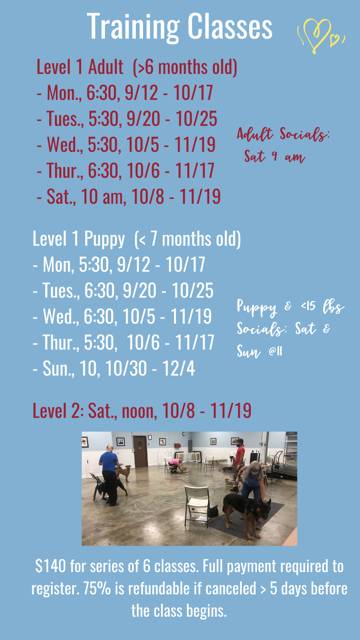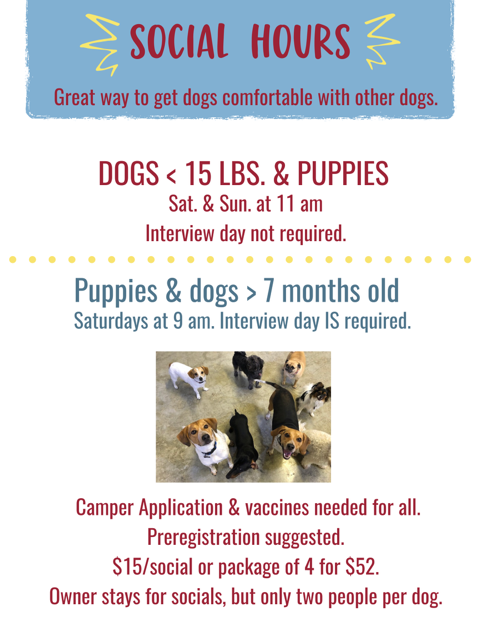 AGILITY AND TRICKS FUN - Our training staff offers three 10-minute Agility and Tricks sessions mid-day, Monday – Friday.
All days except Jump circuit days include two types of Agility fun. We have Four types of jumps, Weave poles, Tunnel, Pause Table and a seesaw. Calendars for tricks are posted on website (link below), in newsletters and in the lobby.​​​​​​
Owners may also choose to have the trainers work on any trick! These may include: Roll over, Leave It, Spin, Shake, Crawl, Back-up, Bow and more!
Owners may select 1 to 3 activities. 10 min./activity.
$10 per 10-min. or Package of 10 10-min. sessions for $90.*
$30 per 30-min. session or Package of Five 30-min. sessions for $135.*
Pricing does not include daycare or boarding. For Play and Trains and Agility and Tricks, Campers must be at Camp mid-day (10 am to 2pm) to participate. Dogs cannot be dropped off just for these activities.
PLAY & TRAIN AT CAMP
Let our Certified Dog Trainers work with your dog on the things you specify while they are at Camp. Our trainers will spend 30-minutes of one-on-one time with your Camper mid-day on weekdays and send you emails after each session! All you need to do is fill out the Play and Train Check In sheet and let us know you are planning on requesting this service. You may talk with a trainer to get started if you like. $30 per 30-min. session or Package of Five 30-min. sessions for $135*.
PRIVATE DOG TRAINING & BEHAVIOR MODIFICATION
Our Certified Dog Trainers will work one-on-one with you and your dog at Camp and in homes/neighborhoods. Like Play and Trains, owners and trainers agree on the priorities for these sessions. Skill examples and pricing are shown below.
A completed Camper Application is required prior to consultation and sessions. For In-Camp sessions, dogs must be current on bordetella, distemper and rabies vaccinations. For at home sessions, dogs must be current on the rabies vaccination. There are no spay/neuter requirements for training services. Please use the Make a Reservation button below to request a consultation.
Appointments are required for private dog training. Please let us know in advance if you must reschedule an appointment. If an appointment is not cancelled by noon on the preceding day, a $50 deposit will be needed for the next reservation. The deposit will be applied to the service if the service is done and not rescheduled a second time. If the service is not done on the rescheduled date/time, the deposit will be forfeited.
PUPPY AND ADULT SOCIALS
Fun time for dogs (and owners) to get to know others in smaller groups. All dogs must have Bordetella and age appropriate vaccinations.
The small dog and puppy group is for dogs under 15 lbs. and puppies under a year. Dogs in these sessions do not need to have an interview prior to participating. Saturdays and Sundays at 11 am.
Adult groups are for all dogs over 7 months although we do allow adults < 15 lbs. to join the puppy social group. We recognize the overlap, but some dogs 7-12 months do better with puppies and some with older dogs. Dogs in this group must have had a Camp interview. Saturdays at 9 am.
Preregistration is recommended (please email campbowwow@comcast.net) and no more than two people may come with each dog.
Sessions are supervised by our training team. $15/session or a package of 4 sessions for $13/session.
Call us today (302-738-2267) to talk to our Certified Dog Trainer and see how we can best help you with your training needs.
Who's a good dog? Yours can be! Make a Reservation