Delaware North

Dog Grooming
Come Back to a Clean, Happy Pup
What's better than picking up a happy dog from Camp? Picking up a clean and happy dog from Camp! Camp Bow Wow® is happy to provide nail trimming and bathing services that will leave your pup looking and smelling their best. Bathing them on your own is often time-consuming, exhausting, messy, and stressful for both you and your four-legged family member. Rather than trying to do the job yourself after a long, tiring day, why not let us take care of it during your dog's stay?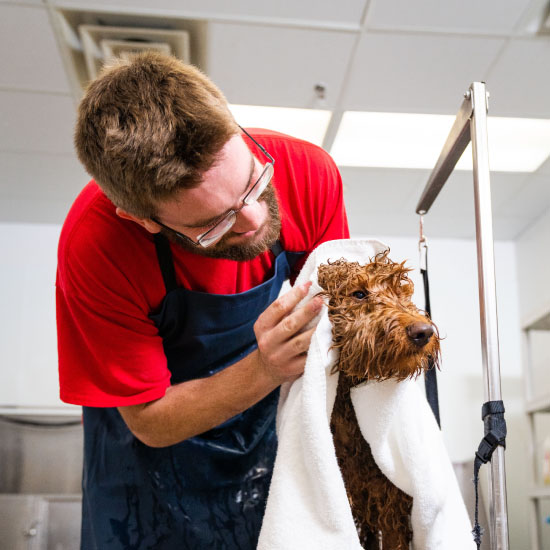 With dog grooming areas specially designed for your pup's comfort, Camp Bow Wow can take this off your to-do list. By adding a bath to your pup's stay, you can cuddle with a squeaky-clean pup when you get home.
Contact us at (302) 738-2267 to learn more about our dog grooming services.
Grooming dogs with completed sheets should be dropped off 8 - 8:30 am or 11:30 am - noon. Owners may request an earlier or later time block when making a reservation. We will let you know estimated pick-up time at drop-off. Pick-up times will vary depending on arrival times and sizes and coats of dogs on schedule that day. Groomer will text you 1/2 hour before your dog is to be picked up.
If you have not already done so, please fill out a grooming waiver. Please click link, download it, print it, fill it out and email it to us (campbowwow@comcast.net) or bring it with you.
Please fill out a grooming instruction form. Please click link, download it, print it, fill it out and bring it with you.
Please let us know in advance if you must reschedule a Full Grooming appointment. If an appointment is a 'no show' or not cancelled or rescheduled by noon on the day preceding the appointment, a $50 deposit will be required for the next appointment. If a rescheduled appointment is a 'no show' or not cancelled or rescheduled by noon on the preceding day, the $50 deposit will be forfeited and a 100% deposit will be required for the next appointment.
Grooming Requirements
Owners of dogs coming in for grooming are responsible for providing proof of current vaccinations:

Rabies
Distemper
Bordetella vaccinations. If the bordetella vaccination has never been given or has expired a waiting period is needed so dogs can build immunity before coming to Camp. The waiting periods are:

one-week period after receiving the injectable or oral vaccination
48-hours is required after receiving the intranasal vaccination
We strongly recommend Campers get bordetella boosters every 6 months no matter what type of administration their vet uses. This gives Campers added immunity and has been shown to reduce symptom severity if exposed. Staff dogs that come to Camp are required to follow this 6 month booster policy.

Services include: Bath, brush, blow-dry, nails, ears, tooth brushing, minor dematting* and professional trim.

*If dematting takes longer than 10 minutes, additional charges will apply. Our dematting charges are $10/10-minutes if a dog is moderately matted and it takes extra time to remove them.
If a dog is heavily matted, he/she may need to be shaved because removing mats can be very uncomfortable. We know comfort is important to all of us. Owners will be given an estimate prior to starting if extra time is needed or shaving is recommended.
Poodle and poodle mix coats take significantly longer. The dense, curly coats must be treated carefully and gentleness is needed for dog comfort. We want to take time and give dogs breaks when needed. Dematting charges may also apply; if so, owners will be contacted for pre-approval.