We're happy to say — there's no one thing that sets us apart. We became the number one name in pet care by completely revolutionizing the way dogs are cared for and boarded.
The Camp Bow Wow Difference
Convenient Locations
With 150 locations, pet parents across the United States are never far from Camp. It's this kind of national recognition and attention that has helped us become the number one name in pet care!
Health and Wellness
Any dog lover will tell you that our furry friends require a lot of love and attention. Pet parents who travel find comfort in the fact that when their dog is at Camp, they're happier and healthier than ever! Every Camper of ours:
Receives lots of exercise playing all day
Socializes with other dogs and Camp Counselors
Enjoys an overall better quality of life
Safety is Key
Safety is our number one priority at Camp Bow Wow. How do we keep romping pups safe at all times, you asked? It's simple! We:
Require all Camp Counselors to be trained in dog behavior, pet first aid, and CPR
Give each potential Camper a socialization interview
Require all incoming Campers are up-to-date on their vaccines and are spayed and neutered
Separate dogs by size and temperament
Give pet parents the opportunity to check in on their furry friends via the live webcams we have in all of our facilities
Affordability
Every pet parent should be able to enjoy their time at work or away on vacation without having to worry about what their pup is doing at home. More importantly, we think man's best friend deserves a safe and fun place Where a Dog Can Be a Dog.® That's why we make pricing affordable and easy to understand.
With Camp Bow Wow, you get the best care at the best value because your pup's stay includes: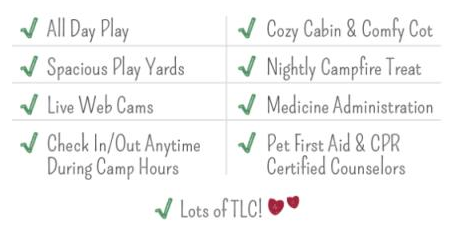 The Bow Wow Buddies Foundation
Our love for dogs doesn't start and end with our Campers — we want to make each an every dog's life better. This was the idea that gave birth to our Bow Wow Buddies Foundation. This registered, 501(c)(3) organization is "dedicated to providing urgent medical care funds to dogs who are either homeless or whose parents cannot afford to pay their veterinary bills." Last year alone, we granted over $150k to our fur-iends in need!
Want to learn more about what it takes to succeed as a member of the Camp Bow Wow Pack? Fill out the form below or call us at 877-700-2275 to request a complimentary executive summary and find out how you can mark your territory, today!