We set our sights high for 2018, and so far, our Camp staff and Camp owners have done nothing but make us proud. Our latest feat? The opening of our 150th Camp in Hutto, Texas — just outside of Austin.
Camp Bow Wow Hutto opened its doors on March 24, boasting 7,500 square feet of paws-itively pure bliss. The Camp houses a brand new, state-of-the-art custom doggy day care and boarding facility, which includes 1,500 square feet of outdoor play space Where a Dog Can Be a Dog.®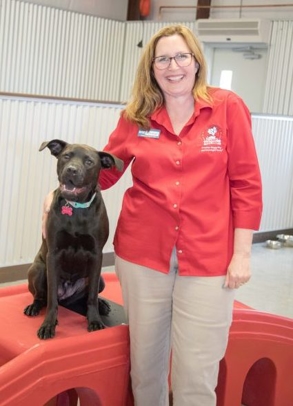 With less than a month under their collar, the new Camp is already a fan-favorite among furry friends in the Hutto/Georgetown area! Local entrepreneur and proud Camp owner, Roxanne Hill, is elated and honored to be bringing the brand to her local market with her husband Curt, especially for such a monumental milestone.
"Our team is excited to be the 150th Camp to open, joining the legacy of excellence that Camp Bow Wow has established," gushed Roxanne. "We love that the brand is well-known and recognized as a high-quality and fun home away from home for fur family members. We are looking forward to continuing the promise of excellence in pet care."
As you can imagine, Roxanne, Curt, and their new Campers aren't the only ones chomping at the bone about the latest opening. In fact, the entire franchise system is wagging their tails with excitement — especially the Camp Bow Wow leadership team.
"Opening the doors to our 150th location is a huge feat for our franchise system, which has proven itself to be a tried-and-true business model," said our Top Ops Dog, Laurie Windler — a.k.a, the Vice President of Operations at Camp Bow Wow. "We're anticipating 2018 to be a monumental year of growth for the company, and we're excited to see where the following months take us."
Camp Bow Wow already has plans to open a total of 20 locations in 2018 — will you be lucky number 21 thereafter? There has never been a better time to join the Pack than now!