Camp Bow Wow Franchise
The Bow Wow Buddies Foundation Has a Friend in Hannah Okel!
As far as Good Samaritans are concerned, the world is a far better place with 9-year-old Hannah Okel in it!
Hailing from Waukesha, Wisconsin, the young animal enthusiast is working hard to help the pets of America, starting with our very own Bow Wow Buddies Foundation. If you're wondering just how she's taking on such an incredible feat, check out the recent news story featured on WISN 12 News below: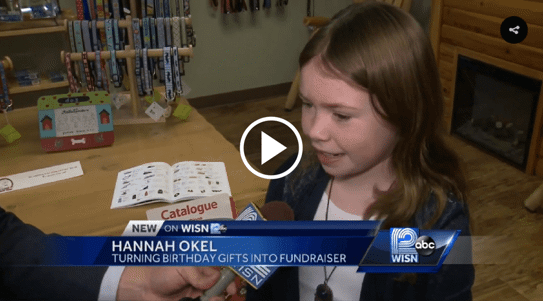 Hannah turns 10 on February 18 this year, but in lieu of presents, she's urging family and friends to donate to the Bow Wow Buddies Foundation instead. And wouldn't you know, this isn't the first time Hannah's made such a request. It all started last year, when Hannah asked folks to donate a gift to the humane society where her family adopted their dog, Scout. Scout is a frequent Camper at Camp Bow Wow Waukesha, so this year Hannah knew just where her next batch of
birthday donations would be going!
As you can tell, Hannah loves animals and has dreams of growing up to become a veterinarian herself one day. "When I grow up I want to be a vet because I think animals are very important, and I care a lot for animals," said Hannah. "I think they are very cute and I want to help them."
Over the past few weeks, Hannah's story has rocked the social media-sphere, landing her feature stories with People Pets, MotherhoodMoment.com, and even a spotlight in The Freeman, a local newspaper for residents of Waukesha and surrounding areas. So far, she's raised more than $1,000 for the Bow Wow Buddies foundation and counting.

"I chose this because if Scout needed surgery and we didn't have enough money to pay for it, I would be sad," said Hannah. "So, I am putting my feet in other people's shoes and want to help those who can't pay for their animal's surgery."

At Camp Bow Wow, we believe in the power of the Bow Wow Buddies Foundation, and are fully supportive of the mission that young Hannah has set out to complete. So supportive, in fact, that Camp Bow Wow Waukesha decided to match any donations made by February 18 on Hannah's behalf.

Categories:

Posted By