As some of you may have heard, we recently opened a brand new Camp, right smack in the heart of Concord, California — and we've been having a tail waggin' good time ever since!
Congratulations to the latest addition to the Pack, Camp owners Doug and Doreen Fleming from Concord, California. We've been anxiously anticipating the newest Camp, Camp Bow Wow Diablo Valley, so to see it open its doors is an incredible feat for the entire Camp Bow Wow family. In fact, Doug had some of his own words to share to express his excitement:
"Throughout our personal careers, we have focused on optimizing the physical and emotional health of our clients and coworkers. At our new Camp Bow Wow location, we will keep up that tradition with our company vision of ensuring a safe and fun environment for dogs and offering pet parents the peace of mind knowing that their furry loved ones are in great hands."
The new Camp, located at 1395 Galindo Street in Concord, features 87 cabins, eight teacup condos and two luxury suites — all queued up and ready to service all the furry friends in the area.
Camp Bow Wow Diablo Valley is managed by Camp Director and dog lover, Veronica Subramanian. In tandem with both day care and overnight boarding accommodations, the Camp also boasts large indoor and outdoor play areas, dog pools and other outdoor play equipment, comfy cots in a climate-controlled atmosphere, live webcams so pet parents can watch their pup from anywhere on their computer or smart phone, and of course, the love and care of our certified Camp Counselors! For those Campers who need some special attention, Camp Bow Wow Diablo is also offering our Behavior Buddies dog training program as well.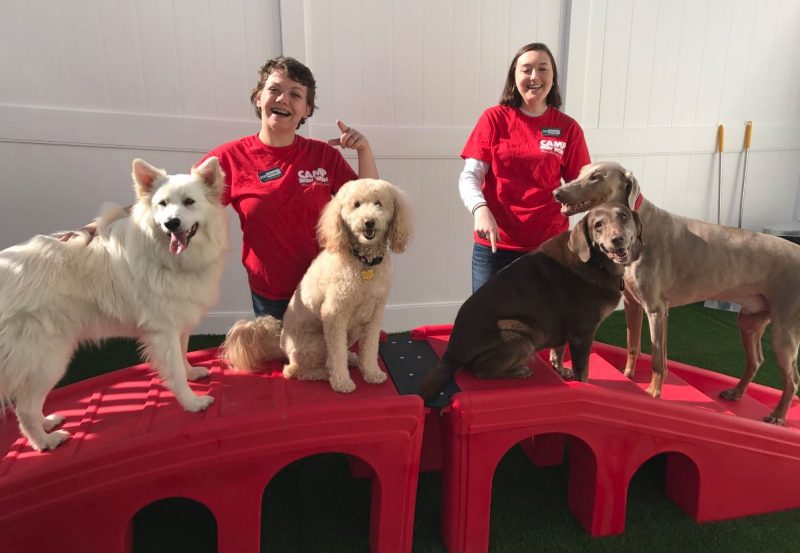 (Photos courtesy of Twitter)
We truly could not be more excited to welcome Doug, Doreen and the rest of their doggone great team to the Camp Bow Wow family! Not only are we happy to expand the Pack into the greater San Francisco Bay area, but we're also confident that they'll serve as great representatives of the brand and deliver our promise of happy, healthy pets and happy, healthy people!
Camp Bow Wow is committed to providing top-notch doggy day care and training services to as many pets and parents across North America as possible. To learn how you can become a part of the Pack and set up Camp in your local community, request your complimentary executive summary online or call us at (870) 600-2713.