Camp Bow Wow Franchise
Camp Bow Wow is helping pet franchise owners reach early retirement, fulfill purpose…
Franchise ownership helps owners make the world a better place for dogs and their people
Ann Roth and her husband, Bob, have been with Camp Bow Wow longer than any other franchise owner in the system. They opened their first unit in 2003 in the Detroit area, in Troy, MI, and five years later, in the midst of the Great Recession, they opened a second Camp in Commerce Township. Today, these long-timers have been so happy with their business that they're currently opening a third location. We chatted with Ann recently about why Camp Bow Wow checks all their boxes.
How long have you been a franchisee?
We passed 12 years in October (2015). We're proud to say we're the longest-standing franchisees at Camp Bow Wow. As we grow into the right size for us, I'm really loving it. We're working on our third location, but it's part of a new brand test that's super-secret right now.
What were you doing before becoming a Camp Bow Wow franchisee?
I was in IT; I was a software consultant and computer manager. My husband was in retail and also in IT for a short period of time. He was also a franchisee before with Play It Again Sports (a new and used sporting goods retail franchise).
You had money you could have put anywhere. Why did you put it here?
We had been looking at different franchises. We looked at several through a franchise consultant who was recommended to us by a friend. We also looked at a couple of businesses on our own. Nothing seemed to be a fit. My husband did a Google search one day and found Camp Bow Wow three months after they started franchising. At that time, the only Camps they had open were the two corporate stores. No franchise locations were open yet when we signed up. We signed up almost sight unseen, and we didn't know exactly what we were signing up for. We used our own cash. I was under 30 at the time and my husband was under 40 at the time and we had just saved up cash from our previous careers. We also had our 401(k)s and we took a home equity loan and scraped together everything we could scrape together and literally put in every cent we had. Thank God it worked! But here we are and it's looking pretty good.
What did your husband search for that day?
He may have Googled "franchises and dogs." At the time we had an appointment with the franchise consultant the very next day, and during that meeting he was supposed to be there to find out about us and get our likes and dislikes and recommend some franchises to us. So in preparation for that meeting, my husband started Googling franchises to get an idea of what was out there at that time. When he found their website and showed it to me, I literally jumped up and down and said "Oh my God, that's what we're going to do, that's it!"
I take it you're both dog people.
I have one sitting on my lap right now. I have three dogs: two are what we call American yard hounds, medium-sized rescue mutts, both older, like 14 years old. Both are near the same age. And we just got a new one, a dachshund. There was a large hoarder in town that was hoarding dachshunds specifically — she had 70 dachshunds in her house, and about 15 to 20 cats in the house. This was a few months ago, around June. We do a lot of charity work at Camp Bow Wow, and we were holding an adoption event with Last Day Dog Rescue here in Detroit, trying to find homes for all those animals. My husband and I walked in the door solely to work the event. We were not there to look at dogs at all. This little guy was in a crate underneath his foster mom's chair and he just winked at me. I picked him up and just never put him down. I was never particularly a dachshund person at all. Small dogs were kind of new to me, I'd never had a small dog before. He just wormed his way into our hearts. It was just crazy. He just looked at me and I said, "Oh my God, this is my dog." My husband used to say to me, we have two dogs. We're not going to be a three-dog family. We live in a tiny little city and there's a rule about having only two dogs. We always thought that was a little crazy, but we follow the rules. Whenever I'd talk about getting a third dog my husband would always say to me, "Okay, which one would you like to get rid of, Buster or Ellie?" and that shut me down real fast. When this little guy came along, though, my husband said, "So, we're getting a third dog." Link is his name. We don't have any other pets or kids, and these fur creatures are the center of our lives.
What do you like about owning the business?
The dogs are the biggest part. The flexibility of it. Everyone wants to be a business owner because they say you can set your own schedule. And that's somewhat true. I'm at home right now and working from home and that's great, but the other day I worked until four in the morning. What I love most is the fact we can make a difference in the community. It allows us to do dog rescue work, and we love doing that. We also love doing staff development. Our employees tend to be young ladies and young men, and we love to foster their development and growth as adults. Most of our employees come to us at 18, 19 years old, sometimes in their early 20s. As they're with us, we see them grow into adults, full responsible members of the community.
We've been able to take a few people with us and hold them by the hand and get them to a rewarding fulfilling career that they can have for a lifetime. We have a few people who have become trainers. Sometimes they're struggling with "Do I go to college or not?" One young lady is getting married today, and that' a big deal for us. She's our training manager now. She came to us right out of high school and she supervises two other trainers now and has a real career. We've seen people go from being kids under our tutelage to buying houses and getting married and having kids.
What makes it fun? It's the dogs, but it's also the customers. Maybe a year before we opened our first Camp Bow Wow, my husband used to take our young pups to the dog park all the time. We would walk around the woods and talk to the same group of people all the time, and we found that dog people and pet people in general tend to be more laid back, more easygoing. They're fun to talk to sort of people; they're just not uptight. What we found with our business is that's who our customers are now. We get to have close relationship with our customers. We've gone to their weddings and become friends with some of them.
The customers like to talk about their dogs, and no one is sad when they talk about their dogs! A lot of employees come to us because they're in vet tech school or going to Michigan State to be a vet and they want to work with animals. Most of them have worked with a vet. The only problem working with a vet is that you're seeing animals when they're sick, injured and dying, and that's not always the most pleasant time to see them.
Most people say they know Camp Bow Wow is the right place for their dogs. We give them a free trial day, and 90% of the time, after two or three visits, the dogs are pulling their people through the door and can't wait to get to camp. I can't tell you how many people have told me, "When I turn the corner, the dog starts whining and crying and can't wait to get there." That's our best sales force. Our sales force is the dogs. The dogs love to come to Camp. They have so much fun. Once the parents see that, they know we're good.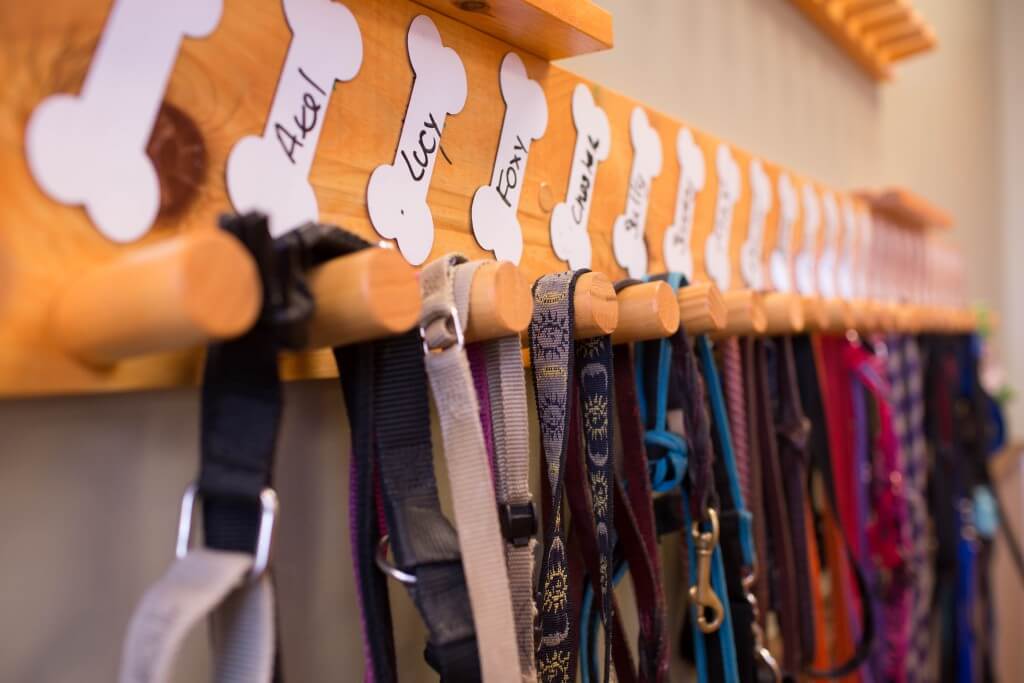 Knowing what you know now, if you were just starting out, would you still become a Camp Bow Wow franchisee?

I would. In a way this was the scariest decision we ever could have made because we put every last cent into it. We opened our second location in 2008, in the middle of the Great Recession, and things were rough because we were expanding when the recession hit. A lot of businesses didn't make it. We made it through all of that. That says something. That was the worst economic time in recent U.S. recent history, the worst time possible to open a business. It was 2008 and we were in Detroit, and the auto companies were shutting down. In 2011, the economy turned around and now we're doing great.

How do you feel about the direction of the brand? I could not be more happy with the direction of the brand. We were bought by VCA a little over a year ago, and it's a real sophisticated operation. We're getting better and better on a daily basis. The leadership is wonderful. Christina Russell is our president now, and I can't say enough good things about her. She has inspired me quite a lot to be a better business owner. You look at a leader sometimes and see, gosh, they're a great leader. Naturally you look at yourself, you ask yourself, "Am I a great leader?" I looked and said I could do a heck of a lot better. She has inspired me to remake my own leadership style.

What is the genius of this brand, when you strip everything away?

It focuses on the happiness of the dogs. And that's it. If you focus on the happiness of the dogs, everything else will fall into place. They will tell their parents how happy they are in their own way.

What is it about this business that makes you think you're going to be around another 20 years?

They've got the backing of VCA (Veterinary Centers of America). It's a good company, a publicly traded company, and one of their founders, Bob Antin, is our guy we look to as leadership above Christina Russell. I believe in him as well. He gave a good speech at the last conference and I spoke to him personally. I happen to be a founding member of the Franchise Council, and what we've been able to accomplish under Christina's leadership is to come up with some really supportive franchisees. We are all about working with each other.

What does your typical day look like?

It could be anything. Today I'm working from home and I'll probably work three to four hours on some orders, but you might go and visit some build-out contractors and their employees. It depends on how many Camps you have and how big they are. There are franchise owners who want to buy a job and they have one small Camp, and they walk in and work the phones and make reservations and make sure it's cleaned properly. There are some that are absentee owners, and they have a great manager and just put money into it, but I don't think it's easy to be a hands-off owner in this business. In my opinion, you might be able to run it like that but you won't be great at it. You'll be working 60 hours a week until you get good at it. If I was not expanding right now, I might be able to get away with working 20 hours a week if my husband was also putting in 20 hours a week. But you can expect to put in a lot of hours at first.

Are you able to meet your business goals, or on your way to meeting your goals, by owning the business?

We're trying to get to a goal. My husband is almost 52 and has some health issues, so we would like to get retired early, or at least get him retired early, and travel the world. We want to do that while we can still do that. What we want to do is make enough money so we can travel the world and have fun and take it easy. That doesn't necessarily mean we have to sell our Camps. If we get so good at it and our organization gets large enough, we can have really good people and pay a good wage and then we'll set the strategy and direction. We can do that. If we're not as good at it and we just want to cash them out and walk away, that's what we'll do. Either way, we need to be a little bit bigger to accomplish that. You're not going to do it with one small store. One small store is great for a woman whose husband has a great career or a man whose wife has a great career. If you want to do it for 20 years just as a job, fantastic, you'll have a good job. But we want to make a lot of money and really live it up. That's kind of where we are.

Why are you necessary as a brand? Why would it be a horrible thing if you closed up and went away? What hole are you leaving in the marketplace?

All these dogs would be unhappy and the people would have no place to take their dogs and feel good about it. I'm not saying there's no other competitor doing this, but I just haven't seen one that has all the elements that capture the magic that Camp Bow Wow has. Dogtopia is nice, but they put dogs in wire crates overnight. PetSmart does a good job, but it's really small and there's not much place to run and play and wear yourself out.

Our brand has been targeted at people with large active dogs like Labs, Pit Bulls, German Shepherds, dogs that are full of energy and ready to run. I've always tried to accommodate others — the senior citizens, a really old dog that has medical problems and can't see very well and walks into walls. We created a senior lounge for them. Your kids may want to go to Chuck E. Cheese but your grandfather wants to go to a place where he can relax, have a nap, have a meal and go talk to some people and have another nap.

We have on-demand butt-scratch service. They sit on a cozy bed close to the office so that dog can get up and come to us and get a butt scratch and go back to his bed. What we create is an option. For small dogs, we create an environment attuned to their needs, so your darling little Dachshund does not have to be scared of anything. For the young pups and the playful Labs, we still have Chuck E. Cheese. We try and suit everyone because it's all about making the dogs happy. If you make all the dogs happy, your customers will be thrilled.

Take me out 10 years or 20 years, now you're hanging it up, you're done. What do you want people to remember about your business?

That I made the world a better place for dogs and their people. And that I helped some people develop into the careers and lives that they wanted. We don't have kids; it didn't happen for us. I never wanted kids that badly anyway. For most women it's in their DNA; they see a baby and it's "Oh, he's so cute, he smells so good!" When I see a puppy, I have the same reaction. I always thought there was something different about me. I was put on this earth for a purpose. I'm here to foster the relationship between dogs and people.

Categories:

Posted By