Once again the Camp Bow Wow team has scrubbed its database of nearly 400,000 Campers to identify the top 10 dog names across the U.S. and Canada as well as interesting name trends. 
Top 10 Dog Names
Here are the highly-anticipated top names for 2023. Luna reigned supreme for the second year in a row. The top 10 names overall stayed the same, with slight movement: Daisy jumped three spots from 2022, Cooper dropped two spots and Max dropped one spot.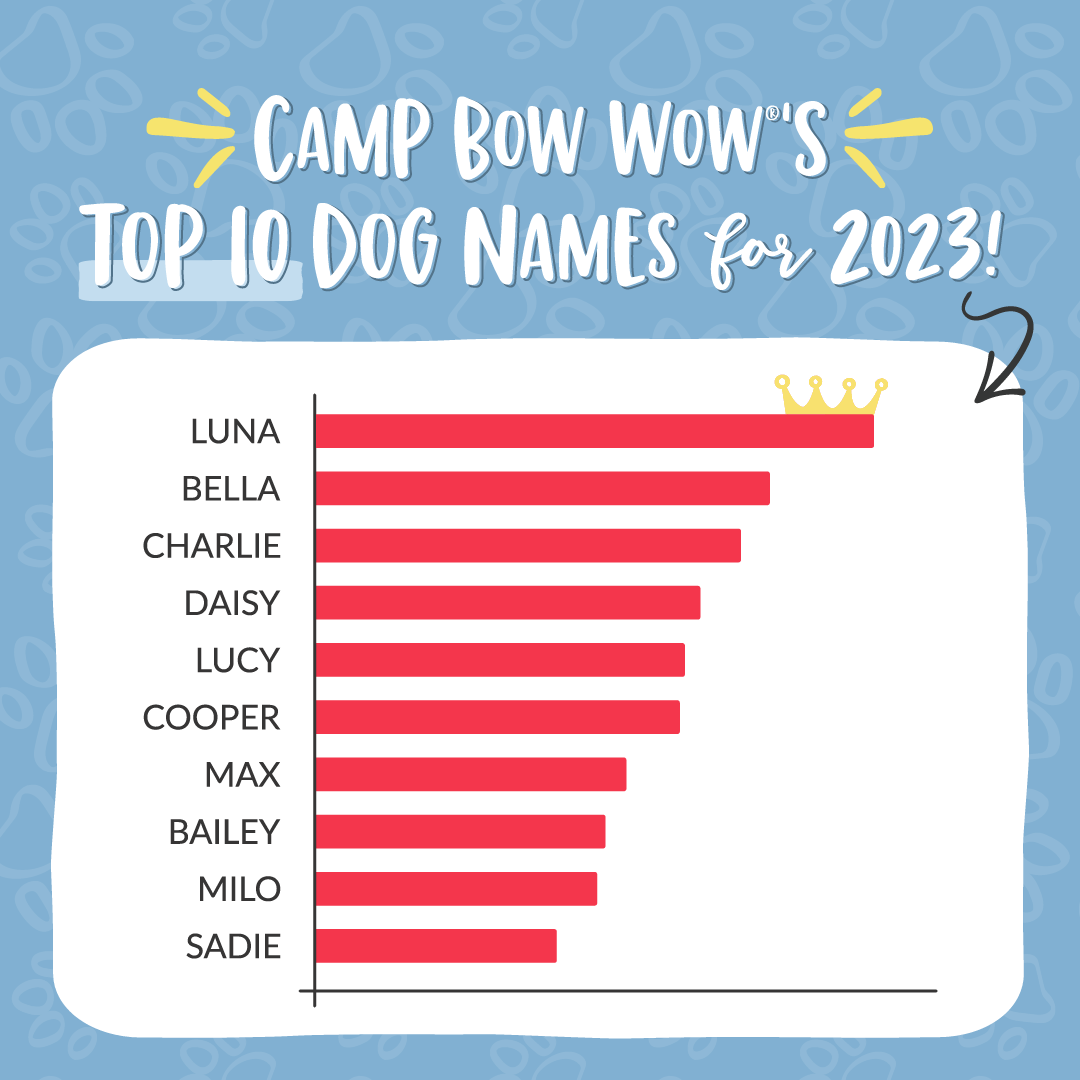 Top Name by State & Province
Regionally, the majority of East Coast, West Coast and Central states, including Texas, as well as Nova Scotia, favored Luna, while much of the South, including Florida, favored Bella. In fact, only seven states had a top name that wasn't Luna or Bella:
Iowa = Lucy
Mississippi = Lucy
Utah = Charlie
Oklahoma = Buddy
Nebraska = Teddy
Rhode Island = Sadie
Illinois = Daisy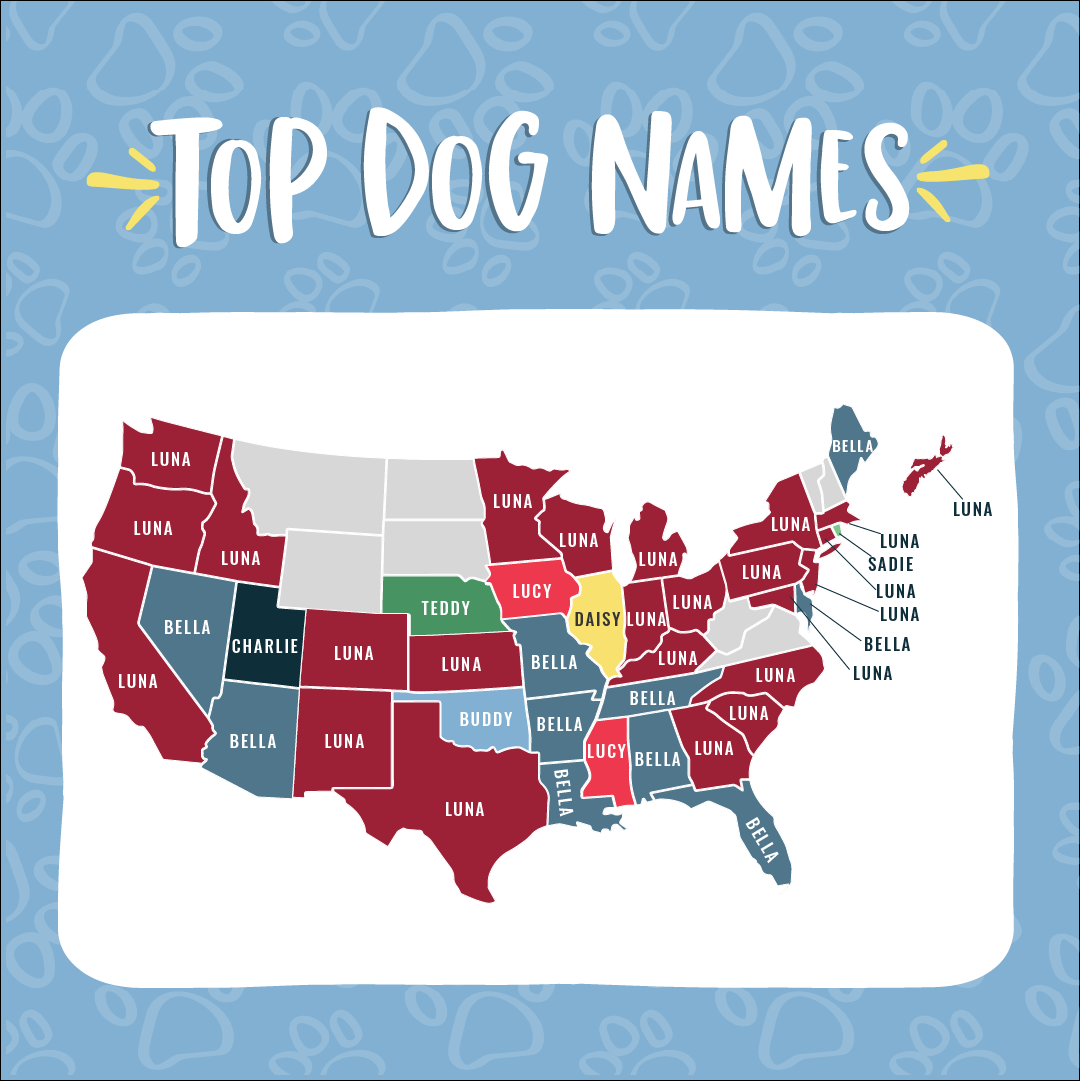 Other Naming Trends
Over the past few years, we have seen a significant rise in pet parents giving their pups longer and/or more formal names (think Lady, Sir, Professor, Miss, etc.). A few standouts include:
Sir Odin Vonbarkenstein
Princess Wigglebottom Vanderbark III
Edwin Geofferson Peppercorn
Dog names based on pop culture and entertainment has been an ongoing trend, but we see names rise in popularity as a result of blockbuster movies, fan-favorite shows, and trending celebrities. Here are a few notable examples:
The series "Yellowstone" likely inspired a 254% increase in the name Dutton, the ranching family's surname, and a 60% jump for Rip, the well-liked ranch hand
Hawkeye, the Marvel superhero, had an increase of 120%
Luca increased 60%, as a likely tribute to the Disney animated film of the same name
Naming Tips
One of the most important parts of getting a new furry family member is choosing their name. From energetic Dalmatians to cuddly Labradors, your doggo's name should not only fit their look, but their personality as well.
Choosing the right name for your pup is also essential as their name will also be used in their training. Our Animal Health and Behavioral Expert, Erin Askeland, MSc, CPDT-KA, CBCC-KA, weighed in on the importance of dog names, stating that short, two-syllable names are best suited for training.
As you think of the perfect name for your pup, choose a short name that will easily catch their attention, that does not sound like another word or command they know, and consider names that end in a strong, hard sound, like Breck.
Askeland also weighed in on a commonly asked question: is it okay to rename a dog after adopting them from a shelter? Her answer is yes! Be sure you choose a name you love and will stick with, and use a lot of positive reinforcement when using the new name to help your doggo adjust to the change.
Askeland's final tip is to be sure to keep the name a positive part of communicating with your dog, e.g., not using it in conjunction with frustration, anger, if the pup has done something "wrong" or that the parent doesn't like. The name should always be associated with positivity or the "good stuff"!
No matter a pup's name, our loving Camp Counselors learn every dog's name and provide them individualized care in a safe and fun environment. Find a Camp location near you!