With dogs sleeping an average of 12-14 hours a day, it's important to provide pups a comfortable place to rest. It can be challenging to find the right bed for your dog when there are countless options out there. We rounded up some of the top-rated dog beds on Amazon to help you find something your pup is going to love.
As you're shopping, keep these factors in mind:
Size: Ensure your bed is the right size for your pup.
Durability: Dog beds don't last the lifetime of the dog – eventually they will wear out, but a durable bed will last you for some time.
Cleaning: Just like our sheets and blankets, dog beds should be washed frequently. Removable covers make cleaning a breeze.
Personality: Does your dog like to sprawl or burrow? Does your dog shred fluffy things? Consider their personalities and preferences when selecting a bed.
Use: Consider whether you need a bed for traveling, to cushion a crate or to create a comfy space in your living room.
While you do your Amazon shopping you can lend a paw to dogs in need! Shop at smile.amazon.com and select The Bow Wow Buddies Foundation to receive a percentage of your purchase as a donation. The Bow Wow Buddies Foundation provides grants to sick and injured dogs in need of medical care.
4.5 stars | 47,163 ratings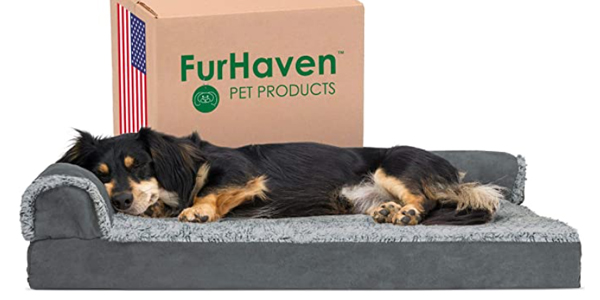 Promising review: "WOW!! My big boy, Red, is a 13 year old, 115 pound Golden Retriever. He's been having trouble walking and I can tell he hurts. It's just old age. When I took this out of the package (ordered XL) last night and put it on the floor he stepped on it and that was it. He turned 3 times and was asleep. So Far so good. The real wonder came this morning when he stood up, He didn't struggle to rise and he stretched!!! It been a long time since I've seen him stretch. He walked down the stairs without help and went outside to help our younger dog, White, chase chipmunks into the wood pile. I'm not saying he was spry, just that he was interested in more than sleeping on the front porch. We've had it for one day... what a difference a day makes." - CATBLUE
4.5 stars | 45,427 ratings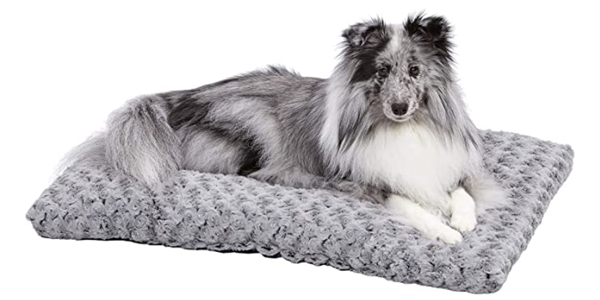 Promising review: "Two years later, this has been pooped on, barfed on, accompanied us thousands of miles on dozens of trips, been slept on every single night (after much digging, scuffling and turning around to get it just right), and been machine washed and dried probably at least 30 times..... and it's fine. Stuffing is still where it was originally. It's 90% as soft as it was brand new. It smells fine. No holes, ever. Dog beds usually last us about 3 months, maybe 9 if the cover is removable, so it's absolutely crazy that we have had this two years now. But this thing just keeps going and going and going. I would say the plush level is right between a memory foam dog bed and a standard, thin kennel pad—so the perfect in-between level that's comfortable even on concrete but still lightweight and easy to bring wherever. It washes and dries fantastically. It's so great to throw the whole thing in the washer with hot water and know that it's getting completely clean inside. I can't possibly say enough good things about this dog bed, and it's not even very expensive. Amazing value. I'm sure we'll get a few more years out of this but please don't ever stop making them!

***UPDATE***
It has now been three years since we bought these, and despite daily use and probably 50 washes, they're fine. About 75% as fluffy/poofy as they ever were, still an even distribution of stuffing, no rips or tears, everything is totally fine. In fact, I'm getting a little bored with them and for the first time in my entire life I may just buy new ones out of preference rather than necessity. I can't speak highly enough about these!!" - DJo
4.7 stars | 34,825 ratings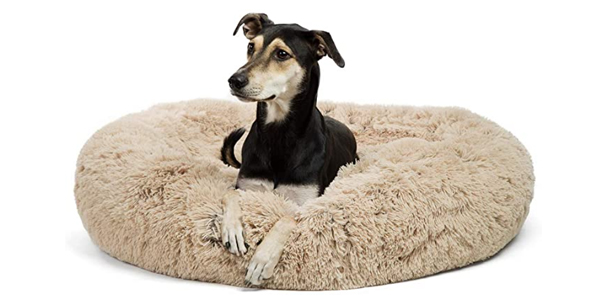 Promising review: "I don't think there's anything I don't like about this cuddly soft bed. As soon as I took it out of its packaging and shook it out, I tossed it on the floor and my Yorkshire puppy lost his mind. He ran and jumped in and out of it several times. Not only has it become his favorite place to snuggle up for a nap. It's also a place for him to play and have fun. His little toys get somewhat lost inside and it's a game for him to root around and find them again. Extremely high quality as well. You can tell from the stitching this bed is going to last a good long while. Very impressed with the quality for the price. Best New puppy purchase I made. As you can see from the pics, I've got one very content puppy on my hands. He LOVES this bed!" - Banshee
4.6 stars | 23,275 ratings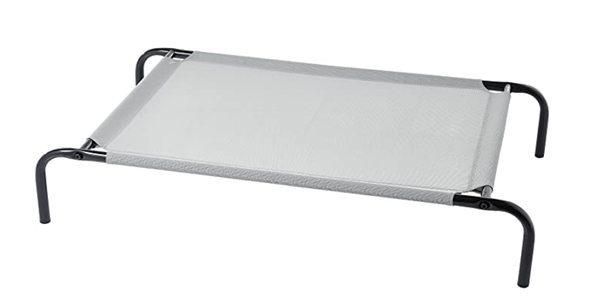 Promising review: "We bought one for our patio so that the pups can lay on it on a hot summer day and be cool off the ground. It ended up being inside, with a pillow on it because our pups thought that was a better solution. Now we have two of these in the house with their pillows on top. The pups love it and enjoy lounging on these beds all the time. We've even tested it by putting it next to one of their beds which was on the floor and leaving it there for a few days - they haven't even looked at the bed on the floor!
Also this makes it very comfortable for me to clean the house, I can easily get under the bed with a vacuum or a mop to clean without disturbing the pups.
Please note that these are pretty large. We bought a large one at first and ended up returning it for two mediums. Our boxers are almost 100lbs each and the medium is just the perfect size for them! Highly recommend!" - Elena
4.5 stars | 20,509 ratings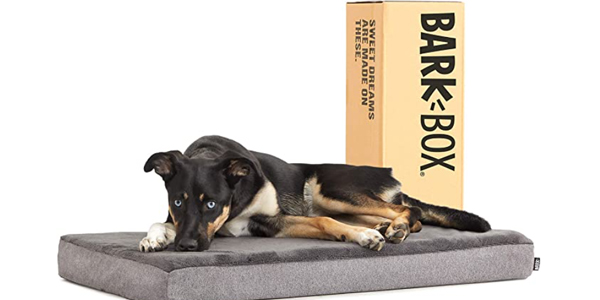 Promising review: "I have hard ceramic tile in my kitchen and my dogs love to lay in there while I am working. This bed has a sturdy foam and by that I mean you can step on it and not sink to the floor underneath. It supported my human weight without hitting the floor and my 67 pound boy pretty much floated at the top of it. He did not sink into a cratered hole and slept so well that a dropped meatball didn't wake him. I couldn't tell you what his younger sister thinks as he has not yet shared it with her. He left her his old worn out not so comfy other brand bed for the kitchen for her. May have to get another to keep it fair. We got the large bed and this comfortably fits my lab mix and slightly larger female german shepherd. It is a good size and mine expanded to the full 3 inches thick. Finally a dog bed that was not a complete disappointment, but instead a worthy purchase! Thanks Bark Box! Keep up the good woof with your products." - LadyGar