Meet Okie, a young pup that deserved a second chance after he was found on the side of the road after being hit by a car. Okie was rescued by FIDO's Companion Rescue Inc, out of Avon, Ohio and given a sliver of hope. FIDO's Companion Rescue graciously took in Okie even with his serious hip injuries. Knowing the steep treatment costs for this repair, FIDO's Rescue applied for a grant with the Bow Wow Buddies Foundation®.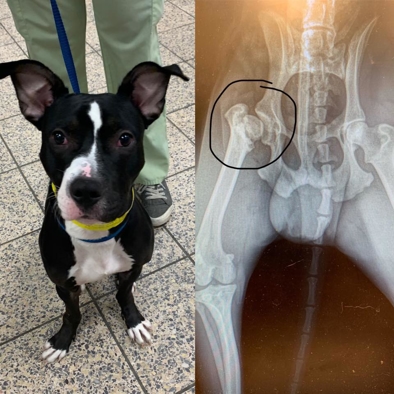 The Bow Wow Buddies Foundation® immediately knew how much Okie needed a grant and assisted with his medical treatment. After months of recovery and lots of attention and snuggles, Okie found his forever home! Okie even went through water therapy to restore his hip strength! He is happy, healthy and learning new tricks, as he now lives with FIDO's dog trainer.
"By the Bow Wow Buddies Foundation® paying for his surgery, it allowed us to help another critical medical dog in need. We like to pay it forward and continue to help as many medically challenged dogs as possible in our rescue program." -Michelle Reichlin, Volunteer with FIDO's Companion Rescue.
The Bow Wow Buddies Foundation® helps individuals, families, rescues and shelters. If you would like to help out a sick dog in need, visit our website to make a donation. Every donation goes to the grant program and assists in providing funds for dogs all across the country. You can also check out your local Camp Bow Wow® to learn about other ways to give!

Since the start of the grant program, the Bow Wow Buddies Foundation® has donated over half a million dollars to over 400 dogs nationwide.