A puzzle is anything that requires problem-solving through a combination of patience and ingenuity. Types of dog puzzles can include rolling treat dispensers, stuffed toys that are housed in another stuffed toy, various cloth mats, and even games that you can play with your pup!
Benefits of Puzzles:
Engages the brain for a mental workout, which helps tire a dog out
Provides a problem-solving experience which can help a dog maintain cognitive function and increase the ability to adapt, cope, and thrive in new situations
A fun activity that occupies your pup (in other words, a great way to give them something to do while you are trying to clean, cook, or eat a meal)
Perfect games for when the weather is poor or to help an injured dog stay mentally sound while recovering*
*if your pup is recovering from an illness or injury, always make sure activities are discussed with your veterinarian to make sure it's the best option for your pup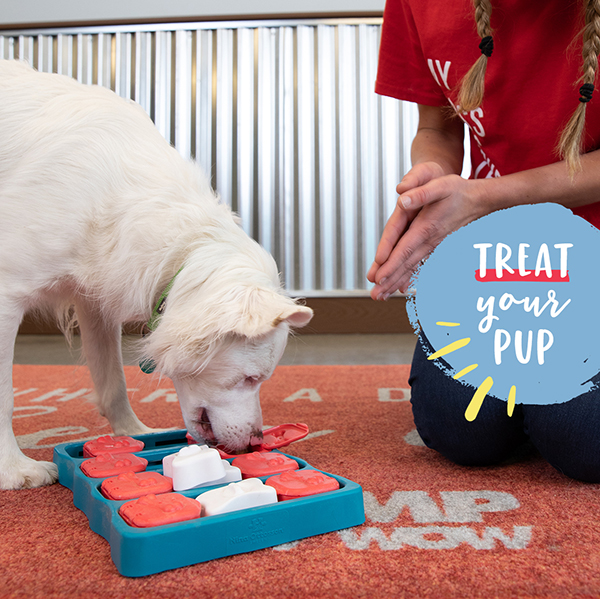 Top 5 Puzzles Toys and Games:
1. Snuffle Mat – these matts are usually made of fleece or corded material and contain many folds, loops, and flaps of material that you hide treats or food under. The goal is to engage your dog's nose to "snuffle" through the folds and loops to discover the treats. This game mimics how a dog might sniff through tall grass outside.
2. Activity Mat – this is a mat that is usually made of a sturdy material and lays on the floor. It has pockets, pouches, and flaps where you can hide food so your dog has to solve multiple puzzles to recover all of the treats. Some of these mats can even be hung on a wall to present and additional challenge to your dog.
3. Dog Casino – this puzzle toy offers several levels in one puzzle, depending on how fast your dog can solve it! To start, small drawers may be placed half open so a dog can easily sniff out the treats. As the dog progresses, drawers can be shut, or there are additional pieces that lock the drawers and require a dog to pull out one piece of the puzzle before being able to open the drawer to get to the treats. The only downside to these puzzles is they aren't good ones to leave with your dog along since it contains small pieces that your pup could chew or ingest if you're not nearby to clean it back up when your dog is done.
4. Find It – the beauty of playing "find it" is that it's a game you get to enjoy with your pup and you can customize it to match his skill level. For find it, you can place a variety of treats or toys around a room, then bring your dog in and ask your dog to "find it". Your pup gets to use his or her nose to recover all of the hidden items. You may hide items under blankets or pillows, on a window sill or ottoman, or you could put a treat in your pup's toy bin for an added challenge. This game lets you change the hiding spots each time! You can also play this in your fenced yard by tossing treats into a grassy area for you pup to find (similar to a snuffle mat, but more spread out).
5. Homemade puzzles – there are many homemade puzzles that dogs love. This can include puzzle boxes made of recycled cereal boxes and crumpled paper that hide treats or toys inside; a muffin tin with tennis balls over each slot to hide a treat or food; or an empty, plastic tennis ball container with several holes put in that a pup can roll around to release treats. For any homemade toy, be sure your pup isn't left alone with these in the event he or she tries to eat the toy too!
Camp Bow Wow® Individual Enrichment
Did you know that Camp Bow Wow® locations now offer enrichment-based one-on-one activities? Our individual enrichment sessions provide additional exercise, hands-on TLC, and mental activity. These services allow a Camper to bring part of their home routine to Camp and are personalized for each dog! Find a location near you and ask about enrichment offerings here.