Kansas City Westport

Dog Grooming
Come Back to a Clean, Happy Pup
What's better than picking up a happy dog from Camp? Picking up a clean and happy dog from Camp! Camp Bow Wow® is happy to provide nail trimming and bathing services that will leave your pup looking and smelling their best. Bathing them on your own is often time-consuming, exhausting, messy, and stressful for both you and your four-legged family member. Rather than trying to do the job yourself after a long, tiring day, why not let us take care of it during your dog's stay?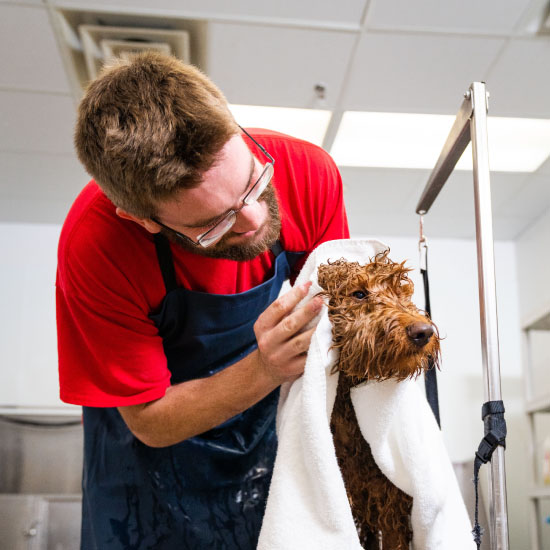 With dog grooming areas specially designed for your pup's comfort, Camp Bow Wow can take this off your to-do list. By adding a bath to your pup's stay, you can cuddle with a squeaky-clean pup when you get home.
Contact us at (816) 673-1826 to learn more about our dog grooming services.
Grooming dogs with completed sheets should be dropped off by 8:30am
If you have not already done so, please fill out our grooming waiver and send it to us at Westport@CampBowWow.com.
Please fill out a grooming instruction form. This can be emailed to the address above or brought to your appointment.
We will ask for payment over the phone when we call to let you know your dog is ready for pickup. We can email you a receipt.
Grooming Requirements
Owners of dogs coming in for grooming are responsible for providing proof of current vaccinations

Rabies
Bordetella
Distemper