Erin Askeland, CBCC-KA, CPDT-KA
Make a Friend Day
February 11th is National Make a Friend Day, though at Camp Bow Wow®, we like to call it National Make a Furry Friend Day! Camp is a great place for your pup to make a new friend and find a playmate. Dogs at Camp should be well-socialized in order to make the experience fun and safe for all of the Campers and the Camp staff. This is why socializing dogs from an early age is so vital to their mental and physical well-being and benefits them throughout their life. At Camp Bow Wow®, we love to make new furry friends every day!
What is Socialization?
Socialization means exposing a dog to different environments, people, animals, and objects in a controlled, safe, and positive way that allows them to learn how to investigate, adapt, and learn to cope with new experiences and ultimately thrive in their homes. For a dog, the socialization period is between 3 and 14 weeks of age. Because this is a short time period, consistent, planned socialization is key. Even though dogs must be 16 weeks old to play at Camp Bow Wow®, some locations offer Puppy Socials through their Certified Dog Trainers where younger pups get to play with each other and be introduced to new object, sounds, other humans, and more! Pet Parents get to stay with their pups during the puppy social so they have a hand in the socialization process with guidance from the trainer.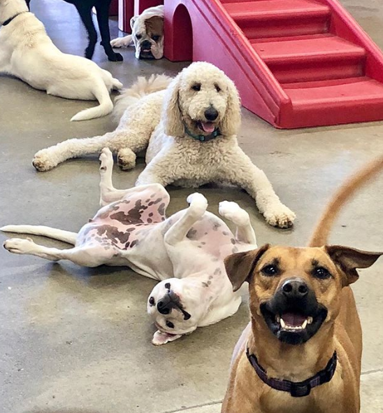 Socialization for Campers
Part of the socialization process focuses on dog-to-dog interactions, which is incredibly important to pups so they can make new friends throughout their life and understand how to read each other's body language and social cues. This helps them safe and to enjoy dog interactions.
Another aspect of socialization is with other humans of all types. Camps have a variety of staff members, all with a unique voice, appearance, and body language. Dogs who have interacted with all types of people will feel more comfortable at Camp where they may meet new staff members or have a variety of staff to interact with in the Play Yards.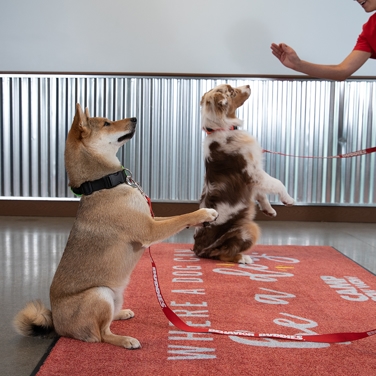 Introduction to new objects, sounds, scents, textures, and environments is also part of the socialization process and can help them adjust to all of the new experiences they'll have at Camp. In Camp, a dog will get to interact with different play equipment, water features, and listen to new sounds while they play with their friends. These fun features are meant to keep dogs excited about Camp and give them opportunities to explore. Many Camp Bow Wow® locations offer even more sensory experiences through their enrichment programs during group play and through special, customized one-on-one services with a Camp staff member.
Because Camp Bow Wow® wants each dog that visits to enjoy the experience of playing with their friends all day, we have a special meet and greet process to slowly introduce new dogs to Camp staff, play areas, and the other dogs in Camp. Visit your local Camp Bow Wow®'s website or call to find out more about Camper requirements and to set up an interview for your pup.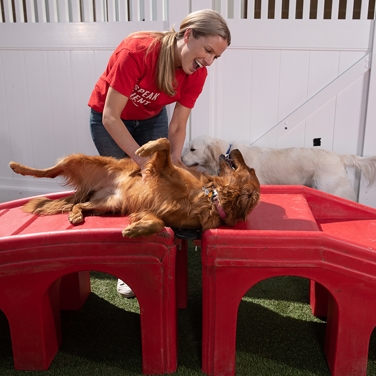 Socialization Later in Life

By the time the socialization period ends, puppies will have established how they react to anything new they might encounter. If they've had a lot of poor experiences, or not enough experiences, they aren't as likely to respond positively to new situations and instead may react with fear. This doesn't mean that an older dog can't learn how to respond well to new scenarios, but it does mean you have to help teach them a new way to react instead of getting to start on a blank slate like you do with a puppy. Training is often associated with puppies, which is also helpful in the socialization process. However, group training classes and private instruction can also be beneficial for dogs who didn't get enough socialization at a young age. Training using safe, humane, and positive methods can begin to build a trusting relationship with you and your dog which can then help work on any gaps in the dog's ability to encounter new situations safely and cope with them in a healthy way.

Check with your local Camp Bow Wow® to discover training options for your dog!

Categories:

Posted By