Nation's Largest and Most Trusted Pet Care Franchise Reports a 14% Increase In Year-Over-Year Revenue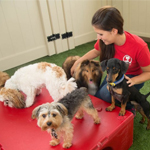 Camp Bow Wow®, the largest and leading doggy day care and boarding franchise, announced 2017 as one of its strongest years of company-wide growth upon the closure of the Franchise Disclosure Document this month. The $100+ million dollar brand saw a 14% increase year-over-year in system-wide gross revenue¹ and successfully closed 23 franchise sales. As the American Pet Product Association recently announced the pet industry reached $69.51 billion in 2017, Camp Bow Wow proved itself to be a leading player in the doggy day care and boarding sector, making noteworthy advancements across all facets of the company.
The high-growth franchise network experienced rapid expansion as its Camp locations across the country welcomed 250,000 four-legged customers and a 13.7% increase in total customer count. Annual gross revenue per Camp reached $841,890 on average², up from $780,000 in the year prior. Additionally, the top 25% Camps generated $1,225,676 on average³ and saw $1,983,177 as the system high.
On top of the franchise owners' achievements, the Camp Bow Wow team at the corporate level also reached new milestones. In addition to receiving two prestigious Stevie awards, a Gold for Marketing Department of the Year and a Silver for Franchise Sales Team of the Year, the company 'houndquarters' grew its employees by 52%. This noteworthy expansion allows the franchisor to continue providing its services to its increasing number of franchise owners and their respective customers.
"2017 was a year truly marked by new innovations, setting the bar higher than ever before and learning those goals are obtainable through a collaborative effort between our Corporate Support team and franchise owners," said Julie Turner, Vice President of Marketing at Camp Bow Wow. "Whether it was launching the inaugural #GiveAFetch events and donating $50,000 to shelters and rescues, opening Camps in brand new territories, or welcoming an average of 74 dogs per day at a given Camp, we exceeded what we set out to achieve and we're excited to have entered into 2018 on such a high note."
Across all facets of the company, Camp Bow Wow has propelled 2017's strong momentum into 2018:
Currently on pace to reach 20 new Camps, already expanding into new territories and opening its first Camp in Washington;
Named this month for a second year in a row on Entrepreneur's Best of the Best List;
Recognized for the third consecutive year as #1 in the Pet Businesses Franchises category on Entrepreneur's Franchise 500 list and newly ranked #146, a 58 placement jump;
Planning the second iteration of #GiveAFetch, following the successful inaugural campaign;
The company's nonprofit, The Bow Wow Buddies Foundation, which provides medical grants to dogs in need, remains a focus as well and continued its strong growth. By providing over $150,000 in grants at the close of 2017, 89 dogs received necessary medical attention, a 48% increase year-over-year. The Foundation's work led to a Bronze Stevie Award in the Nonprofit Website category, a testament to the brand's heightened concentration on charitable giving and animal welfare.
Forecasting to reach more than 300 units in the next four years, Camp Bow Wow has proven itself to be a brand to watch within the pet care industry, which is estimated to reach $72.13 billion in 2018 according to the American Pet Product Association.
For more information about Camp Bow Wow, to find a location near you, or to become a franchise owner, please visit campbowwow.com.
Full article here.