Nation's Largest and Most Trusted Pet Care Franchise on Track to Open 20 Franchises in 2018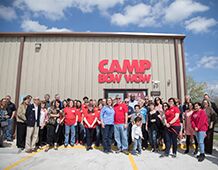 Camp Bow Wow®, the largest and leading doggy day care and boarding franchise, announced the opening of its 150th Camp in Hutto, Texas. The 7,500 square foot Camp houses a brand new, state-of-the-art custom facility and 1,500 square feet of outdoor play space for the dogs. This milestone Camp opening keeps the brand on track for significant growth at the unit level, planning to open a total of 20 locations in 2018.
"Opening the doors to our 150th location is a huge feat for our franchise system, which has proven itself to be a tried-and-true business model," said Laurie Windler, Vice President of Operations at Camp Bow Wow. "We're anticipating 2018 to be a monumental year of growth for the company, and we're excited to see where the following months take us."
Local entrepreneur, Roxanne Hill, along with her husband Curt, will be bringing Camp Bow Wow to the Hutto/Georgetown area. Backed by the support and proven expertise of Camp Bow Wow's business model and executive team, the two decided to open up a franchise after previously teaching young children and wanting to switch their focus to their passion for dogs. The Camp will offer 111 spacious cabins with comfy cots, dog pools and outdoor play equipment, among other great features.
"Our team is excited to be the 150th Camp to open, joining the legacy of excellence that Camp Bow Wow has established," said Roxanne Hill. "We love that the brand is well-known and recognized as a high-quality and fun home away from home for fur family members. We are looking forward to continuing the promise of excellence in pet care."
In addition to the company's newly announced milestone Camp opening, Camp Bow Wow's low-risk, high-growth business and franchise network has also recently been recognized by franchise authority Dr. John Hayes in his latest book "12 Amazing Franchise Opportunities – Second Edition." Dr. Hayes explores the people, histories and associated successes of 12 franchises he considers "amazing" business opportunities, which includes Camp Bow Wow. Being part of this book is a true testament to the brand's leading position in the franchise sphere.
With Camps in 40 states and Canada, Camp Bow Wow is as a major player of the estimated $69 billion pet care industry according to the American Pet Product Association. As the company continues to align itself with strategic franchisee partners who are interested in investing in the pet care business, the brand is on track to reach its long term goal of more than 300 units in the next four years.