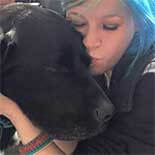 "Each year, countless pets are denied urgent medical care simply because their parents cannot afford the treatment costs," said Erin Askeland, Training & Communication Manager for Camp Bow Wow and the Bow Wow Buddies Foundation. "For struggling pet parents faced with this impossible choice, the Bow Wow Buddies Foundation is a lifeline that can ease the financial burdens of treating their sick or injured dog—and potentially prevent the heartbreaking loss of their furry loved one, as a result."
In addition to helping struggling pet parents, the Bow Wow Buddies Foundation also provides grants to animal shelters and rescue groups that need assistance to provide necessary medical treatments for sick or injured dogs awaiting adoption.
"We are often contacted by owners who've fallen on hard times and are forced to surrender their dogs because they cannot afford their advanced medical treatments," says Lindsay Condon, President and CEO of the Denver-based nonprofit rescue group, Big Dogs Huge Paws. "It can be quite devastating to both the pets and the families who love them. By helping pet parents get their dogs the care they need, the Bow Wow Buddies Foundation is helping to not only heal them but to keep them in their loving forever homes and prevent the need for rehoming."
The Bow Wow Buddies Foundation will award grants up to $2,500 for necessary medical treatments for dogs in need across North America including, but not limited to, broken bones, abdominal obstruction, heartworm, enucleation, parvovirus, cancer, and emergency services. The Bow Wow Buddies Foundation is seeking donations, of any amount, to support this cause and to help more animals in need. Every donation helps a dog stay healthy and happy in their home. To make a donation, please visit
www.bowwowbuddies.com
.
See the full release
here.