Camp Bow Wow Franchise
Julie Turner Named President of Camp Bow Wow
Have you heard the big news? A round of "appaws" is in order for our newest pup-loving President, Julie Turner! 
Formerly Camp Bow Wow's Vice President of Marketing, Julie has been instrumental in leading our internal marketing team for the past several years, providing strategic leadership for all brand marketing, communications and program development.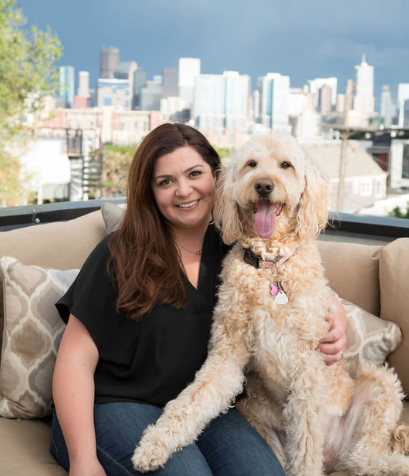 "Julie's brand leadership at Camp Bow Wow over the past five years has helped pave the way for the company's continued excellence and expansion in the market," said Doug Drew, President of Mars Veterinary Health North America, the parent company of Camp Bow Wow. "As President, we are confident that Julie's organizational knowledge, experienced leadership, and proven passion will ensure Camp Bow Wow's continued success for years to come."
With her sights set high, Julie is excited to propel the company to new heights (and territories). Most notably, she'll be spearheading our plans to:
Grow domestically. Expanding throughout the United States and accelerating system growth will remain a top priority for Julie.
Expand internationally. Canada is a growing market that we're eager to take full advantage of.
Maximize profitability for our franchise locations. With more than 170 locations, Julie plans on using her in-depth knowledge of the brand to help Camp owners reach their full potential.
"I am honored to take on the role as President of Camp Bow Wow, and assume leadership of a brand whose mission and services I so strongly believe in," said Julie. "At Camp Bow Wow, everyone shares a passion for what we do and it's inspiring to lead a team who embodies the brand's commitment to ensuring all dogs lead happy, healthy lives. I'm excited to work collaboratively with our corporate staff and franchise owners to maintain, and ultimately grow, Camp Bow Wow's leadership position as the number-one-rated and most trusted pet care franchise."

Are you looking to be a part of a low-risk, high-growth industry, with high rates of repeat customers and a business model that ramps up quickly? If so, we think it's time you joined the Pack!

To receive your complimentary executive summary and learn more about franchise opportunities, fill out the form below or call us at (870) 600-2713. We're looking forward to having you join the Camp Bow Wow family!

Categories:

Posted By