It's national Train Your Dog Month, and Camp Bow Wow is celebrating in a big way! Most recently, franchise owner Mike Underwood, of Camp Bow Wow Lawrence, met up with Indy Style's Tracy Forner to discuss some of the best tips to break your dog of bad behavior. But, Underwood didn't make his debut alone! He brought along his dog, Captain, to demonstrate some of these techniques first hand.
Underwood explained that successful dog training is all about preventing bad habits from the start, and focusing on forming good ones instead. To do this, pet owners need to be vested in the training process from square one.
"It's not so much cram and study as it is repetition," stated Underwood. "We can do training at the Camp. We can do training at home. We can do training with the individual dogs. But the reality is, the dogs are looking to get a connection with the owner, and that's what's great about taking your dog to a class and training them there. Because then, the handler or the owner is engaged with the dog. And that's what the dogs are looking for."
That being said, here are a few of the tactics that Underwood suggested to get any pet's training process started off on the right paw:
Build a Toy Corner
Let's face it. Dogs will be dogs, which means they're likely to chew. To avoid having furniture or a favorite pair of shoes destroyed, pet owners should familiarize their pet with the items that are fair game to chew first. Underwood suggests putting all toys in one place in a designated toy bin.
Create a Safe "Place"
"Place" is one of the commands that Camp Bow Wow trainers teach across the board. Pet parents should designate a spot – be it on a small carpet or a pet bed – that will be their pet's "place," and teach him to go to his place when instructed. This will make it easier to host guests, serve dinner, and do other household chores with the comfort of knowing that Fido is safe in his place until his owner says otherwise.
Get Plenty of Exercise
Sometimes when pets act rowdy and exhibit bad behavior, the underlying cause is simply boredom. Making sure a pet has at least one 30-minute walk per day can solve this issue. In addition, getting a pet used to going out for walks from the get-go can encourage good potty training behaviors as well. We know that for many pet parents, finding time in their busy schedules for daily exercise can be difficult. Fortunately, there's plenty of time for play at Camp Bow Wow!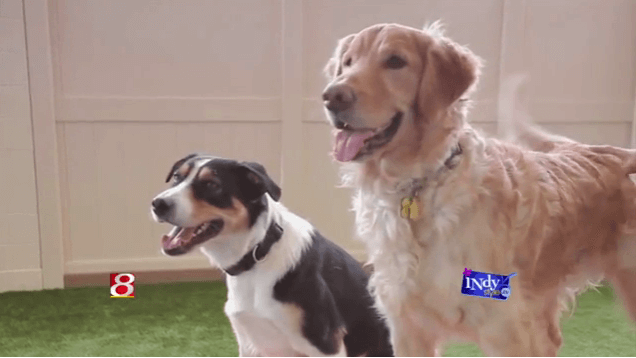 Turns out you can teach an old dog new tricks! And for those pet parents that are having difficulty – cue Camp Bow Wow! Many of our franchise locations offer a Behavior Buddies® training program, and as a franchise owner, you'll enjoy providing that service to pet parents with rowdy pups in need.
To read the full article and view the video featured on Indy Style, click here.