Camp Bow Wow Hosts Second Annual #GiveAFetch Campaign, Resulting In $40,000 In Donations To Local Shelters And Rescues
The Nation's Largest and Most Trusted Pet Care Franchise Promotes Responsible Pet Parenting While Celebrating the Special Things We Do for Our Dogs
WESTMINSTER, Colo., Nov. 27, 2018 /PRNewswire/ -- Another year in the books for Camp Bow Wow®, the nation's largest Doggy Day Care and Boarding franchise, as the company successfully completed its second annual #GiveAFetch campaign. #GiveAFetch's aim is to promote being a responsible pet parent while celebrating the special things we do for our dogs. As a result of the 2018 initiative, the company donated $40,000 to shelters and rescues across the country.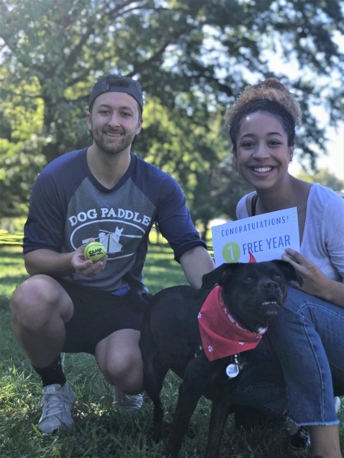 Camp Bow Wow kicked off National Dog Week with yet another full weekend of family-friendly events on Saturday, September 22nd and Sunday, September 23rd in four city parks across the country in Pittsburgh, Dallas, Las Vegas and Kansas City. Here are the highlights from this year's events:
Each of the dog-friendly weekend events featured a giant 7 ft. tennis ball dispenser that held over 2,000 tennis balls.
For every tennis ball dispensed, Camp Bow Wow donated $5 (up to $10,000 per event) to a local shelter of the user's choice, amounting to a total of $40,000 for the whole campaign.
The larger-than-life dispenser, which also doubled as a photo booth, held a single "Golden Tennis Ball," awarding a free year of Camp services to one lucky dog in Kansas City, named Chai.
In addition to the interactive dispenser, over 2,000 attendees nationwide enjoyed food trucks, treats from local vendors, "paw-traits" from caricature artists, and on-site pet adoptions set up through local shelters/rescues.
As a result, between the four cities, nearly 40 adoption applications were received on-site to help dogs find their fur-ever homes.
In addition to the dynamic events, the brand hosted an engaging social media contest beginning kick off weekend through the end of October, allowing those outside the selected cities to join in for a chance to win a full year of Camp. More than 6,000 pet lovers across the country proved how they #GiveAFetch by posting photos on Facebook, Instagram and Twitter. Entries ranged from photos of pet parents stitching up their pup's favorite monkey toy, just to have it ripped up all over again, gifting Fido their very own blow up pool to stay cool in-between Camp days, to serenading their furry companion with songs on the guitar, to name just a few.
Among the many inspiring posts, Moxie, an 8-month old Chihuahua mix, who was adopted from her local humane society was randomly selected as the winner. Her paw-rent, Lorrina Heisey of the Salt Lake City-area warmly mentioned, "She has brought me nothing but joy and laughter since the day I brought her home. She only knows love and she gives it easily."
Through the second annual #GiveAFetch program, Camp Bow Wow once again proved success in furthering the brand's commitment to corporate social responsibility, while inspiring pet lovers across the country. "We loved being able to celebrate another successful year of #GiveAFetch and inspire countless pet lovers across the country to go the extra mile for their dogs," said Julie Turner, Camp Bow Wow's Vice President of Marketing. "It's our daily mission to treat our furry friends like family, and by raising money towards local shelters, as well as providing a chance to give dogs in need a home, we feel that this campaign has allowed us to fulfill that mission in the best way."
The $100+ million-dollar company, which ranked #1 in the pet category on the Entrepreneur Franchise 500 list for the last three consecutive years and was named in Entrepreneur's 2017 and 2018 Best of the Best Lists, proudly offers dogs a safe place to play while simultaneously providing socialization, exercise, and TLC from certified Camp Counselors. The company's vision of "Happy Healthy Pets, Happy Healthy People" was further exemplified by the collaborative effort of the brand's corporate team and franchise network, making the entirety of the #GiveAFetch program a major feat.
For more information about Camp Bow Wow, or to become a franchise owner, please visit campbowwow.com or campbowwowfranchise.com.
About Camp Bow Wow®
In 16 years, Camp Bow Wow, the largest pet care franchise, has sold more than 180 franchises in 42 states and Canada. The company is a $100+ million dollar brand, with over 160 open locations and more than 40 in the process of opening across North America. From 2016 through 2018, the company was ranked #1 in the pet care category in Entrepreneur'sFranchise 500 list and named in Entrepreneur's 2018 Best of the Best List in pet services. The Camp concept provides the highest levels of fun, safety and service for its Campers, and peace of mind for their parents. Dogs romp together in an open-play environment and pricing is all-inclusive. The Westminster, Colorado-based company started franchising in 2003, and today over 70% of franchises have women in ownership positions. In addition to day care and overnight Camp, the company also offers in-home pet care, grooming services and a rewards-based dog training program. The Camp Bow Wow brand family also includes The Bow Wow Buddies Foundation, a non-profit organization dedicated to providing urgent medical care funds to dogs who are either homeless or whose parents cannot afford to pay their veterinary bills. Since September 2017, Camp Bow Wow is a wholly owned subsidiary of Mars, Incorporated.