How an expert training program adds value to your Camp Bow Wow® franchise
There are no bad dogs. For that matter, there are no bad dog parents — merely dog parents who need to understand the value of good training. When Camp Bow Wow franchises add a Behavior Buddies training program to their menu of services, it's a win for everyone.
The rewards-based training program not only provides an additional revenue stream for Camp Bow Wow franchise owners, it helps improve the lives of dogs, says Erin Askeland, Training and Communication Manager for Camp Bow Wow. When they sign up their dogs for Behavior Buddies, customers can choose from group classes, one-on-one in-Camp training sessions, puppy training classes and even in-home private training.
"Rewards-based training has been scientifically proven to be the best method to train not just dogs, but humans,too — and any other mammal, for that matter," Askeland says.
Keeping it 'pawsitive'
The trainers themselves are hired by individual franchise owners, Askeland says, although all Behavior Buddies trainers must complete their own training at Camp Bow Wow's corporate headquarters. "They learn everything from hands-on training with dogs and different behaviors to neuroscience and learning theory, which are important for understanding how dogs and people think," she says. "We want our Behavior Buddies trainers to be problem-solvers and not just read from a manual. Every dog and pet parent are unique."
The on-site training is followed by testing, and trainers must complete monthly assignments to maintain their certification. It's serious business — and a whole lot of fun, says Laurie Williams, who owns the Newark, Delaware, Camp Bow Wow.
"Camp is a FUN place for dogs," Williams says. "Our trainers keep it fun and use only rewards-based training to facilitate communication between people and dogs.
"The trainers work with clients on dog training — yes, they train the dogs, but training is only effective if the owners and trainers are consistent and totally positive so the dog enjoys the process and results!"
While dogs who come to Camp typically have to be 4 months old and completely vaccinated, Behavior Buddies accepts pups as early as 10 weeks so they can start their training and socialization early, Askeland says. "It's a good opportunity for pet parents to start training right away, and it helps the dogs adjust to Day Camp. Often the training involves puppy playtime, which helps identify what appropriate play is and what's not appropriate. Ultimately it helps them to become well adjusted adult dogs."
A boost for business
Currently, about 85 of our 130-plus locations offer Behavior Buddies services. Generally, the Behavior Buddies trainer is a full-time position for a franchise owner's Camp.
"It is its own little business," Askeland says. "You need someone motivated and driven to build that into their own mini business. The trainers are often selected because they're good in other areas. They might have duties as an assistant manager or work in marketing. If you truly want to grow the business of training with your Camp, you need someone who is well-rounded and willing to slowly add training skills."
A benefit for dogs
Part of the Camp Bow Wow mission is to make lives better for dogs. The charity work we do, which includes working with local shelters and animal groups and fostering dogs for adoption, helps improve the health and well-being of dogs everywhere.
Trainers also give back by working with shelter and foster dogs and by being a community resource for teaching safe handling and interactions between people and dogs, particularly kids. It's part of Camp Bow Wow's dedication to improving the lives of dogs, and it reinforces our corporate culture of giving back to the communities we're in.
Teaching a dog about what is and isn't appropriate play and behavior, and instructing his human on how to elicit those good behaviors, helps accomplish that by deepening the bond between dog and dog parent. Dogs can be trained as puppies how to behave properly — some programs offer training as early as 10 weeks — and the training can benefit senior dogs, too, by providing mental stimulation.
"Some Camps want to provide that personalized attention and element of fun for the dogs — and it can be fun for building that relationship between the parent and the dog,too," says Askeland. "Training is also really great for providing mental stimulation for older dogs. Requiring them to use their brains in new ways can really help them improve mental declines, it adds an element of fun to their lives and it helps them be more active.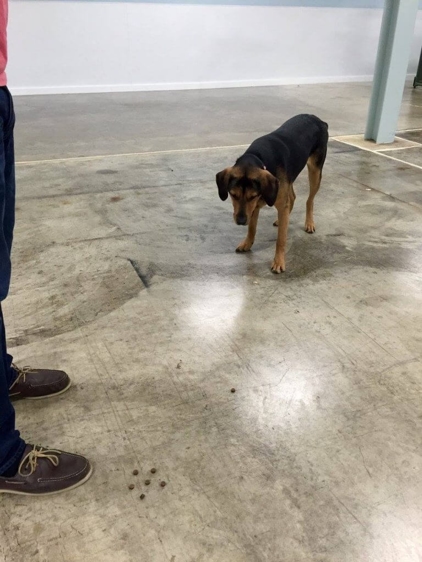 Chewey practices her new skill of listening to the "leave it" command during Behavior Buddies training.
A benefit for all
Our Camp franchise owners benefit by offering the services of highly skilled trainers at a fair price, and by having someone on their Camp staff whose knowledge and understanding of canine behavior enhances the level of services we provide overall.
"Behavior Buddies trainers are a resource for our Campers and our staff," says Williams. "For example, if a newer dog is unsure at Camp, the Trainer can work with the individual dog within the play group providing reassurance and rewards to build the dog's confidence and comfort. The trainers also work with our Counselors to improve their use of training techniques and understanding of dog behaviors and cognition."
While Day Camp and Boarding still provide the bulk of a Camp's revenue, Behavior Buddies is a great value-added touch, Askeland says. "The value of having a trainer on staff is tremendous," she says. "They come back with a lot more knowledge on how dogs think and react. Counselors get training on body language and how to respond when there are issues. They help train Camp Counselors to have better-run and safer yards overall."
To learn more
Would you like to learn more about the Camp Bow Wow franchise opportunity? Simply fill out the form at right to download our free franchise report and explore our research pages.