Pardon the inter-ruff-tion, but we happen to have some very important birthdays to announce. With over 130 Camps across North America, there's always something to celebrate. So, without further ado, let's put our paws together for all those Camps established during the month of March over the years.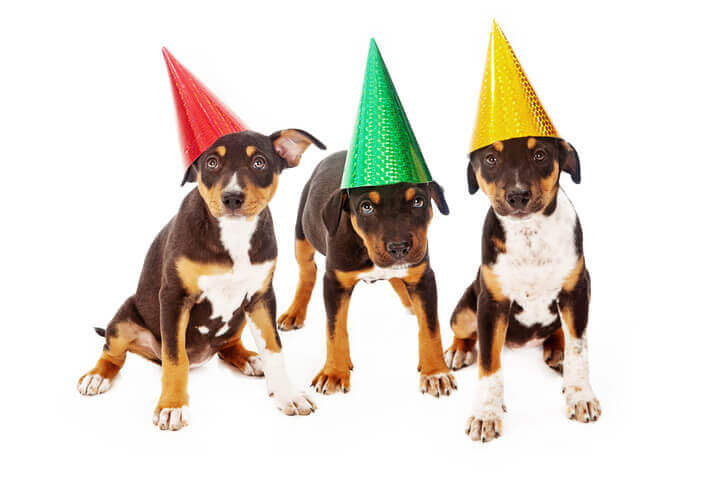 Happy 2nd Birthday!
Remember, the twos aren't so terrible when they're spent at Camp.
3/2 Camp Bow Wow Springfield
3/14 Camp Bow Wow Lawrenceville
Happy 3rd Birthday!
Looks like you've reached the tail-end of your puppy years, but there's plenty more to celebrate ahead.
3/1 Camp Bow Wow Henderson
Happy 4th Birthday!
High four to our Port Charlotte Camp, celebrating their fourth birthday at the end of this month!
3/29 Camp Bow Wow Port Charlotte
Happy 6th Birthday!
How about a round of appaws for our Temecula Camp turning six this year?
3/3 Camp Bow Wow Temecula
Happy 8th Birthday!
Turning eight is great — especially when it means belly rubs and delicious treats all day long.
3/6 Camp Bow Wow Strongsville
3/23 Camp Bow Wow Westlake
Happy 9th Birthday!
Just one more year of frolicking with furry friends away from double digits!
3/12 Camp Bow Wow El Cajon
3/14 Camp Bow Wow Colorado Springs East
3/24 Camp Bow Wow Lee's Summit
Happy 12th Birthday!
Hip, hip hooray! It's been 12 years since you first marked your territory in Monument, Colorado.
3/12 Camp Bow Wow Monument
The pet care industry is growing faster each year, and Camp Bow Wow is right there with it! With pet parents spending more than $60 billion dollars annually on their pets nationwide, the future is bright for current and prospective franchise owners.
If you're interested in learning more about what it takes to join the Camp Bow Wow Pack and invest in a bright future and doggone good time, dial 877-700-2275 or request your free executive summary here!