Our pet care franchise's growth strategy hinges on choosing great locations. So what makes a location great?
What makes a good Camp Bow Wow location? We tend to operate our Camp Bow Wow locations in or near the industrial parts of town, where rents and real estate costs are lower and where there are far more large buildings that can accommodate 100 dogs, their play areas and their cabins.
Those lower real estate costs translate into quicker break-even and higher potential margins for franchise owners.
The ideal location will still be close to neighborhoods and have easy access from the interstate or major thoroughfares, making it convenient for our customers.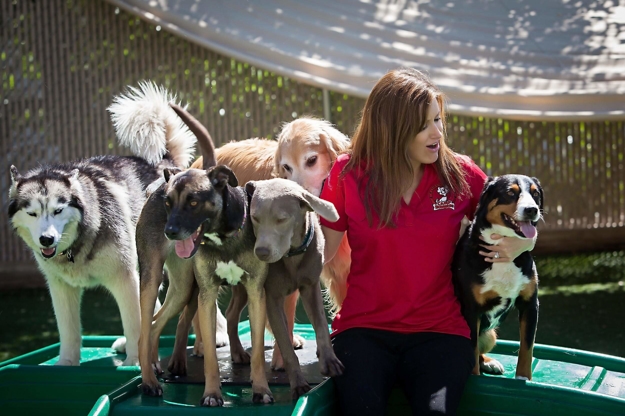 Site characteristics
Locations near industrial areas solve a practical problem: when you have 100 dogs together in one place, they are loud! Happy, but loud. Local ordinances can vary widely on things like allowable noise levels, and the areas we favor tend to take barking in stride.
Ideally, a build-out will have plenty of indoor space to accommodate 100 or so cabins along with our modern Camp design including fun touches like artificial turf on the outdoor play areas and a design theme of exposed wood beams. Our startup package includes construction project management services for franchisees, and we walk them through the ins and outs of zoning and the permitting process.
While some franchise owners do purchase their property, most find it more cost effective to lease. Rates vary by market, but industrial areas are less expensive per-square-foot compared to the locations favored by most retail franchises. The average time from the execution of the franchise agreement to the opening of your brand new Camp Bow Wow is 12 to 18 months.
Protected territories available
Camp Bow Wow is a well established brand, having experienced consistent growth since opening our first franchise in 2003. We have more than 150 franchise partners operating well over 100 units, and we have hundreds of territories are still available in the U.S. Our territories are based on ZIP code and typically include a minimum of 13,000 dog-owning households that meet our income and demographic requirements. Opportunities are also available in Canada for the right investor.
Join the Camp Bow Wow team
If you think you've got the passion and drive to be a part of our company, we'd love to start a conversation. Please fill out the form to the right to download more information about our franchise opportunity. We'll be in touch with you shortly.