Founder Heidi Ganahl and President Christina Russell discuss the vision and direction for Camp Bow Wow
If she had to describe her leadership synergy with Camp Bow Wow Founder Heidi Ganahl, company President Christina Russell would put it this way: "She's Captain Kirk, and I'm Mr. Spock."
In case you're not a Star Trek fan, that relationship looks a little something like this: Heidi is the visionary, the big picture, the passion play. And while Christina also has her eye on the long game, she's on top of the analytics, the operations, the putting all the pieces together. Both women are entrepreneurs in their own right and have run large companies on their own. Together, they're shaping up to be a powerhouse in the franchising landscape, running an $80 million pet care services company that is sustainable, innovative and on an ambitious track to expand the company to 500 franchises by 2020.
C-suite female leadership at big companies such as Camp Bow Wow, which is the largest pet care franchise in North America, is rare. Among S&P 500 companies, only 4% had female CEOs in 2015, according to the nonprofit organization Catalyst.
Camp Bow Wow is often described as a good fit for women as franchise owners, something both the Founder and the President uniquely understand. Women are often primary pet caregivers in the home, so they're often the ones who are first drawn to the Camp Bow Wow franchise opportunity. There's an opportunity to mix business with passion, to challenge themselves as entrepreneurs while doing something service-oriented.
"I get asked a lot about the challenges of being a woman leader," Heidi says. "You don't even think about it. It's not something you think about every day. You just want a balance of the best people around you."
We checked in recently with Heidi and Christina for a chat about their roles in the company, how their leadership styles sync up and what Camp Bow Wow has to look forward to in the next several years.
How Kirk found Spock
Heidi recognized the need to add a president to the Executive Team in 2014, about 15 years after she started the company, when she decided to sell Camp Bow Wow to parent company VCA. She wanted to maintain her leadership role but also wanted to spend more time with her family — she had 1½-year-old twins and a 4-year-old at the time. "I was a little burned out," Heidi says. "I had been running and gunning for 15 years and felt like I'd lost some perspective. We needed fresh blood in here, someone who could be a little less emotional and make the right decisions for the long-term. When your franchisees seem like family, you don't always do that."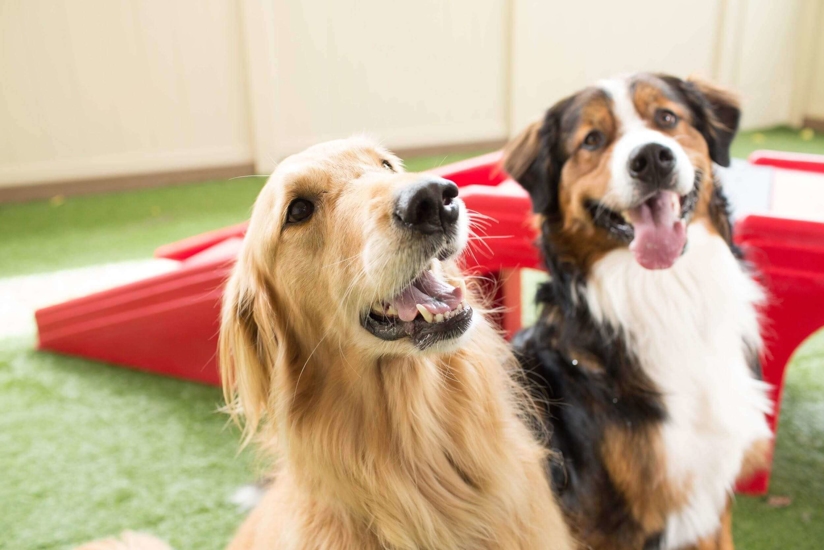 Heidi and VCA worked with a recruiter, culling through 50 top candidates to find the right person to help lead Camp Bow Wow into the next 15 years. "I wanted someone who could take care of the day-to-day while I worked on the strategic side of the business," Heidi says.
They didn't particularly care what gender Camp Bow Wow's President was; they merely wanted someone with a strong operational focus, someone whose attributes would dovetail as seamlessly as possible with Heidi's strengths. After interviewing some 15 people, they finally landed on Christina, who had just reached the point in her career where she was seeking her next challenge.
After 15 years with Curves International, both as the owner of four franchises and ultimately Vice President of Operations, serving as a mentor to Curves franchisees, she was ready to move on after the company changed hands. She was interested in service brands, and she knew she wanted something mission-oriented. Camp Bow Wow passed her sniff test.
"I was screening them as much as they were screening me," Christina says. "I really liked the mission of 'happy, healthy pets and happy, healthy people.' Coming out and meeting Heidi and the team, meeting at VCA and knowing the new owners cared about franchising as much as they cared about the dogs meant everything to me."
And did her own passion for dogs play a part?
"One of the first questions they asked me was if I was passionate about dogs," says Christina, the mother of a 1-year-old. "I don't know that they would have hired me otherwise. It's a question we ask everyone who comes in, and everyone who wants to buy a franchise. As soon as you ask the question you can see their faces light up."
Different talents, cohesive leadership philosophy
Both women are drawn to our company's commitment to service and making the world a better place for dogs and their people, and both are drawn to the creative side of being an entrepreneur. They are as passionate about franchise support as they are their dog obsession, and in many respects their leadership styles are quite similar.
"I'm really concerned about fairness," Heidi says. "I don't believe you should treat one franchisee any differently than another. At the end of the day, it's about the Golden Rule."
"I'm there to cheerlead and encourage and make sure they have the resources they need. Our culture is fun and supportive but it's still comfortable to have those tough conversations. It's okay to be moody and get pissed off once in a while. Let's just do it with respect and care, and authenticity."
Christina loves the aspect of helping the company grow by onboarding those franchisees who are themselves creative, intuitive, passionate leaders. "I love franchising because of the interaction you have with the business owners," she says. "It's not the same challenge you have when you manage staff. You don't have to inspire that passion — they bring it."
When it comes to shaping the vision and strategy that will pave the path for Camp Bow Wow's next few years, both women are excited about the possibilities that lie ahead. In addition to the company's expansion plans, they continue to explore ways they can create more synergy with parent company VCA, which operates 600 animal hospitals nationwide. Camp Bow Wow will also be rolling out some exciting brand initiatives, like something new for the small-dog market that's in the testing phase in 2016 and may be ready in 2017.
Camp Bow Wow is experimenting with Lil'Campers, which are similar to Camps but provide services to small dogs exclusively. Although Camps already serve small dogs and teacup breeds, Heidi and Christina is the team exploring the untapped revenue potential in the small dog market, hoping to create something that's even more appealing to small-breed pet parents.
Achieving balance
There's a lot of talk around Camp Bow Wow's Denver-area home offices about work-life balance, Heidi notes. It's something that's important to individuals and the company as a whole, much like the balance of leadership that she and Christina have worked to achieve.
"She's very organized, very analytical, very focused on the systems and processes to get where we need to go," Heidi says. "I'm more of the visionary, intuitive, and when I say this is what I know the customers want, it's her job to see how we get there."
Christina, the Spock to Heidi's Capt. Kirk agrees. "Her strong suit is that absolute entrepreneurial drive, that innovation side of the business," Christina says of Heidi. "Bringing her idea to the scale that it is today was a huge accomplishment. My skill set is providing the structure and all the things that go with that. I really look at things in a much more analytical way. I look at the long game and how this will impact the business; Heidi wants to drive 20,000 miles an hour towards the next great idea."
Learn more about Camp Bow Wow
If you'd like to learn more about the franchise opportunities at Camp Bow Wow, please fill out the form at right to download our free franchise report or explore our research pages for in-depth information.