Camp Bow Wow® is excited to launch the Step Up For Pups Challenge: a fun, virtual walking challenge to help support our nonprofit organization, the Bow Wow Buddies Foundation®. We have paired up with WoofTrax to create a 10-week challenge where participants can log walks, donate, and win prizes! WoofTrax is a free app that helps animal nonprofits earn donations based on the number of people regularly walking for them and by earning a winning walk in WoofTrax Challenges.
To join, participants should:
Download the WoofTrax App

Choose any local charity to walk for, or
Find the Bow Wow Buddies Foundation (must change state to Colorado)
You can walk for another charity and still participate in the Step Up For Pups Challenge!

Join the Step Up For Pups Challenge

You'll find the challenge under the ★ icon at the bottom of the App

Log 20 walks in WoofTrax (1/4 mile or more) by November 19th
Earn additional entries to win by donating $5 to the Bow Wow Buddies Foundation at givebutter.com/stepupforpups
The grand prize winner receives a 20-pack of day care to their local Camp Bow Wow® OR a $500 donation to the shelter or rescue of their choice!
Participants can also win prizes each week of the challenge by logging 3 or more walks.
Check out our sponsors and details on the challenge, including terms & conditions here.

About the Bow Wow Buddies Foundation
When the going gets ruff, the Bow Wow Buddies Foundation provides grants to families, rescue groups, and shelters with a dog in need of life-saving veterinary care. Every two weeks, the Foundation reviews completed applications and awards grants to those in need.
Grant requests have more than doubled in 2020, and without our in-person event to raise funds, we're going virtual with Step Up For Pups and asking our fellow dog-lovers to walk, donate, and win to save pups lives.
Meet Tuna
With the generosity and passion of dog lovers like you, the Bow Wow Buddies Foundation has helped save over 500 dogs with more than $600,000 awarded in grants. Help us raise funds to give a second chance to dogs in need all across North America, just like Tuna.
Tuna is a new mom who was found as a stray just before giving birth to seven puppies. After giving birth, Tuna began experiencing hear failure, which required emergency veterinary care to treat advanced heartworm disease and drain fluid from her abdomen. Her treatment plan included a variety of costly medications and follow-up visits.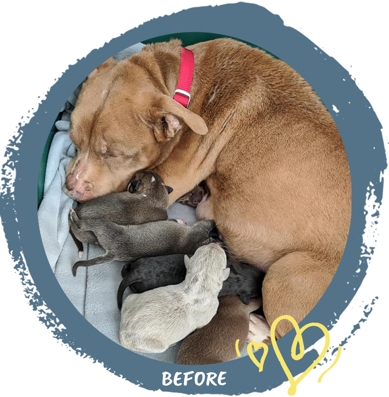 The Bow Wow Buddies Foundation stepped in and provided Tuna a medical grant to assist in the costs. While Tuna was in treatment, she was separated from her puppies to maintain their health.
The Humane Society of Charlotte reports that sweet Tuna is recovering and has almost completed her heartworm treatment! Soon she'll be ready to find a home where she'll have a second chance at the happy, healthy life she deserves. Her puppies are also doing great!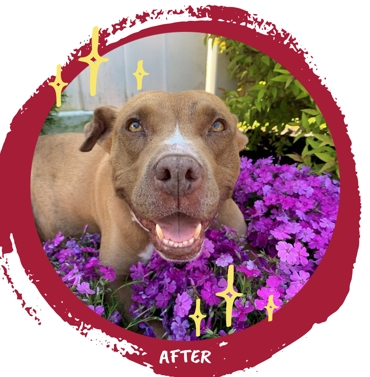 Meet more pups like Tuna who have received medical care grants from the Bow Wow Buddies Foundation here.