Inspired by selfless pet savings heroes, the Public Protector Discount offers franchisee fee discount to firefighters, law enforcement officers and paramedics.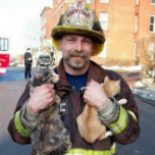 WESTMINSTER, Colo., June 27, 2017 /PRNewswire/ -- Camp Bow Wow®, the nation's largest Doggy Day Care and Boarding franchise, continues to prove its unceasing capacity to lead the dog care business by introducing a 10% Public Protectors discount off its Initial Franchisee Fee. This new offering applies to any potential Camp owners who have worked at least two consecutive years as a firefighter, law enforcement officer or paramedic. The 100+ million-dollar brand, which ranked #1 in the pet category on the Entrepreneur Franchise 500 list for 2016 and 2017 and named in Entrepreneur's 2017 Best of the Best List in pet services, remains at the forefront of the thriving pet care industry by adding this new program element in order to continuously provide lucrative opportunities for entrepreneurial pet lovers.

The inspiration for the Public Protectors Discount arose when Camp Bow Wow met new franchisees, Frank Rizzo and Steve Shatkin. Rizzo, in the promotional products industry and Shatkin, a video editor at CBS by day, are New JerseyPolice Training Commission Certified Humane Law Enforcement Officers, active in animal cruelty prevention at night and on weekends. Over the years, the duo has dedicated their free time to investigating the allegations of animal abuse and cruelty throughout the state of New Jersey. They tirelessly save the lives of many innocent animals; removing them from unpleasant, dangerous and often disturbing situations, providing them with the care they need to help them find their forever homes.campbowwowfranchise.com

"We have always had a passion for animals and have wanted to make our work for helping those in need a more significant part of our lives," said Rizzo. "When you are involved in the Animal Protection world, you see many unsavory things that have happened to animals. Owning a dog franchise will give us the opportunity to treat our Campers the way all owners should treat their pets."

Rizzo and Shatkin's Camp Bow Wow location will open in Northern New Jersey in 2018. Their admirable work encouraged the brand to offer the Public Protectors Discount to help further expand its franchisee network and make it more accessible to courageous firefighters, law enforcement officers and paramedics.

"Frank and Steve have done exemplary work for the animals of New Jersey," said Christina Russell, President of Camp Bow Wow. "We are so inspired by their courageous acts and want to extend our deepest gratitude to them as well as to potential franchise owners who have spent their lives going above and beyond in their communities, ensuring everyone, two and four-legged, are living happy and healthy lives."

The establishment of the Public Protectors Discount allows the franchisor to bring on new owners to join its pack to help reinforce the company's vision of "Happy Healthy Pets, Happy Healthy People."

For more information about Camp Bow Wow, to find a location near you, or to become a franchise owner, please visit campbowwow.com or campbowwowfranchise.com.