According to Giving USA, donations for foundations benefiting animals and the environment totaled $10.68 billion last year—a 6.2% increase in giving.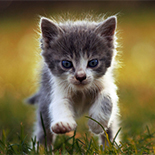 Pet lovers are used to being asked questions like, "Did you find everything OK?" and "Do you have a rewards card?" at the checkout line in pet stores. Sometimes, they also are asked a very different question: "Would you like to support a homeless pet?"
It is a question that clearly is paying off. According to Giving USA, donations for foundations benefiting animals and the environment totaled $10.68 billion last year—a 6.2 percent increase in giving. Petco Foundation, the charitable arm of Petco, raised just over $32 million in 2016, with 90.8 percent of that money spent on programs designed to benefit the health and welfare of animals.
"The Petco Foundation has grown significantly over the years," said Executive Director Susan Kogut. "In 2000, we were investing $1 million in animal welfare organizations and in the past two years, we have invested more than $30 million annually."
In 2015, Petco Foundation was the leading funder of animal welfare organizations. "We assure that all of the donations raised—$2, $5 and $10 or more—in Petco stores or online are invested to make a big impact for the animals," said Kogut.
Nationally, Petco Foundation works with organizations that demonstrate the most productive, life-saving services for animals. Called the Lifesaving Rate of Return, Petco Foundation uses a data evaluation model that compares similar organizations against their peers to determine which organizations make the greatest impact. In addition to the dollars it provides, the foundation also supports agencies which promote animal adoption, providing space for partner organizations to feature adoptable pets in their stores nationwide.
Locally, Petco has partnered with more than 50 organizations in the Pittsburgh region, including Hello Bully and the Animal Rescue League of Western PA.
Hello Bully has been in the Pittsburgh region since 2005 and is dedicated to changing the negative image associated with pit bulls, and helping these dogs to find loving, forever homes. It also expanded its mission in 2013 with the Pittsburgh Pets program, which serves the North Braddock and Allentown sections of Pittsburgh. Daisy Wise, co-founder and president of Hello Bully, said her organization partners with Seven Fields Veterinary Clinic on the Pittsburgh Pets program, which offers free vaccinations, spaying/neutering services, microchipping and more to all breeds of dogs.
Wise said her organization receives a lot of local financial support, including through the Lovers Not Fighters Gala it hosts each year. "We've been hosting the gala for 10 years and it's always a major fundraiser for us; this year, we raised more than $25,000," she said. "When you see how everything comes together, and how much people care and want to help, it gives you faith in the world."
Bow Wow Buddies Foundation, based in Broomfield, CO, is the charitable arm of Camp Bow Wow. The organization provides urgent medical care funds to sick and injured dogs in need. Locally, the organization received 14 applications for assistance in 2016 and eight applications for assistance to date in 2017.
Erin Askeland, CPDT-KA, training and communications manager for Camp Bow Wow and the Bow Wow Buddies Foundation, said the foundation operates through the Camp Bow Wow franchises and has special campaigns each year that include but are not limited to, "I Lent a Paw" copper tags for donations, Angel Trees, Photos with Santa Paws, and raffles.
Locally, Bow Wow Buddies has helped a number of dogs in need, including Valentino and Marley. Valentino was a stray who was found on Valentine's Day 2016 by a good Samaritan, said Askeland. "A Pix mix, he was only 8 weeks old when he was found in a snow-covered cage in the middle of a field. He suffered a severe case of flat foot and was emaciated." With the grant Valentino received, he was able to get treatment for the foot condition and plenty of TLC at the Animal Rescue League.
The Animal Care and Assistance Fund provides financial assistance to families in need to give their pets a chance for a better and longer life. "We believe that all pets deserve the highest standard of emergency or specialty veterinary care, including those whose owners cannot afford treatment," said Program Director Jessica Balogh. "We are proudly affiliated and provide financial assistance to qualifying patients of Pittsburgh Veterinary Specialty & Emergency Center (PVSEC)."
Balogh said that the fund receives, on average, 200 applications annually. To qualify for assistance, pets must be patients of PVSEC and their prognosis must be favorable. Additionally, pet owners must qualify for funding. "PVSEC is one of the most comprehensive veterinary specialty and referral centers in the country, often providing services that cannot be provided anywhere else in our region," said Balogh.
Funding is made possible by the generosity of individuals, businesses and foundations in the local community. ACAF also hosts two signature fundraising events each year: Uncorked & Unleashed and the summer Golf Classic.
According to Kogut, local pet lovers who want to donate through foundations such as these should take the time to do research to find organizations that match their passion. "If you are investing to help animals through a foundation, learn more about them by reviewing their financials, which should be posted on their website," she said. "Make sure they are putting your funds to work today to help animals."
Read the full article here.