Heidi Ganahl shares tips on including your dog in your wedding, featured in Green Bride Guide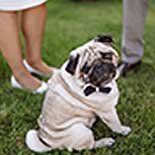 Maybe it's the adorable dog wedding outfits, or the idea of little fluffy wearing a dog wedding dress, but the number of dogs attending and participating in weddings is on the rise. However, before you sign Fido up as your doggy ring bearer, take a moment to review these important tips from the experts:

1. Personality Matters

"It is important to consider your pet's personality when making the decision to incorporate him into your wedding," notes Heidi Ganahl, the founder and CEO of Camp Bow Wow, North America's largest and fastest growing pet care franchise. "If you have a free-spirited animal, he may resist walking down the aisle in a manner that you'd prefer. To prevent having an overly-hyper dog at your wedding, make sure to give him a good amount of exercise in the days leading up to your event (this is where a doggy camp can be a great help!). If your pet is nervous around strangers, limit his role and have him leave after the ceremony. If you have a friendly dog, allow him to stay for the reception."

2. Assign A Doggy Chaperone

To make sure that your puppy performs his or her role properly, Heidi suggest assigning someone to escort your dog down the aisle. "Don't leave your pet unattended. Designate someone as the dog's sitter or hire a Home Buddies Professional to take on the responsibility of walking and caring for your pet during the wedding."

3. Beware Of Wedding Pet Outfits

"If you decide to dress up your pup for your wedding, make sure that his costume does not constrict his breathing or movement in any way," Heidi warns. "A decorative leash is a great option for pets participating in weddings, as this is something that your pet is probably already accustomed to."

4. Rehearse A Lot!

"Take your pup to the location of your wedding weeks in advance, so that she becomes well acquainted with the area. Allow her to practice walking down the aisle and reward her with a treat afterward. This will provide your puppy with an incentive to repeat her performance with ease on your big day," notes Heidi.

5. Food And Drink

Have dog food and a bowl of fresh water handy at the reception to ensure that Fido is well fed. Make sure your pet doesn't sample any of the human food, as even a small helping off the wedding menu could make him or her sick.

Finally, make sure to check with your venue to ensure you pet is welcome. Many venues do not allow any dogs other than service animals. Outdoor wedding venues are more likely to accommodate pet inclusion requests, but you still should talk with the management to make sure your little guy or gal is welcome.
Read the full article here.