We Love

Our Campers
Featured Campers
We LOVE our Campers! Check out our featured Campers at Camp Bow Wow Albany. These pups love to play all day in our fun, safe and social environment, and receive lots of love and attention from our Certified Camp Counselors® whether they're in for day care or boarding.
June 2021 Camper of the Month

Lizzie

Lizzie is a four and a half year old Shetland Sheepdog that has been joining us at Camp for a little over four years now! She has a very unique personality that we all know and love. No matter what the weather is like outside, you can always find her relaxing on the deck, or sometimes running around outside spinning in circles! She is a little particular about who her friends are, but once she makes a friend and decides she wants to play with them it is absolutely adorable. We are so lucky to have her as one of our regular Campers!

February 2021 Camper of the Month

Bailey

Ms. Bailey first joined us at Camp in November of 2018 as a 4-month old pup! At that time, she was unsure of the new environment and a little nervous around all of the other dogs. However, if you tell anyone at Camp about that time they probably wouldn't believe you! Now every time she shows up, she is 100% ready to go and see all of her friends with no fear! She is such a happy goofy girl that we love seeing every week, and many of us have had the pleasure of watching her grow up. The only thing we ever have to worry about with Bailey is that there's no food in her sight for her to snag, because we know if there's a crumb on the floor she'll be the first to find it!

January 2021 Camper of the Month

Mia Muffin

Ms. Mia Muffin has been a camper with us since 2015, and we are so lucky to have her as one of our regulars! She is the queen of our small dog yard and she knows it. She is one of the most excited dogs you could ever see when she walks in the door at Camp; her pure joy and happiness when she comes in is bound to put a smile on everyone's face. We are all so grateful to know Mia Muffin and see her adorable face every week!

October 2020 Camper of the Month

Bentley

Bentley is a three-year-old Australian Shepherd that has been a regular with us at Camp since April of 2018 when he was just four months old! He was a little puppy with a big personality when he started coming to Camp and that hasn't changed one bit. Although he is one of the smallest dogs in our big dog yards, he has one of the biggest personalities in there! Sometimes he can be mischievous in the yard when we find him with random things in his mouth (leaves, fur, etc.), but most times he's playing with his friends or rolling over looking for belly rubs! He is such a handsome happy guy that can always put a smile on every counselor's face!

October 2020 Camper of the Month

Blitz

Blitz has been a regular Camper with us for five years now and we are all so happy we get to see him almost always five times a week! He is a handsome 6-year old German Shepherd, and he knows it because we all call him the handsome man everyday he comes. He has a feisty personality that all of us at Camp love because we know he's just a big sweetheart that wants lots of love and attention. He loves coming to Camp almost as much as we all love him!

October 2020 Camper of the Month

Ollie

Ollie started joining us at Camp as a 4-month old puppy in May of this year and we have all loved watching him grow over the last 6 months! He is usually one of the smallest pups in our small dog yard, but he does not let that stop him from playing with absolutely everyone! He becomes best friends with every dog he plays with and always makes all of his fellow campers feel welcome. When he's not romping around with his friends, he's relaxing with his tongue always sticking out! Everyone adores little Ollie and we can't wait to continue to watch him grow up and bring joy to everyone that meets him.

September 2020 Camper of the Month

Maverick

Maverick has been a camper with us since the very beginning of Camp Bow Wow in Albany! Starting with us in October 2014, Maverick is a staff favorite for his unique personality. He hangs out with his fellow campers & counselors on weekends, and is always willing to tell you what he's thinking! He's known for being quite the chatterbox, but also for being an old soul who just wants all of the scratches and love he can get. Maverick is one of a kind and camp would not be the same without him!

August 2020 Camper of the Month

Doc

We have been lucky enough to have Doc as a regular camper with us since November of 2016! He is always such a happy boy, his joy and happiness radiate to everyone around him. That is one of the many reasons why we all love seeing when he comes in the door. Whether he is playing and running around or napping next to one of his friends, he is always putting a smile on someone's face!

July 2020 Camper of the Month

Tigger

Tigger is the king of the red toy in the small dog yard! When he's at Camp, you can usually find him lying there with his tongue sticking out waiting for some belly rubs or taking a nice nap. He started with us as a 6 month old puppy and we've watched him grow into the mature 2 year old boy he is now, although he does still piddle when he gets excited about his belly rubs and seeing his favorite people! He puts a smile on everyone's face when he walks in and immediately rolls over waiting for someone to come pet his belly. We all love having handsome Tigger as a regular camper with us!

June 2020 Camper of the Month

Doc

Mister Doc has been gracing our team with his presence since he was a little pupper. This gentle giant has no problem zooming around the yards with his furriends and then plopping on down for a nap. When in yard, Doc loves to seek out the counselors and leans his whole body into their legs, his version of a hug! Though Doc is thrilled to get to Camp, no one is more important to him than his amazing mom Carol. These two are inseparable and have one of the most comical relationships, and our team has been spoiled by the loving and caring gestures from Carol. She always takes the time to catch up on life and share some of Doc's mischievous adventures at home. They are not only famous at Camp for being the dynamic duo, but they have quite the following outside of our community, everyone knows and loves Doc and Carol!

February 2020 Camper of the Month

Watson

We're celebrating his 5 year anniversary with his forever friends at Camp! Watson is one of the sweetest pups who has flirted his way into all of our hearts. He has absolutely perfected puppy eyes and pulls you to him from across the yard with his adorable gaze. What's most memorable is when he jumps up to get up-close love and attention, he does it in the most gentle way. You barely feel anything before you notice his sweet face coming close for kisses. He also loves to wrap his paws around your hands and it feels like he's pulling you closer and closer, man this boy loves personal attention! When the weather is warmer you'll almost always find him outside catching some rays with a pack of friends surrounding him. He's kind of a big deal here.

January 2020 Camper of the Month

Sloan

Sloan is one of the Camps original crew members, she started with us when she was just four months old! She's now a calm and loving 3-year-old gal who attends camp on a weekly basis. Girlfriend loves to be outside when the weather is warm and sunny, you'll find her working on her tan! She's such a treat to have in the yard, each counselor loves the one-on-one time she seeks out, determined to get her chin scratches and belly rubs. This little lady will pose for any photos, as soon as the camera comes out, she's smiling away...Tyra Banks would be proud! When it comes to costume season, other pups beware, Sloan takes the cake! This past Halloween she debuted as a mermaid and stole the show with her seashell bikini top and mermaid tail.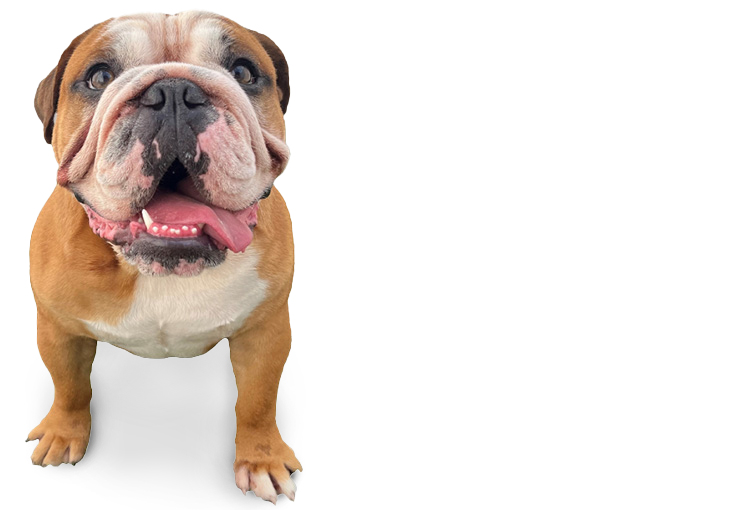 Ready to


Romp. Wag. Play?