At St. Clair Shores

We Love Our Campers
Featured Campers
We LOVE our Campers! Check out our featured Campers at Camp Bow Wow St. Clair Shores. These pups love to play all day in our fun, safe and social environment, and receive lots of love and attention from our Certified Camp Counselors® whether they're in for day care or boarding.
December 2022 Camper of the Month

Hank

Hank is a happy-go-lucky Lab mix who may be small, but his energy and playfulness are big! Hank loves playing in the yard and can make friends with any other Camper with his welcoming and playful attitude! Hank is always ready to come to Camp and we love seeing him comin in every day with that pep in his step! Congratulations Hanky!

August 2022 Camper of the Month

Polly

Polly is a longtime Camper with the sweetest heart imaginable! Polly spends her time at Camp playing with her Camper friends, new or old, or getting head scratches from our Counselors! Whenever Polly is at Camp, she makes an impression with her easy-going personality and lovable eyebrows! We love Polly and love having her at Camp! Congratulations Polly!

July 2022 Camper of the Month

Millie

Millie is a quirky black lab who loves coming to Camp so much that she gets excited just at the word "Camp." If you really want to get Millie's tail wagging, say her BFF's names "Cooper" and "Rosie." Needless to say, Millie loves to Play! We're so thankful to have a rambunctious Camper like Millie! Congrats Millie!

June 2022 Camper of the Month

Cooper

Cooper is a loveable pup who has become a fan favorite on TikTok! His adorable underbite and jovial personality make it easy for us all to fall in love with Cooper. Cooper loves when his best friend Millie comes to Camp and the two of them play the day away! Congratulations Coop!

May 2022 Camper of the Month

Penny

Penny is a zestful pup who will play the whole day long! Her energetic self is always ready to come to Camp and see all her friends and make new ones along the way as well! She loves spending time outside no matter what the weather and loves getting all the love from our Camp Counselors! We're so fortunate to have Penny in our Pack! Congrats Penny!

April 2022 Camper of the Month

Bonnie and Henry

Bonnie and Henry are the brother/sister dynamic duo that comes into the small play yard with differing approaches, both equally adorable! While Henry prefers a more relaxed time in the yard by greeting the other Campers with a simple sniff or nudge. Bonnie, on the other hand, will come in ready to play and full of energy that needs to be released, playing with any other dog in sight! These two are so much fun to watch together and we love having them in our Pack! Congrats Bonnie and Henry!

March 2022 Camper of the Month

Coco

Coco is a vibrant and jovial Camper who roams our small play yard playing with each and every one of our other Campers! Coco's lively play style helps bring energetic and welcoming energy for both the Campers as well as the Counselors! While Coco is not playing you can find her residing under our play equipment waiting to find her next playmate! We love Coco and her zippy personality! Congratulations Coco!

March 2021 Camper of the Month

Izzi

We are very lucky to have Miss Izzi at Camp as a frequent day Camper since September. She first started out at Camp as a young pup who enrolled in our August Puppy Obedience Class!

Izzi is a 10 month old Labrador Retriever mix that has a lot of love to give - literally! She is always giving all of her furiends and Camp Counselors kisses throughout her day. She just wants everyone to know how much she loves you! Congratulations Izzi!

February 2021 Camper of the Month

Walter Bee

Love is buzzing in the air for our February Camper of the month, Walter Bee! Walter Bee is a six month old Chinese Shar-Pei that has been a daycare member since he first sniffed out Camp last month! Walter Bee is a goofy young pup that always keeps us laughing with his silly antics in the play yard. You can usually find him in a play bow position trying to get anyone to run around the play yard with him! He has also started our Level 1 Obedience course work, so he's on the way to becoming a very well manner

January 2021 Camper of the Month

Nova

Nova is an eleven month old Labrador Retriever who had originally come to Camp for a boarding stay but she loved making new friends so much that she now frequently comes in for day care! Nova seems to never have a bad day and always has the biggest smile on her face. She could be playing in the puppy pools, romping around with her friends, or even taking a quick break in the play yard; either way her huge grin never leaves when she's at Camp!

December 2020 Camper of the Month

Storm

Everyone give a round of a paws for our December Camper of the Month, Storm! Storm is a lovely one year old Pit Bull Terrier who has been coming to Camp since October. She quickly made friends with everyone she met and signed up for our monthly daycare membership. Now she never goes a day without hanging with her pals! Storm has a gentle soul and she loves to give love to her Camp Counselors and Camp friends whenever she can. She's such a sweet girl! Congratulations, Storm!

November 2020 Camper of the Month

Bandit

Bandit is a beautiful eight month old Australian Shepherd who has been coming to Camp since July! Bandit started his Camp Bow Wow journey at our Training Facility doing Personal Coaching sessions. Bandit's goal is to complete our Level 1 and Level 2 courses. He is one smart cookie and loves to learn with his Dad! When he doesn't have his head in the books, you can find him relaxing at Camp. Although in Bandit's eyes, relaxing means playing all day with his Camp furiends! We are so happy to have this intelli

October 2020 Camper of the Month

Spencer

Spencer is a one and a half year old Bulldog mix who has been coming to Camp since May. He has a big lovable personality that our Camp Counselors are absolutely smitten with! He really is a big ham and can usually use his adorable puppy dog eyes to get some extra butt scratches or cookies on the way to the yard. Who could resist that face after all?! Once in the play yard there's not much that holds Spencer back, because he is definitely not the shy type! You can usually find him romping around or play bowi

September 2020 Camper of the Month

Denali

Denali is a one and a half year old Australian Shepherd that has been coming to Camp since March. She is a ball of energy that can't stop her butt wiggles whenever she's at Camp. Since Denali is so energetic, she often finds herself a Camper with a similar mind set. You can usually see her romping around the play yards with Radar or Lander. And if you can't spot her with her friends, you can most certainly look for her in our outdoor play area. Denali loves playing in the pools and getting cooled off from t

August 2020 Camper of the Month

Tater

Summer lovin' happened so fast.. and that is exactly how we felt when we met Tater this summer! Tater is our August Camper of the month. He is a one and a half year old Golden Retriever/German Shepherd mix that is the definition of a social butterfly! He has made so many new friends at Camp that we can't even pick just one best friend for Tater... because everyone is his BFF! If you can't find him in the play yard pools, odds are you can usually find him soaking up the sun playing a rousing game of chase wi

July 2020 Camper of the Month

Mea

Have you heard? Mea is our July Camper of the Month! We couldn't have picked a better fit with a better firecracker attitude than Mea! Mea is a 1 year old energetic Dutch Shepherd mix that started coming to Camp when she was just 16 weeks old. Mea is fortunate to get to have plenty of sleep overs at Camp, which means more play time with her beloved friends. She is definitely on a routine for coming to Camp. Mea knows what day she gets to come in and is practically begging her dad to grab her overnight bag a

June 2020 Camper of the Month

Victor

Help us wish a big congratulations to our June Camper of the Month, Victor! Victor is a cunning one year old Vizsla that has been wiggling his way to Camp since last summer! Victor takes his butt wiggling duties very seriously and can hardly contain them as soon as he walks his parents through our front door. The butt wiggles don't end there though, as they continue all the way to the play yards where he can show off his mad wiggling skills to all of his friends. Victor doesn't know a stranger at Camp, beca

May 2020 Camper of the Month

Elsie

May is assumed to be a month full of sunshine and flowers, and our May Camper of the Month's personality is just that! Elsie is a ten-month-old Mini Bernese Mountain Dog that is just a bundle of joy! This little girl hasn't met a Camper or Camp Counselor that wasn't instantly charmed by her sweet smile. Of course when she isn't smiling or putting on her charm, she has a silly side to her as well. You can see her really let loose and when her friends Arlo, Karter, or Dexter come to Camp it is game on! You ca

April 2020 Camper of the Month

Radar

Radar is a one year old Siberian Husky mix that loves to come to Camp! I think we can all agree that one of Radar's many wonderful qualities is his handsome smile. He is not shy to show it off either, he is always wearing it! Speaking of endearing qualities, it's also no mistake Radar got his name from his ears. When pricked up and listening, we think he could probably hear from a mile away! There's no getting passed his sonar hearing - his parents can't even mention the word "Camp" without Radar going bananas! Thank you for always putting a smile on our faces, and congratulations!

March 2020 Camper of the Month

Trini & Chinfa

We'd love to introduce you to our March Campers of the Month, Trini and Chinfa! They are some of our veteran Campers and have been coming since 2013 (Trini) and 2015 (Chinfa)! We are so lucky to be able to see them Monday - Friday for daycare; we even give them a ride in our shuttle to and from Camp each day! These two sisters are an inseparable pair - you can often find them lounging and snuggling together on a daily basis! They are very treat motivated and love when the Camp Counselors give them extra attention. We love you girls, congrats!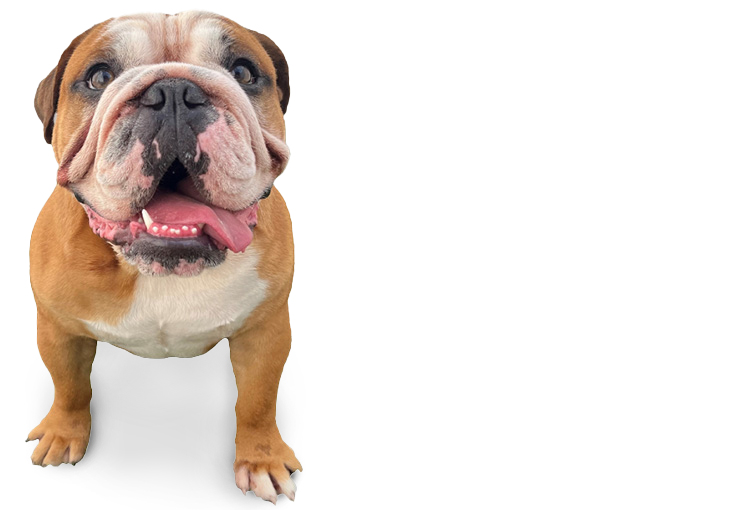 Ready to


Romp. Wag. Play?