2017 Cupids and Canines Fundraiser a Huge Success! Over $2000 Donated!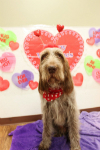 Our 2017 Annual Cupids and Canines Fundraiser held on Saturday, February 11, was a huge success thanks to our amazing clients! It was a very busy day but everyone had a grand time, dressing up in their Valentine's finest, and everyone went home with prize!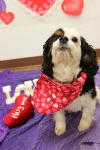 Thanks to your donations, we donated over $1500 to Sheryl's Den, a local rescue group, and over $500 to the Bow Wow Buddies Foundation, which helps assist families in need with medical care for their pets or helps animals in need of medical care receive it before they go to a furever home. We are so grateful for everyone that participated and made it our best yet!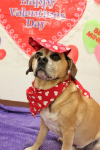 Congratulations to our Grand Prize Winner, Mumphrey, who went home with a free 20 Day Camp package!! We know he'll put it to great use!
If you haven't seen all the fun we had, make sure to check out our Facebook page at this link to check our your Camper!