Creating Healthy, Happy Dog-to-Parent Relationships Using Reward-Based Methods
Camp Bow Wow Liberty's dog training services are designed to forge a healthy bond between you and your pup. Our premier dog training services offer variety, flexibility, and can cater to your dog's specific needs. Our goal is to help you and your pup establish clear communication and enjoy working together. We believe training is a life-long process and should be both fun and challenging.
The training we offer is based on scientifically proven methodology and aligns with the American Veterinary Medical Association (AVMA), the American Society for Prevention of Cruelty to Animals (ASPCA®), the Certification Council for Professional Dog Trainers (CCPDT), the International Association of Animal Behavior Consultants (IAABC), and other established animal welfare organizations.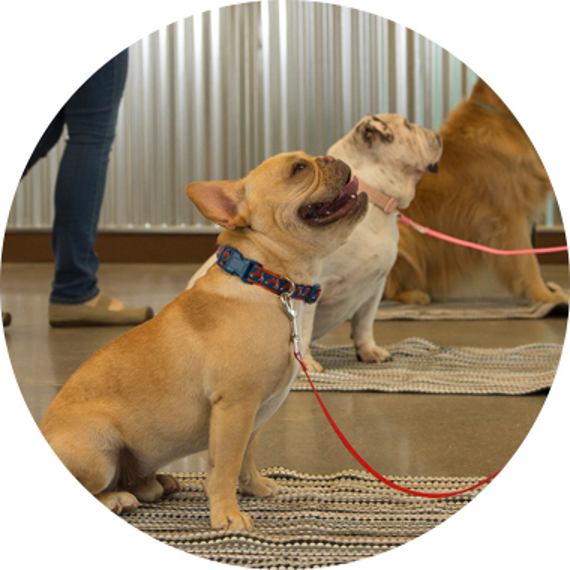 Private Training Sessions at Your Personal Residence
Camp Bow Wow Liberty is now partnering with Camille Pukay of Divine Paws Training KC, LLC, who has been our onsite trainer for the past three years. Camille will now conduct private training sessions at your personal residence for those pet parents who prefer one on one training with just you and your pup. Camille is certified with ABCDT, ABCCT and RMT training credentials. Divine Paws Training KC, LLC is insured and licensed.
Camille is a strong believer in the pet, pet parent bond and will only work with both you and your pup together during your private training sessions. A consultation and evaluation will be done with you and your pup to determine what behaviors you would like to work on. You and Camille will determine which training services will best suit your needs. All training will be scheduled with Camille and Divine Paws Training KC, LLC, not through Camp Bow Wow Liberty.
Camille specializes in Leash Training, Obedience Cues, House Manners, Impulse Control, Recall and working with Rescue dogs.
Training services will be performed at your personal residence, within a 30-mile radius of the Greater Kansas City area.
Training Program & Services
Regardless of age or experience, all dogs can benefit from learning. Whether your pup is starting out with the basics, you want to brush up on previously learned skills, or you're ready to up the challenge with your pup, Camille's training programs will help create a meaningful relationship between you and your pup.
Training Your Dog Helps:
Build a stronger bond between your dog and your family
Channel energy into appropriate tasks and behavior
Create consistent communication between you and your dog
Maintain a sharp mind and problem-solving ability
Improve behavior in new environments
If you would like to schedule a FREE 15-minute consultation with Camille, please Click Here to complete a short Contact Us form. We will email you a link to our Training Request Form. Your information will be forwarded to Camille, who will reach out to you within 24-48 hours.
Who's a good dog?
Yours can be! Make a Reservation