At Henderson

We Love Our Campers
Featured Campers
We LOVE our Campers! Check out our featured Campers at Camp Bow Wow Henderson. These pups love to play all day in our fun, safe and social environment, and receive lots of love and attention from our Certified Camp Counselors® whether they're in for day care or boarding.
May 2021 Camper of the Month

Lucy Luu

Let's give a round of pawplause to our Camper of the Month, Lucy Luu! She is a 2-year old Poodle, who all-around just loves attention (human and dogs)! She's been a frequent camper since July 2020. You'll either see her getting that attention she craves and deserves, taking a nap, or playing in the water! Congratulations again to Lucy Luu for being our Camper of the Month!

April 2021 Camper of the Month

Capone

Capone is a 2-year-old Border Terrier who's been at Camp since he was 9 months old! When he arrives, he reaches up and gets love from the counselors that he sees on his way to the back. He's always charged up and ready to vocalize his demands in the play yard - he's a bossy boy. In the yard, he favors the play bridge, it is his domain and it makes him taller, but also easily accessible for pets. Smart boy. Congrats to Capone for being our Camper of the month!

April 2021 Counselor of the Month

Jacquelyn

Jacquelyn has been at Camp for 6 months! She balances another job - working at the vet, but she's always present and ready to take on the play yard. If the pups don't have their fur-friends to play with, she finds ways to keep them active. She LOOOOOVES hanging outside with the pups and giving them lots of belly rubs. A round of a-paws for Jacque's dedication!

March 2021 Camper of the Month

Georgie

Georgie is our Camper of the Month! She is a 3-year-old Great Pyrenees who's been coming to Camp since she was 1! Georgie usually comes in for a half-day and an occasional bath. Dad is kind enough to share her with us when he doesn't want to leave her bored at home! When she's here, you can find her laying in the middle of the play yard - snoozing, following a Counselor for some love, or playing with a friend! Tail wags to our sweet girl, Georgie on being our Camper of the Month!

March 2021 Camper of the Month

Bella

Bella is a small Yorkie/Mix who roams around Wigglewam Barkway! She always comes in with a smile on her face and trots over into the play yard. She sticks to her own usually, but she's always ready for some pets and to take some glam shots. It's always nice to see her come and go with the same smile either way. Congrats to this sweet girl for being our camper of the month!

February 2021 Camper of the Month

Winston

Winston is our camper of the Month! He's a 7 year old bulldog who comes in READY to play! He's been coming for a couple of years and recently introduced his siblings (Kirby and Daisy) to Camp, too. He is a deaf pup, but gets along with everyone in the play yard - he's even used as the first pup to be introduced to new campers. He's such a spunky boy, his personality brightens everyone's day!! Congrats to this sweetheart on being our camper of the month!!!

January 2021 Camper of the Month

Roxy

Roxy is the one of sweetest old girls in Wigglewam Barkway (small play yard)! Roxy doesn't come to socialize much, she would rather keep to herself, but she roams and sniffs around to check things out while she's here. You can find Roxy keeping herself away from the others, but observing from a distance. The one thing she finds the most comfort in, is the head scratches/pets from the humans "protecting" her from the youngin's running around.

December 2020 Camper of the Month

Millie

Millie is our camper of the month!! Millie is a special girl who everyone has created a special bond with. We won't be seeing much of her as mom works in the medical field, and travels for work to help during such crazy times. Millie has been at Camp just about every day the past year and always comes in, ready to give her favorite human some kisses, and with an appetite - she loves her food! And her naps... don't forget the naps! You can find Millie sunbathing in our outdoor play yard or taking a siesta on the play bridge. We're so fortunate to have Millie for a small chunk of time. She has definitely left her paw-print in our hearts. Safe travels to both mom and Millie!! Thank you for all the hugs, kisses, and memories!

October 2020 Camper of the Month

Sofia & Little G

Sofia and Little G are our Campers of the month! They are two Italian Greyhounds that come in twice a week, always ready for some lovin' from our Front Desk Manager Jenn (and from everyone else too). You can spot the duo hanging out/napping on the play bridge together or individually with their friends. They both love the attention they get from the Counselors, too! Sofia is more independent, but she gets ecstatic to see her pal Lennie. She absolutely loves him!! Little G is more outgoing, he likes to sniff and walk around more, and greet the other pups in the play yard to try and get them to play! Congrats to the Iggies for being Campers of the Month!

September 2020 Camper of the Month

Penny

Penny is a year old Beagle who comes about 2-3 times a week, forsure every Sunday. She comes for half days and is sure to have a ball while she's here. She's also participated in a few training sessions while she was here for daycare! Penny has plenty of friends to play with, and she gets super excited to see some of her favorite humans too! There are times where she doesn't put the brakes on when she's zooming around the yard, it's pure excitement. We also want to give a huge thank you to Penny and her family for always participating and donating to our rescues when we help raise money through themed photoshoots, we all appreciate it! Tail wags and nose boops for being our Camper of the Month!

August 2020 Camper of the Month

Bo & Husker

Our Campers of the month are Bo and Husker! Husker has been a Camper for roughly 2 years, and Bo became a part of the family last year! These brothers come every Saturday with their packed lunches in the classic brown bag while they are here all day. Both boys love to play with their own friends as well as with one another when romping the play yard. Husker is more independent/less reliant on the counselors, and Bo is always full of energy/ready to play with the human or the other pups! We're ecstatic to acknowledge these boys as Campers of the Month!

July 2020 Camper of the Month

Ely

Ely is our Camper of the month! This little guy has so much fun here, he just LOVES playing with all his furriends! You can always find him in the play yard "splooting" right in front of the water bowl when he needs a water break. Not only does he come for daycare/boarding, but he also gets his hair cut with Deeanna, and MUST get some snuggles with us. He sure loves his peanut butter whiz at the end of the night too! Congrats to this love bug for being our Camper of the month!

June 2020 Camper of the Month

Aries

Our Camper of the month is Aries! She is a 4 year old Bulldog who LOVES coming to Camp! She always stops for hugs/pets from the counselors who come across her route to the play yard. You can spot this wrecking ball in the play yard launching herself off of the bridge to run around with her pals, splooting (laying down like a "frog") in the middle of the yard, hugging a human, or cooling off in one of the outdoor pools – she loves being out there the most! We appreciate Aries and her mom for making and donating masks to our team. Congrats to this sweet girl for being our camper of the month!

February 2020 Camper of the Month

Remington

It's been about 2 years that Remington has been romping with us! He's a frequent Camper who comes almost every Sunday so that his paw-rents can enjoy watching the hockey games (Go Knights)! He occasionally boards with us and is always thrilled about playing with the other pups. You can find Remington "running a mutt" with his pals in the play yard almost at all times, he also loves attention and gets excited when a new Counselor comes into the yard.

November 2019 Camper of the Month

Cinnamon

Cinnamon is a frequent camper who comes in throughout the week, not just for daycare but for grooming too! We have learned that she loves belly rubs and praises for good behavior in the yard from the counselors. She has also made many furriends to play with! On the days that her friends are not here, she lounges on the bridge-steps or romps around the play yard. Butt wiggles to this pretty Aussie for being our Camper of the Month!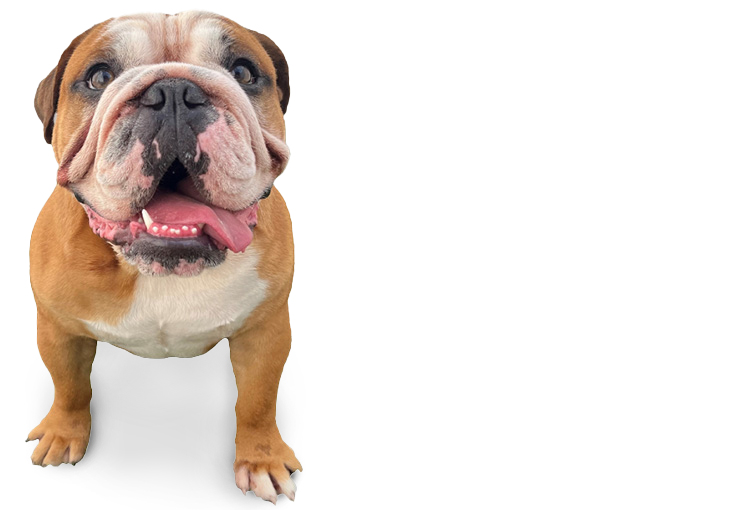 Ready to


Romp. Wag. Play?