We Love

Our Campers
Featured Campers
We LOVE our Campers! Check out our featured Campers at Grand Rapids Airport. These pups love to play all day in our fun, safe and social environment, and receive lots of love and attention from our Certified Camp Counselors® whether they're in for day care or boarding.
November 2023 Camper of the Month

Juno & Whitaker

We are highlighting Juno and Whitaker for the month of December because they are one of our favorite duos at Camp. Whitaker has been with us since puppyhood, and ever since we first met him, he has been the best influence on some of our other younger dogs. Juno is his little sister, and she is quite possibly the happiest, most carefree husky in the world. We love both of them incredibly much and are so happy to highlight them for December.

November 2022 Camper of the Month

Wren

Wren is an 8-month-old rescue. She is a beautiful mixed breed, unlike any other dog we've met before. She is a good friend to dogs of all sizes and she is very playful. You can always catch her right by your feet looking up at you waiting for some love.

August 2022 Camper of the Month

Olive

Olive is one of our little campers that is full of energy and love. She gives great snuggles and she loves attention from all dogs. Her favorite thing to do is to bring her brother to camp and show him how many friends she has. We love that you're here all the time Olive!

July 2022 Camper of the Month

Molly

Molly has been a regular at camp for about a year. The moment you meet her, she steals your heart. She is a beautiful Pitt mix with a loving & spunky personality. Most often you can catch her taking long snoozes in the yard or hanging by the counselors. Our favorite part about Molly is the amazing hugs she gives.

June 2022 Camper of the Month

Duke

Duke is a 1 1/2-year-old Bernadoodle. He is a goofy fun-loving dude that gives the best hugs! He loves coming to camp and playing with all of his friends. We heart Duke!

May 2022 Camper of the Month

Louie

Louie is a one-year-old Schnoodle and is THE LIFE of the party! He is always playing non-stop with as many dogs as he can. There may never be a dog that LOVES baths as much as Louie, it is his favorite camp activity next to playing with his friends. He runs into camp with so much excitement that it can't help but bring a smile to your face. Congrats Louie!

April 2022 Camper of the Month

Wrigley

Wrigley is a one-year-old Labradoodle that LOVES camp! He is always ready to play, make new friends, and love on the counselors. He has been given the nickname "Wiggly Wrigley" since his tail is always wagging. Congrats Wrigley!

March 2022 Camper of the Month

Max

Max is a two-year-old Dachshund who loves everyone, campers, and counselors! He is always welcoming to his new dog friends and plays with everyone. He always brings a smile to our faces when he is at camp! We heart Max.

February 2022 Camper of the Month

Saul

Saul is a 2-year-old lab that is known around camp for his powerful and loving hugs, nose bops, and big smile. He is a lover of all of his doggy friends. Saul brightens everyone's day when he is at camp.

January 2022 Camper of the Month

Finn

Finn is one good boy! He is still a pup but he is the best listener, well mannered and loves playing with every dog. He brings a smile to all of our faces when he wiggles through the door on a daily basis. We love having Finn Cole at camp!

March 2021 Camper of the Month

Bernie

Bernie is a three year old Labrador mix who has been a Camper since he was four months old!

Bernie is a very playful boy and he LOVES coming to Camp to see all of his furiends. We always know when he's around because he has a very unique bark.

We adore Bernie and are so glad he's part of our Pack!

February 2021 Camper of the Month

Theo

Theo is a total heart throb! He's only been a Camper with us for a couple months, but everyone is in love with him already. Theo is very friendly and playful, but can also wind down and snuggle up with his fur-iends. He's such a handsome boy and we're so glad he's part of our Pack! Congratulations, Theo!

January 2021 Camper of the Month

Jersey

Jersey started coming to daycare with her brother, Bender, back in 2009! She's the queen of the play yards and likes to keep all the young pups in line. She's almost 11 years old now, but she still keeps up with all the other Campers. She just refuses to act her age! We adore Miss Jersey and we're so grateful that she's part of our Pack.

December 2020 Camper of the Month

Gibson

Gibson has been a Camper with us for over 3 years! He is sweet, sassy and definitely a staff favorite. We often have Gibs help us interview new Campers since he is so friendly and playful. He's great at making new friends. We love his expressive ears and goofy personality! Congratulations, Gibson. We love you!

November 2020 Camper of the Month

Breslin

Breslin has been with the Grand Rapids Airport pack since 2019. We thoroughly enjoy his goofy, playful demeanor. Breslin gets along with everyone and is such a joy to have here at Camp! Congratulations Mr. Breslin. You're pawsome and we are lucky to have you as part of our pack!

October 2020 Camper of the Month

Lola

Lola has been with the Grand Rapids Airport family since February of this year. She is a stellar playmate to all our big campers. We are completely head over heels in love with this princess! Lola is a daddy's girl and she gets so excited to tell him about her day at Camp when she gets picked up. Congratulations Ms. Lola, we love you!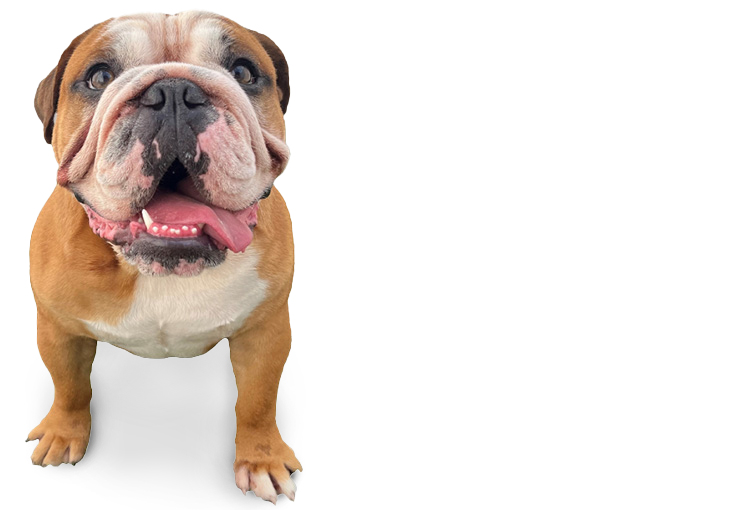 Ready to


Romp. Wag. Play?