Creating Healthy, Happy Dog-to-Parent Relationships Using Reward-Based Methods
Camp Bow Wow Morris's dog training services are designed to forge a healthy bond between you and your pup. Our premier dog training services offer variety, flexibility, and can cater to your dog's specific needs. Our goal is to help you and your pup establish clear communication and enjoy working together. We believe training is a life-long process and should be both fun and challenging.
The training we offer is based on scientifically proven methodology and aligns with the American Veterinary Medical Association (AVMA), the American Society for Prevention of Cruelty to Animals (ASPCA®), the Certification Council for Professional Dog Trainers (CCPDT), the International Association of Animal Behavior Consultants (IAABC), and other established animal welfare organizations.
One of our Camp Bow Wow Certified Trainers will work to design a program that meets your needs and your schedule. Contact Camp Bow Wow at (973) 933-2828 to schedule a session!
Training Program & Services
Regardless of age or experience, all dogs can benefit from learning. Whether your pup is starting out with the basics, you want to brush up on previously learned skills, or you're ready to up the challenge with your pup, our training services can accommodate your needs.
Training Your Dog Helps:
Build a stronger bond between your dog and your family
Channel energy into appropriate tasks and behavior
Create consistent communication between you and your dog
Maintain a sharp mind and problem-solving ability
Improve behavior in new environments
Group class fees are due at time of registration.
Refunds due to Pet Parent cancellations are at the discretion of CBW.
Since it is hard to fill spots that become open close to class start dates, all potential refunds must be approved by CBW and cannot be guaranteed.
Group Classes
Camp Bow Wow's group classes include a variety of programs for all skill levels. Our obedience program is split into multiple levels, so pups start with the basics and increase the difficulty through each level as you and your dog progress. Other group classes include tricks, leash-walking skills, CGC prep, and more!
Basic Obedience Group Class with dogs and pet parents to go over sit, down, wait, name recognition, loose leash walking, and more! This is a 6-week course, meeting once per week for 1 hour each session. Full payment is due at booking.
The two levels of our obedience classes are:
Level I—Basic: Builds the foundation of reliable commands like sit, down, wait, name recognition, and leash walking.
AKC S.T.A.R Puppy Program: This 6-week course is run by our AKC CGC Evaluator, and comes with a certificate of completion at the end. It is built for puppies under the age of 1 year old. This course will allow puppies to become AKC S.T.A.R puppy certified. The course is the first step for your pup to become a Therapy Dog.
*Please inquire for further steps to become a full Therapy Dog.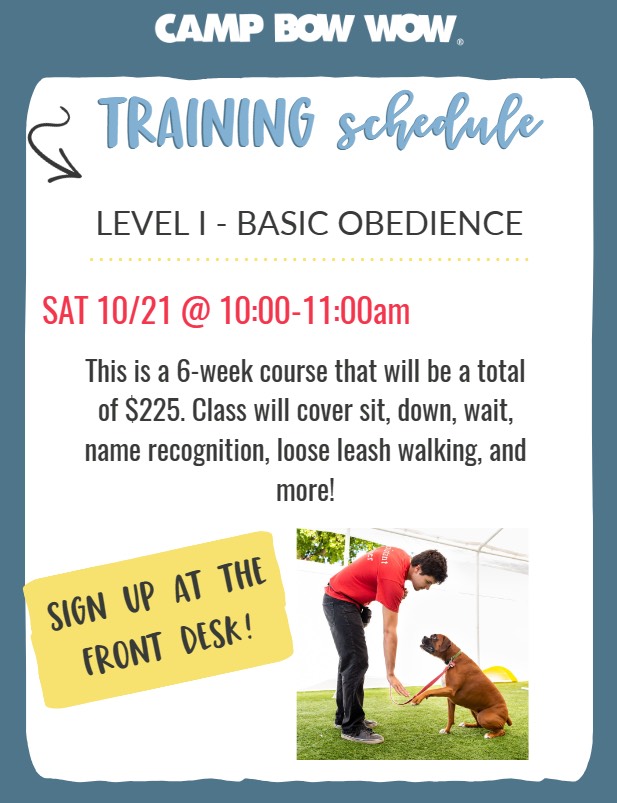 PLAY & TRAIN AT CAMP
Let our Certified Dog Trainers work with your dog on the things you specify while they are at Camp. Our trainers will spend 30-minutes of one-on-one time with your Camper mid-day on weekdays and update you after each session! All you need to do is let us know ahead of time you would like to request this service. You may speak with a trainer to get started if you like. $45 per 30-min. session or Package of ten 30-min. sessions for $400.
Board & Train: "Laying the Foundation" Learning Program
This "sleep away camp" has been carefully designed to help out families who need assistance laying a ground foundation for their new puppy, or who simply don't have the time to do so properly. This program has been designed to provide pups with the tools to a basic foundation of learning. During their stay with us, dogs will be introduced to different people, environments, sounds, smells, and more! This is a 10 day program, where our head trainer/behaviorist will use only positive reinforcement to begin building a solid, positive learning foundation for pet parents to continue.
Board and Train is perfect for our busy pet parents and/or difficult pups. This program is meant for laying a ground foundation of learning for our puppies, however, can be tweaked to cater towards behavior modification dependent upon each situation. Please call for more details.
Note: This is our starting price. Pricing may vary depending upon each dog's specific needs.
This Program includes 1 year of follow up consultations with our Trainer.
Day Training
This customized Day Training Program is carefully designed to enhance a dog's behavior in specific situations, and ensure their behaviors are modified to their needs. Using only positive reinforcement, our Head Trainer/Behaviorist will work with your dog diligently throughout the day and begin to shape your pup to be the best version of themselves. Drop off will typically be between 7am-9am, with pickup between 4pm-6pm (this will be specifically customized with our Trainer beforehand).
Minimum of 2 weeks (Monday-Friday).
This Program includes 1 full year of follow up consultations with our Trainer.
In-Camp & Private Training
Our Certified Dog Trainers will work one-on-one with you and your dog. Masks are required. These sessions can be done in your home/neighborhood or at Camp*. Like Play and Trains, owners set the priorities for these sessions. We can train your dog for you or coach you as you work with your dog. Pricing for these sessions is shown below. Please use the Make a Reservation button below to request a consultation.
Private Training sessions done at Camp are done in our training areas that are away from other dogs. Dogs do not have to be spayed or neutered for training, but all dogs at Camp must be current on Bordetella, distemper and rabies vaccinations. Dogs that have not had an interview would have to be taken home when the training session ends.
Appointments are required for private dog training. Please let us know in advance if you must reschedule an appointment. If an appointment is not canceled by noon on the preceding day, a $50 deposit will be needed for the next reservation. The deposit will be applied to the service if the service is done and not rescheduled a second time. If the service is not done on the rescheduled date/time, the deposit will be forfeited.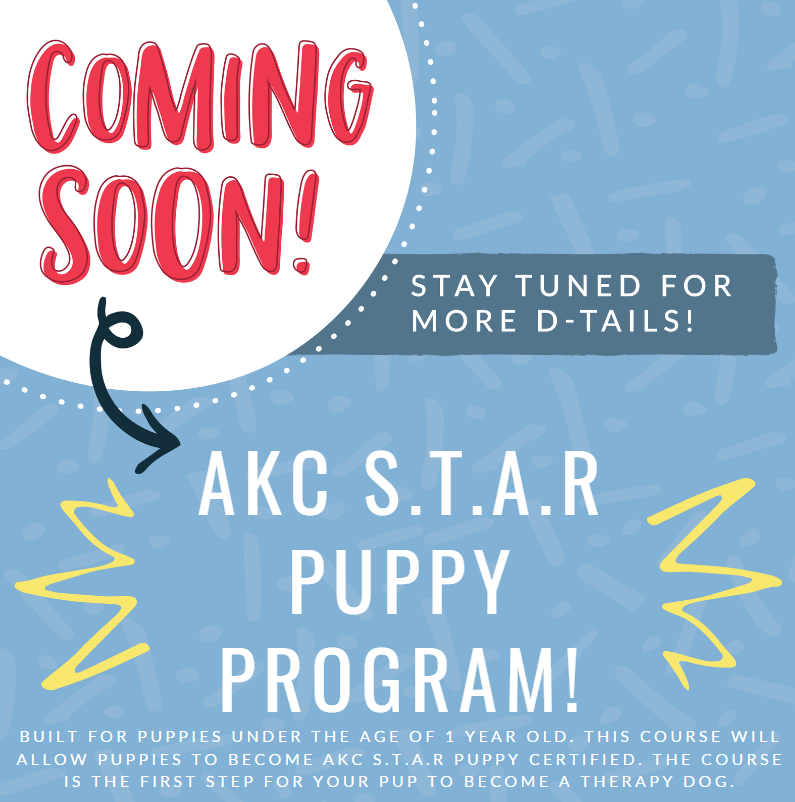 Who's a good dog?
Yours can be! Make a Reservation