At Cherry Hill

We Love Our Campers
Featured Campers
We LOVE our Campers! Check out our featured Campers at Camp Bow Wow Cherry Hill. These pups love to play all day in our fun, safe and social environment, and receive lots of love and attention from our Certified Camp Counselors® whether they're in for day care or boarding.
June 2022 Camper of the Month

Mallow

Mallow has been coming to camp since he was just a pup. His favorite activities are chillin' in the play yard and leading the "howlers" in the daily sing-a-long! He can even get the Counselors to sing! His favorite snacks are bananas and string beans.

May 2022 Camper of the Month

Luna

Luna is a Kelpie who's been coming to Camp for a little over a year. She loves the Counselors and romping with the dogs. When she wants your attention, she does her Warrior I Doga pose. When you call her name, she wiggles!

April 2022 Camper of the Month

Zeus

Zeus is a 2 1/2-year-old Great Dane who is one of our biggest dogs at Camp! He loves to know what's going on around him all the time. If he hears the Counselors talking, he's tall enough to hop up and look right over the fence to say hello! Zeus is a very happy-go-lucky dog who plays well and ever so gently with his fur-iends. He's a pleasure to have at Camp!

March 2022 Camper of the Month

Moxie

Moxie is almost 2 years old and has been coming to Camp for almost a year. She loves getting hugs from her favorite counselors! She was a little nervous when she first came to Camp but has since opened up and loved having lots of Fur-iends.

March 2022 Camper of the Month

Miley

Miley started coming to Camp in 2015 when she was only 4 months old! She loves to romp all day with her fur-iends at Camp. Her favorite place to be is on the bridge or on the floor teaching the other dogs Doga! She can do the "Downward Dog" perfectly!

February 2022 Camper of the Month

Hulk

Hulk retired from the racetrack in Kansas shortly before his 4th birthday. He's now 5 years old and a big couch potato. His hobbies include furry, squeaky toys, getting lots of TLC, and leisurely "sniffari" walks. The socialization at Camp helped him come out of his shell and increase his confidence over the last year! When he gets home from Camp, he goes straight to bed and sleeps until morning.

January 2022 Camper of the Month

Hazel

Hazel is a Sharpei/Shepherd mix who came to the Animal Welfare Association with her right hind leg amputated. No one was offering to foster her, so one of the AWA employees stepped in and become the foster parent. Hazel was such a love bug, that the AWA employee is now her Mom! Hazel loves belly rubs and playing ball. When you ask Hazel for her paw, she gives you both! You would never know she only has three legs because she can run faster than most four-legged dogs! At Camp, she's everyone's fur-iend. She loves to sleep on the bridge with her head lying on another dog.

December 2021 Camper of the Month

Oliver

Oliver is a three-year-old Alaskan Husky, who's been coming to Camp since 2019. While most Huskies like to play together, Oliver tends to fancy the Golden Retrievers. He loves to wrestle with other dogs, always letting the girls win! Oliver is always the first one to the water buckets when fresh water is available, and he loves to help clean up the leaves from the outdoor play yards. He always knows when a Counselor is trying to sneak up behind him. He stays real still and then throws his head back to let us know we've been spotted!

November 2021 Camper of the Month

Rex

Meet Rex! This pawsome young man was adopted by his parents in June of 2020. He's been coming to Camp for about a year now and is very popular in the play yards! His favorite "hobby" is playing in the ball pit! He plays all day and we heard that he passes out in the back seat of the car as soon as he's picked up from Camp!

May 2021 Camper of the Month

Bromley

Bromley is our Camper of the Month! He loves to play with all his fur-iends at Camp in the big dog yard! Every time a Counselor walks up to him, he immediately drops down and rolls over for a belly rub! Congratulations, Bromley!!

March 2021 Camper of the Month

Bowie

Bowie is a one-year-old, St. Bernard/Golden Retriever/Bloodhound mix with a happy-go-lucky personality. He started coming to Camp when he was just a pup at 4 months old and grew into a big boy pretty fast! He plays well with the big dogs and likes to take a nap in the middle of the day.

December 2020 Camper of the Month

Shelby

Let's give a round of ap-paws to Shelby, our Camper of the month. Shelby is a spunky Chihuahua/Daschund mix. She's almost 2 years old. Her tail is always wagging and she loves to stand on her hind paws and reach for the Counselors' attention. She also likes to sit on the bridge in the play yard and cuddle with the other dogs. She's an absolute pleasure to have at Camp!

August 2020 Camper of the Month

Maxwell

Maxwell is a labrador retriever/ pitbull mix. He's going to be 2 years old in November! He came to the US after being found in a litter with their mother in a vacant lot in Puerto Rico. Maxwell's pawrents adopted him through an agency here in the US. When he comes into Camp in the morning, he always jumps up on the door to watch his mom get in her car. Once she's in, he turns and gives the counselor a hug and then heads for the play yards. He's very lovable and gets along with people and other pets!

February 2020 Camper of the Month

Cash

Cash is a great at cuddling, loves walks & catching balls & frisbees. He gets the newspaper (sometimes he tears it to shreds). He loves to chase squirrels. He has earned 4 ribbons for doing a dog run following a bag on a pulley & returning to his owner in under 2 minutes - only the greyhounds beat his speed. He loves this & gets so excited that he can hardly wait for his turn.

Cash has been coming to Camp for a little over a year and fits into the pack like a champ!

January 2020 Camper of the Month

Sangria

Age: 3 Years
Breed: Pit Bull

Sangria is a 3 year old Pit Bull who's been a regular at camp for 2 1/2 years. She's laid back and easy going. She makes friends with all the new dogs that come to Camp. She loves to spend time lying on her back with her paws in the air! The counselors love having her around!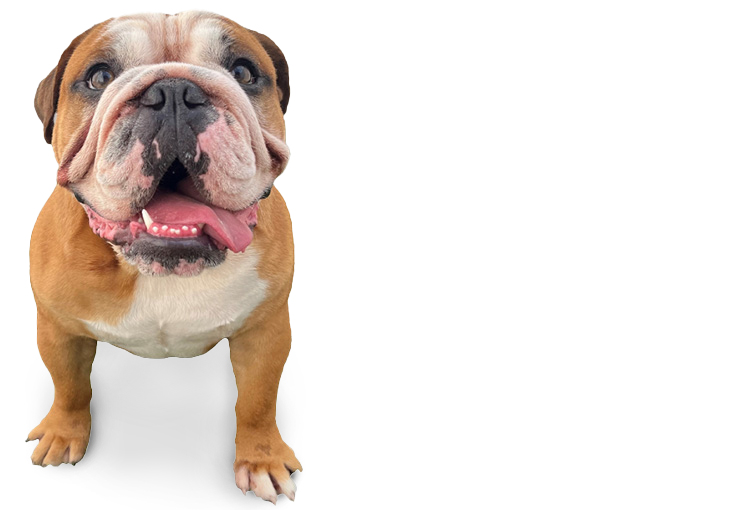 Ready to


Romp. Wag. Play?