Boulder

Dog Grooming
Come Back to a Clean, Happy Pup
What's better than picking up a happy dog from Camp? Picking up a clean and happy dog from Camp! Camp Bow Wow® is happy to provide nail trimming and bathing services that will leave your pup looking and smelling their best. Bathing them on your own is often time-consuming, exhausting, messy, and stressful for both you and your four-legged family member. Rather than trying to do the job yourself after a long, tiring day, why not let us take care of it during your dog's stay?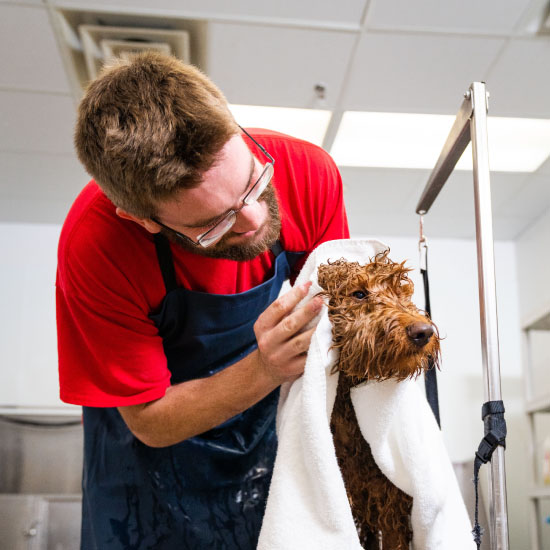 With dog grooming areas specially designed for your pup's comfort, Camp Bow Wow can take this off your to-do list. By adding a bath to your pup's stay, you can cuddle with a squeaky-clean pup when you get home.
Dog Grooming Policy
All grooming services must be orchestrated during a Daycare or Boarding Reservation
All dogs must meet CBW Boulder vaccination requirements. Please note, this may differ from other Camp Bow Wows across the country. If you have questions, please contact the front desk at (303) 442-2261
All dogs must pass the Camper interview
Grooming Packages are nonrefundable after one month from purchase date
Grooming Packages automatically expire one year after purchase date
Accounts go inactive after 2 years of no visits
Contact us at (303) 442-2261 to learn more about our dog grooming services.