Creating Healthy, Happy Dog-to-Parent Relationships Using Reward-Based Methods
Camp Bow Wow South Salt Lake's dog training services are designed to forge a healthy bond between you and your pup. Our premier dog training services offer variety, flexibility, and can cater to your dog's specific needs. Our goal is to help you and your pup establish clear communication and enjoy working together. We believe training is a life-long process and should be both fun and challenging.
The training we offer is based on scientifically proven methodology and aligns with the American Veterinary Medical Association (AVMA), the American Society for Prevention of Cruelty to Animals (ASPCA®), the Certification Council for Professional Dog Trainers (CCPDT), the International Association of Animal Behavior Consultants (IAABC), and other established animal welfare organizations.
One of our Camp Bow Wow Certified Trainers will work to design a program that meets your needs and your schedule. Contact Camp Bow Wow at (801) 288-2275 to schedule a session!
Training Program & Services
Regardless of age or experience, all dogs can benefit from learning. Whether your pup is starting out with the basics, you want to brush up on previously learned skills, or you're ready to up the challenge with your pup, our training services can accommodate your needs.
Training Your Dog Helps:
Build a stronger bond between your dog and your family
Channel energy into appropriate tasks and behavior
Create consistent communication between you and your dog
Maintain a sharp mind and problem-solving ability
Improve behavior in new environments
Group Classes
Camp Bow Wow's group classes include a variety of programs for all skill levels. Our obedience program is split into multiple levels, so pups start with the basics and increase the difficulty through each level as you and your dog progress. Other group classes include tricks, leash-walking skills, CGC prep, and more.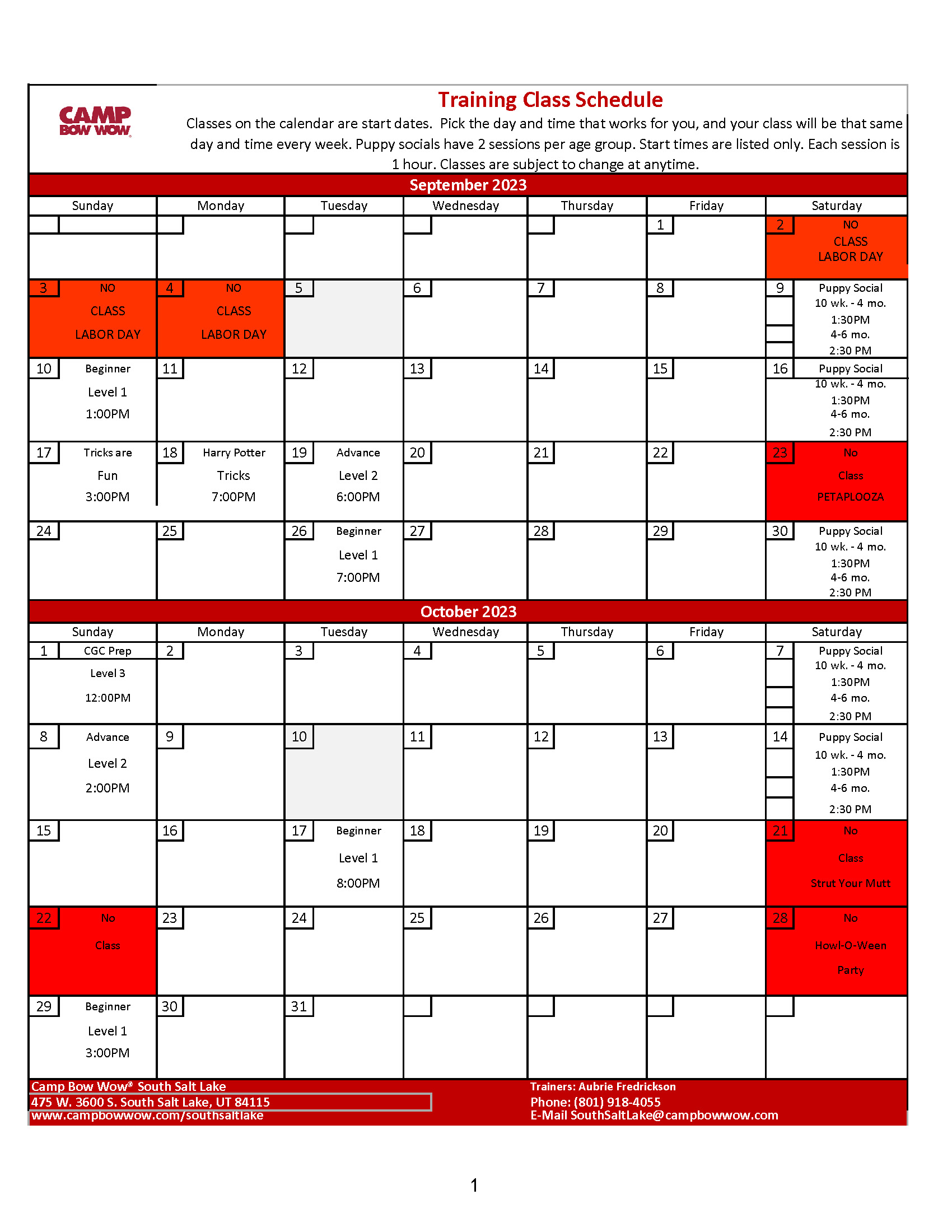 In-Camp & Private Training
Camp Bow Wow South Salt Lake offers several options for pet parents who prefer their pup receives private training. Our Certified Trainers can work with your dog while they attend Camp, spending one-on-one time with them teaching behaviors you would like to work on. We can also provide training services for you and your dog in a private setting, based on your needs.
Puppy Social
Tis the time for puppies! Socializing a puppy at a young age is very important for their development and helps set the stage for future interactions. Exposing puppies to different sights, sounds, and textures while they play. We'll be holding puppy socialization sessions Saturday's!
Hour-long sessions for dogs 4 months to 6 months will be from
2:30-3:30pm.
10 weeks to 4 months will be from 1:30-2:30pm and 3:30-4:30pm, check out our other events.
Each session will also cover a different puppy training topic! We answer training questions; such as potty training, nipping, digging, and chewing. During the session we'll talk about appropriate play and address any other behaviors seen that arise. Sessions are $15 per pup or 5 sessions for $60.
SPACE is LIMITED. 10 spots per session available.
Due to Covid-19 you must sign up in advance. We can only allow up to 2 people per puppy due to social distancing guidelines. Please bring a mask.
Please bring most current vaccination records.
Call 801-288-2275 or email southsaltlake@campbowwow.com to reserve your pups spot!
We look forward to seeing your cute pups!
Who's a good dog?
Yours can be! Make a Reservation