We Love

Our Campers
Featured Campers
We LOVE our Campers! Check out our featured Campers at Camp Bow Wow Pittsburgh Highland Park. These pups love to play all day in our fun, safe and social environment, and receive lots of love and attention from our Certified Camp Counselors® whether they're in for day care or boarding.
December 2023 Counselor of the Month

Sarah

Sarah has been working at camp for two years! She is always willing to come in to help on her days off when needed. Her favorite thing to do at camp are enrichments, she loves taking cute pictures and helping them make their special crafts. At home she has a full house of nine cats, one dog, a hamster and a hedgehog! She loves coming to work and seeing all the dogs and their parents, always ready to take the day on! Everyone knows that her favorite breed of dog are the doodles, she can't get enough of those fluffballs!

December 2023 Member of the Month

Miles

Miles started his relationship with camp when he joined our puppy class back in March of 2021. The moment our trainer met him she said he was a sweet puppy. He was so smart. He then did his interview at camp. He loves camp so much. He then became a member and is also groomed by our wonderful groomer Katie. We love to be greeted by his hugs. He is a very loving dog. We love his human mom as well. She is also a sweet woman. So, we can see where he got his wonderful disposition. They are such a part of our camp family now. We are so happy for the years Miles has now spent with us all thus far. We look forward to many more years to come. He grew up with us and are so grateful for this relationship.



December 2023 Camper of the Month

Cleo

Cleo is one of our newer campers. She is almost one year old! She will have her first birthday with us on December 21st 2023. She is the most playful, loveable Bernedoodle! She loves camp! Cleo actually came from another camp in Pittsburgh. Then her very sweet parents moved to the East side. Our staff is so happy that they moved Cleo here to Highland Park. She will also soon be another camper that will be groomed by Katie. Cleo has made so many friends. She loves Gaav who was also camper of the month, Quinn, Arya and Willow to name a few! We are so glad to have such a happy camper.

November 2023 Member of the Month

Rayla

Rayla is a 1-year-old mostly American Staffordshire/Pitbull mix. She joined camp at the beginning of 2023. She was very shy with the counselors at first, but immediately jumped into play with her new friends. She loves to romp around with her friends and spends a lot of time outside, but she is not opposed to playing inside too. She has many playmates, but especially enjoys her puppy friends. Since she started, she has warmed up nicely to the counselors and is always ready and waiting for a treat before going home. We are so happy to have Rayla as part of our pack, and looking forward to so much more fun with her!

November 2023 Camper of the Month

Leo

Leo is a 3 1/2-year-old labradoodle that has been coming to camp since he was a puppy. He always greets us with excitement and hugs and kisses. Leo completed training here at camp and is a super star! Leo has many friends and loves hanging with the counselors too. He makes friends very easily with his gentle demeanor and easy going play style. Leo also enjoys swimming. It's been a pleasure watching him grow up, and we look forward to many more play days with Leo in the upcoming years!

November 2023 Counselor of the Month

Alexis

Alexis joined us back in June and has made a huge impact on our team. We are her very first job and she has been nothing but hardworking, determined and dedicated to being the best possible camp counselor can be. She always makes sure all the dogs are well taken care of and always puts both the staff and the dogs before herself. She is always more than willing to come in on days off and stay late if needed. The dogs adore her and are so calm while she is in the yard. We could not have asked for a better camp counselor to join us! Thank you, Alexis!

October 2023 Member of the Month

Rothy


Rothy is a cavapoo mix who is almost 5 years old.  He has been coming here to camp almost his entire life.  We love seeing Rothy come in the door, he is always eager to meet us and usually greets us with little vocal notes of joy and some kisses and tail wags.  Sometimes we are lucky enough to see his human siblings come in with him too!  He is a perfect big brother to them.  You might not always spot Rothy on camera, because he has a favorite nap spot directly under it.  But when you do see him, you can't miss him with his beautiful shiny jet black fur.  Rothy is truly one of a kind and we are looking forward to spending many many more years with him at camp!

October 2023 Camper of the Month

Bethany


Bethany is a 4 year old airedoodle (airedale terrier/poodle mix).  She has been coming to camp since she was a young pup! There's never a dull moment with Bethany! She's always super excited to come in and super excited to see dad at pick up.  while he is out romping the golf course, she is here romping away at camp.  She is a big time snuggler and loves to get all the attention and enjoys pets, especially behind her ears!

October 2023 Counselor of the Month

Matt


Matt is our employee of the month for October. Matt has worked at our Pittsburgh North camp for 5 years. He takes great pride in helping keep the camp clean. You can find Matt often cleaning our lobby to keep it nice and clean for our clients throughout the day. Matt is also very attentive in the play yards. He always has the dogs well- being at the forefront of his mind! Camp runs smoothly when Matt is here.

September 2023 Member of the Month

Jonesy

Jonesy has been with us for almost a year now and absolutely loves camp. It is so sweet to see how excited he gets when picked up from camp. He was already a camp regular and now he has become our newest member. He loves his dog friends and his human friends. We enjoy letting him run to the gate and watching him confidently meet his friends. We are looking forward to having many more days with Jonesy!

September 2023 Camper of the Month

Gaav

Gaav (Pit Bull/ Cattle dog mix) is our newest handsome camper! We fell right in love with him right away. He loves his friends and has lots of energy!! He loves to play with Rocky, a young husky mix, Dexter the black lab,basically any pup that will play with him! He always comes in happy and leaves happy and tired. We are so happy to have him in our camp family!

August 2023 Counselor of the Month

Kellee

Kellee is one of the hardest working people we have ever seen. We genuinely can't find a single flaw about her. She shows up on time, never takes a break, is great with the dogs and employees - everything we could ever ask for in a camp counselor. She has another full time job and works here on weekends, 7 days a week! Her determination and work ethic is a model of how all employees should be. Some of her favorite dogs at camp are Libby, JD, Delta, and Rogue.

December 2022 Counselor of the Month

Rhiannon

We chose Rhiannon for employee of the month. Rhiannon goes above and beyond for everyone here at camp. She is always on time, does more than she should during shifts, and is always willing to lend a helping hand to an employee or dog in need. Rhiannon is one of our sweetest employees and has the best relationships with the dogs - they are so calm and collected when she is in the yard. Rhiannnon has three pets of her own at home Brady (Chihuahau/pomerainian), and two Leopard geckos named Phoenix and Sonya. She says one of her favorite things about working camp is getting to see all the pups and her coworkers who she says make working at camp fun! in her spare time she enjoys to drawing the pups from camp, but days animation is her true passion and has been taking classes. She is overall a great camp counselor and we are lucky to have her.

December 2022 Camper of the Month

Lucy

Lucy is a 9 year old yellow lab with all the spunk! She has been coming here for many years and she always announces her presence! We love to hear her cute little bark and see her sweet face! She enjoys all the cookies and loves getting butt scratches. She takes nap time seriously and you can usually find her snuggled up with some of her friends along the back wall. We are so happy to have Lucy as a member here at Highland Park!

December 2022 Camper of the Month

Stella

Stella is an 8 month old pitbull who has been coming to camp for a few months now. She fits right in with the pack and immediately makes new friends with all the other campers. She loves the humans here too! We enjoy kisses from Stella when she has a free moment from her furry friends! Right now you can find Stella in our small dog area, but she will be running with the big dogs soon! We are excited to watch Stella continue to grow up!

September 2022 Camper of the Month

Meredith

Meredith is a two year old Newfoundland with a lovable and playful personality. Meredith has grown up here with us and it has been exciting watching her grow! Meredith loves to play which is only trumped by her love of water! She has been significantly enjoying the pool time this summer, its her favorite place to relax!

September 2022 Member of the Month

Betty

Betty is a three and a half year old great dane with a gentle and calming presence at camp! She is a diamond level member so she spends a great deal of time here with us, and we are thrilled with all the interaction we get with her! She is graceful in play and loves her sunbathing! She's only been with us for just over a year but feels like she has always been a part of our pack!

August 2022 Member of the Month

Harley

Harley is honestly one of the sweetest Rotties we've ever been around. She loves the pool! She has so many friends here at camp. Harley is very spoiled by her wonderful mom. She gets many treats and stuffed toys on her way home. We all appreciate having such a lovely member of the camp family.

August 2022 Camper of the Month

Carver

This is camp's favorite hound. Mom is expecting a new baby very soon! I am sure he is going to be a great big dog brother. I am pretty sure he never stops playing and running around while camp. We are sure goes home a happy tired camper. He waits at the desk for his treats which I look forward to when he is here. We can't wait to see him again.

July 2022 Camper of the Month

Ridley

We are very proud to call Ridley camper of the month. Ridley started to attend camp at 4 months. He was so tiny and shy. As time went on he grew to love his new friends, and camp. Now he is very outgoing and playful. He just celebrated his first birthday with us on June 20th. I love to see how excited he gets when he comes through the door. We all love Ridley!

July 2022 Member of the Month

Cheeto

Cheeto has been such a joy to have at camp. He loves every dog and human that he meets. He can not wait until we fill up the pool. Cheeto knows exactly when we should be getting the pool ready!! He is the first one to get in the pool!!! We were very excited when Cheeto became a member with us. We knew we would get to see him a few times a week. He belongs to a wonderful family. We look forward to many more days with Cheeto.

June 2022 Member of the Month

Coco Myers

Coco is a 2 year old exceptionally friendly and energetic Doberman.

He has such great positive energy and never lets anything get to him.

He is an inspiration to all our staff! Each day is a new and exciting adventure for him, and he heads full beat into all his encounters. He makes all of our days more stimulating! He's got the best and most understanding parents who raise him well, and we are proud to be able to have him spend so much time alongside us.

June 2022 Camper of the Month

Pablo and Leo Zemtsov

Pablo and Leo are 1 1/2 year old brothers who are jacks of all trades here with us. They have grown so much since their first introduction and now both love every minute of their play days! They are also involved in training and made exceptional progress alongside Kim in their studies. Each day they bring positive energy to camp and make our small play area a great place to hang out!

June 2022 Counselor of the Month

Tracey

We are excited to say that Tracey Hawk is our Employee for the month of June. Tracey is the keystone of our North Hills camp. She is always helping others, training new staff and going above and beyond, all with a smile on her face. Our clients love Tracey. They are always reaching out to her with funny stories, pictures, and videos. If a dog needs a little extra TLC, Tracey is right there to be sure the dog gets whatever is needed. If she sees a dog is not eating, she will hand feed the dog. Our staff call her the dog whisperer since there are dogs that will do things for Tracey that no one else can get them to do. Counselor of the Month

May 2022 Camper of the Month

Cedric

Cedric is a nearly 1 year old American Coonhound and we've been blessed with enjoying his fiery spirit for the majority of that year! He loves to come to camp to see his friends and express his individuality and really let loose! He is a successful graduate of our training program and he puts his skills to work; especially if you're offering treats. Campers and Counselors alike, he is friends with us all and we're excited to keep watching him grow!

May 2022 Member of the Month

Lily

Lily is a one year old Great Pyrenees mix with a fantastic love for all things play! She enjoys her days spending time romping with her friends and always seems happy to return. We're proud of her for being resilient in the tragic passing of her brother Buster, and she's managed to keep her playful spirit strong. We know he taught her well and will always be a part of her! Lilly has a free spirit and loves to express herself. Its' been a pleasure to see how she's grown and we look forward to her remaining a special member of our pack for many years to come!

May 2022 Counselor of the Month

Kira

We are happy to say May's Camp Counselor of the month is Kira. Kira has been with camp for 3 and half years and enjoys being able to see all her favorite campers (Reagan, Ava, Fritz, and more) after a long day of nursing classes. She says that working at camp has been a great job for her while in school. Kira also has two pets of her own at home named Jax and Lola. One thing that many people don't known about Kira is that she is a pro bowler and enjoys beating her boyfriends in game when she has some free time.

April 2022 Counselor of the Month

Jayacia

We are excited to announce that Javacia Rowe is April's Camp Counselor of the month! Jay started working at our Pittsburgh North location a few months ago and has nothing but impressed up since! She is an all-around hard worker. She helps where needed, for example when a newer employee doesn't know a dog she helps, or when someone is unsure of a task she does not hesitate to show them. She is always asking good solid questions about the dogs or camp procedures. Jay has made many close connections with our campers, but Harley is by far her favorite and we think Harley feels the same way about Jay! Some of her other favorite dogs include Steel, Falcon, Otto, and Kit Kat! Jay does not have any dogs of her own, but she does have 2 cats at home named Catsanova and Nadia. Jay's favorite thing about working at Camp is how much time we spend with the dogs, she says she learns something new here every day, and she really likes her fellow staff members! Before she came to Camp she worked as a vet and served our country for 16 years in the Army reserve. Jay truly loves Camp and all of our campers, and we are so lucky to have her in our Bow Wow family! Thank you for all your hard work and dedication to us and the pups!

April 2022 Member of the Month

Daisy

Daisy Cohen is a 13yr old beagle with the energy of a dog half her age and the grace of long well lived life. She's a platinum level member with us and always greets us with her beagle bark thoughts of the day! She is a sweetheart who enjoys camp and her fellow campers, though maybe our counselors just a bit more. She's a blessing to our camp and we're so grateful to have her provide our pack with some exceptional grace!

April 2022 Camper of the Month

Rocco

Rocco is a 5 month old little bundle of French bulldog joy! He is a graduate of our puppy training class, as well as our teacup play area, and is fully engaged with our small play area dogs! Every day is an energetic and fun filled adventure when he joins our pack! We are excited to have the opportunity to continue to watch him grow and play!

March 2022 Counselor of the Month

Mike Shaffer

We are so excited to announce that Mike Shaffer has been awarded the Camp Counselor of the Month for March! Mike has worked at our East location for 2 years and our camp has gone nowhere but up ever since. He has never called off a shift and always does what is expected of him. He goes above and beyond before his shift is over, and always comes into work with a clear and open mind. Mike has a bond with the campers like no other, and being around so many dogs that love him so much is the reason why he has such a passion for this job. One of our campers, Lila, is so attached to Mike that her owner said that if she ever had to give her away, Mike would be the one who got her. It's so amazing to see the relationships he builds with dogs and how attached they have gotten to him. That is the type of bond we want our counselors to have with our campers. Mike has a pup of his own, Molly, a German Shepherd/Golden Retriever mix who is attached to him at the hip. Some interesting things about Mike is that outside of work not only does he make his own music, he also installs swimming pools! Mike truly has put such a positive influence on our camp and we couldn't be more thankful that we have him as a part of our Camp Bow Wow family.

March 2022 Camper of the Month

Abby

Abby has been with us since 2017. She comes to camp every day to play for a few hours. She loves water! We love Abby's dad because he is never upset when she is all wet. She has a human boyfriend at camp counselor named Henry. She looks for him as soon as she arrives! Mr. Binstock's son brings their golden puppy named Banjo as well. They are all such a wonderful family to have at camp!

March 2022 Member of the Month

Stanley

Stanley has been with us since puppy class. He then interviewed and became a member here at camp. He is very athletic and extremely sweet! He loves to play with tennis balls. He also loves belly rubs. Stanley is a very dedicated family member.

February 2022 Camper of the Month

Cory

Cory is a young and energetic puppy who loves to make friends and engage in enthralling play! She exudes positive energy and makes any play area she joins much more exciting. She may have a small stature but her personality looms large! Never do we experience a dull day when Cory comes to play!

February 2022 Counselor of the Month

Kim

Kim is a cornerstone of our Highland Park location. Her devotion and dedication are second to none. Her ability to connect to both our clients and campers alike is remarkable. Her passion is shown through her care and attentiveness to all of our campers. Our campers know her by name and abound with delight when they know she'll be in! She is the loving mom to her pets Penny, Ninnie and Nellie. An exceptional trainer, Kim has helped create an environment of understanding and goes out of her way to help her clients with their needs. Kim's goal is to become an evaluator for the AKC Star Puppy and K-9 Good Citizen programs. Kim has enjoyed working with and helping dogs. Prior to working at Camp Bow Wow, she rescued dogs off the streets while living in Arizona. A brilliant mother, outstanding trainer, and supportive colleague; her professional and unwavering spirit has helped Highland Park become the success it is today!

February 2022 Member of the Month

Sona

Sona was named member of the month a few weeks ago. We are deeply saddened to learn that she crossed the rainbow bridge on 1/31/22. We will cherish our memories of Sona. We want to share a little about her. Sona was a sweet and gentle golden puppy. Despite bringing joy for only 8 months, she was already an experienced member of our pack. She had graduated from our puppy training class, passing with stars! Sona's tender character was always a calming relief. We had never met a sweeter, more affectionate young puppy! We were blessed to watch her grow, and share in her life! Sona will be missed. Our hearts are heavy with the loss of such a special pup.

January 2022 Counselor of the Month

Amanda

Amanda is an absolute excellent camp counselor! She has 3 dogs of her own, including two Cane Corsos and an Australian Shepherd. Dogs are not only her first love, but a huge passion of hers. She is currently pursuing a dog training certificate and is working on her masters in dog training! Within the next year, Amanda will soon be another addition to our training program here at camp. She also does a multitude of different events and shows with her two corsos, Ebony and Vixen, who have won quite a few titles in their time! Amanda is one of our most driven employees, and just recently got promoted to shift supervisor! She is amazing with behavior modification, and is so good with helping each and every dog to get comfortable here at camp. She is so devoted to her job and gives the dogs her utmost trust and patience. We couldn't ask for much more than Amanda, as she already has everything we could ask for and more!

January 2022 Camper of the Month

Buddy

Buddy is among our elder campers and has been with us since we opened! He is the sweetest little mini poodle you could ever meet and still going strong alongside his brother Jaxon. The two of them are an adorable pair. He loves to spend time with the counselors and snuggles are always welcomed! He's currently enjoying an extended vacation with us and we're glad to have his positive vitality with us during the holidays! We have been blessed to be involved in his life!

January 2022 Member of the Month

Wellie

Wellie is an enthusiastic 1yr old Lab mix that has loved camp ever since he came out of his shell on interview day! Every day with him is an exciting adventure, and his liveliness is top of the group, yet at home he is cool and relaxed. He knows camp is the place to play! He has made so many friends during his time here and always enjoys meeting new fur friends! We're so happy to have been able to watch him grow, and are excited to spend the future watching him play!

December 2021 Counselor of the Month

Catey Lee

Catey is a delight to have at camp. She hopes to one day have a German Shepherd of her own, in the meantime, she acts as the cool aunt to all the dogs at camp. She even bakes special cookies for the campers. If you're dog comes to the Southwest Camp (Greentree), Catey most likely has told you something fun your dog did at camp that day. Catey truly appreciates her co-workers, but mostly she loves that the customers trust us with the beautiful furry souls. She spends her day making sure these dogs love coming to camp as much as she loves having them at camp. Catey has too many favorite campers to list. Included in her goals are to own a Dog Cafe and become a Dog Trainer.

December 2021 Camper of the Month

Moe

Moe has also been with us since 2012. In June he will be 17 years young. He still loves coming to camp. He always had a spicy personality. I see Ms. White pull in and we are always happy to see them both. We also saw them in 2020. We also want to say thank you for being such loyal clients.

December 2021 Member of the Month

Andy

Andy has been with us since the year we opened in 2012. He is the most handsome black lab. The sweetest personality. We love Andy and his wonderful owner Jeff. He has a treat in his pocket every time he picks him up! They make the cutest pair. They both made us smile during 2020. The whole team loves both of you!

October 2021 Camper of the Month

Rooney

Rooney is such a sweet girl. I love watching her run to the play yard first thing in the morning. She has so many friends at camp! She is wonderful with meeting our new campers. She makes all the new campers feel welcome on interview day!

October 2021 Member of the Month

Shelby

Shelby started in puppy class. She then did her interview and loved camp. She is a lovely pup. She then became a member at camp. Since then, she completed her level II classes. She is a star student and a wonderful addition to our family here at camp.

September 2021 Camper of the Month

Siggy

Siggy is a 1-year-old energetic young Norwegian Elkhound! He loves to come for playtime and meet all of his furry friends! Never a dull moment when he comes for a day of camp, He's all smiles while he's here and makes us work to catch him when it's time to go home. We're excited to have him and have had the opportunity to watch him grow!

September 2021 Member of the Month

Jackson

Jackson is a spry and affectionate Treeing Walker Coonhound! He is a longtime camper with us and recently a new member. He loves a good butt scratch or head rub and makes sure to always greet his human friends! An elder among his peers, he still has that youthful attitude, especially when his dad has treats for him! It's been a blessing to spend so many days alongside him here at camp!

August 2021 Camper of the Month

Bug

Bug is an enthusiastic and active Beagle mix puppy! She's been an absolute delight and bundle of energy since her arrival and we cannot be happier! She always comes in with a smile and it rarely if ever leaves her face throughout the day! We're eager to see how she continues to develop and spend many more days alongside her joyful playtime!

August 2021 Member of the Month

Flo

Flo is a 9-year-old Labrador retriever who adores her human companions! She is a longtime camper and member here with us at Highland Park. She always greets us at the front desk with a smile and unconditional love with her affectionate snuggles. She has her favorite playtime companions and it's a great experience to witness. We're so thankful to have had the opportunity to spend so much time with her!

July 2021 Camper of the Month

Emmy

Emmy is a 1-year-old Golden Retriever who has a lot to say and loves to play! She's a regular member at camp and she brightens all our days when she joins us! We've been blessed to watch her grow and spend our days alongside her! We look forward to many more days with her to come!

July 2021 Camper of the Month

Pacey

Pacey is coming up on his very first birthday! He's an American Staffordshire terrier and American Bulldog mix, but 100% fun! We're excited to have been able to watch him grow and mature along the way! He's a regular here at camp and enjoys playing with his fur pals every chance he can get! Every day is better when he's here!

June 2021 Camper of the Month

Cody

Cody is a 1.5-year-old Labrador retriever. We've had the pleasure to watch him grow into an exciting and very playful young dog. A consistent camper, Cody always has fun when he's here and makes the most of every day! No day is dull when Cody is here at camp and we love him for it!

June 2021 Camper of the Month

Spike

Spike is a 7-year-old Cattle Dog and longtime member here with us at Highland Park. He always comes in in with great energy and has a blast running around with his furry friends. He's affectionate, playful, and everything you could want in a dog. Spike is also a big brother to two adorable sisters who also attend camp! He brings a smile to all us here each day he attends, and we're fortunate to spend our time with him!

May 2021 Camper of the Month

Symba

Symba is a 6-month-old Cavachon and among the happiest pups here at Highland Park. Few bring more excitement and pure joy than Symba, and every day is brightened by his presence. It has been a delight to watch him mature and become the life of the party among our playful teacup dogs. It will be exciting to see how much he continues to grow.

May 2021 Camper of the Month

Gypsy

Gypsy is a 10-year-old Siberian husky and longtime member here with us at Highland Park. She's a down to earth superstar among her circle of people friends and a pillar of stability among her furry friends here at camp. She's a sweetheart who loves her naps and enjoys her walks even more. We're blessed to be able to spend so much time with her.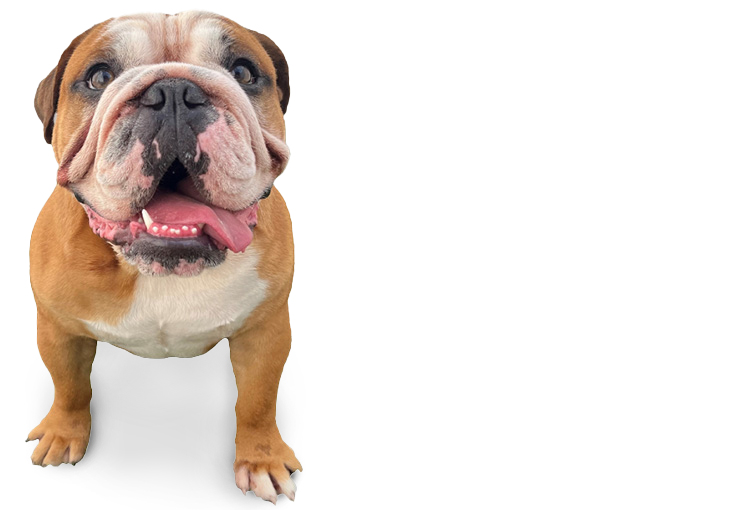 Ready to


Romp. Wag. Play?