At Lil' Campers St. Clair Shores

We Love Our Campers
Featured Campers, In-Home Pets & Training Dogs
We LOVE our Campers! Check out our featured Campers at Lil' Campers St. Clair Shores. These pups love to play all day in our fun, safe and social environment, and receive lots of love and attention from our Certified Camp Counselors® whether they're in for day care or boarding.
January 2022 Camper of the Month

Dani

Meet Dani! Dani is a 7 month old Dachshund who we refer to as our Lil' Noodle around here! Dani absolutely LOVES coming to Camp and wiggles her way into the play yard as soon as she gets here! She might be tiny, but she has a HUGE hear - Dani love playing with her fur-iends, and she also loves our Camp Counselors! Dani really enjoys participating in her Platinum Paws enrichments - and she especially likes arts and crafts! Dani always knows how to bring a smile to our faces.

August 2021 Camper of the Month

Lola

Lola is the sweetest Lil' lady, who always runs into Camp and greets our Camp Counselors with the most adorable 'welcome woof!' Lola loves her belly rubs - and after romping around with all her FURiends, she takes nap time very seriously. Whether she's posing for selfies or wiggling around like a worm in the play yard - she always puts a smile on our faces! Lola loves coming to Camp, and we love having her. Congratulations, Lola girl!

July 2021 Camper of the Month

Banjo

Banjo jumped his way into our hearts! He is such a sweet, lovable pup & knows how to make us laugh! Whether he's trying to jump up into our arms for a hug or responding to commands during enrichments for his favorite snacks, Banjo loves coming to Camp & running around with his fur-iends! Congratulations, Banjo!

June 2021 Camper of the Month

Sylvie

Sylvie is the sweetest gal! She loves to survey the play yard from her perch on the blue bridge. Sylvie has wonderful manners and always sits so beautifully when she wants to be pet or loved. Sylvie makes our Counselors smile with her silly antics in the obstacle tunnel. Congratulations Sylvie!

May 2021 Camper of the Month

Tucker

Tucker is a spunky loving little guy! He loves to climb on the play equipment. His favorite enrichment activity is working on commands for cookies! Tucker brings our Counselors joy by being so affectionate and giving them a lot of love! Congratulations Tucker!

April 2021 Camper of the Month

Lulu

Lulu is the sweetest snuggle pup! She loves to play with her best friend Ollie. Her favorite enrichment activity is the agility course where she explores the tunnel. Lulu brings our Counselors happiness by always arriving with a smile! Congratulations Lulu!

March 2021 Camper of the Month

Gus

Our March Camper of the Month is Gus! Gus is a dapper gentle pup who brings joy to our Counselors. Gus loves to pawticipate in our enrichment activities. His favorite activities are Sniff-N-Seek and working on commands. After an eventful morning, you can be sure to find Gus curled up in a sunny corner taking a light snooze. Congratulations Gus!

February 2021 Camper of the Month

Wesley

Wesley is a prim and proper pup who has been coming to Camp since he was a young pup at just four months old! Now that he's 1.5 years old and some time has since passed, he has certainly grown into his long Cavalier King Charles' ears but he has also wiggled his way into our Camp Counselor's hearts. True to his breed, Wesley is a very sociable and affectionate Camper! He especially loves coming to Camp with his little sister, Charlotte. He loves showing her around Camp and teaching her how to play!

January 2021 Camper of the Month

Barney

Barney is our resident Boston Terrier that's been coming to Camp since 2014! Over the years our love for him has certainly grown. He started in training class as just a young pup and has continued coming to Camp over the past 6 years. Barney is a quick learner & can learn just about any trick in the book! In his later years at Camp he has become quite the affectionate Camper too - he loves curling up on our Counselor's feet for a nice nap! Thank you for being you, Barney! We are excited for many more years of fun at Camp with you.

December 2020 Camper of the Month

Charlie

There's no need to check twice... Charlie is definitely on the nice list this year! Charlie is a 13 year old Cockapoo who has been coming to Camp since 2016. He has always been a happy go lucky guy that fits in well with every Camper. Charlie's family recently added a Golden Retriever pup to their family so Charlie has taken on the role of big brother. We couldn't pick a better pup to show her the ropes! Congrats, Charlie!

November 2020 Camper of the Month

Star

Star is a two year old Boston Terrier who brings brightness to our day whenever she wiggles her way through our front door! She really is a ray of sunshine that enjoys being around the Camp Counselors and other Campers. She is very lovable and always seeks out the attention from anybody willing to give it. Although she loves her time at Camp she really looks forward to getting picked up and spending time with her mom; filling her in on all of the fun she's had at Camp that day! Congratulations, Star!

October 2020 Camper of the Month

Bentley

Bentley is an energetic six month old Beagle mix who has been a Camper since July! He has quickly made his way into our Camp Counselor's hearts. Bentley originally started coming to Camp as a young puppy in our Puppy Social & Obedience Class. He is all fun and games when he's at Camp - running and chasing his friends, being goofy, or singing us a hound dog song; but when it came down to class he gave no excuses and put his head in the game! Congratulations to this smart pup! We love you!

September 2020 Camper of the Month

Libby

Libby is a one year old Cocker Spaniel and Rat Terrier mix who is as sweet as can be! Libby has one of those personalities you instantly fall in love with, and that was certainly the case when we met her for the first time back in February! She has a very gentle and sweet disposition that makes any dog that greets her more comfortable and at ease. You might find Libby being introduced to our newest Interview Campers first because of how calm she approaches every dog. It makes all of our Campers, especially the first time Campers, feel more welcomed and they can relax a little more when Libby is around. Libby also uses her calm demeanor to her advantage on her Camp Counselors. One look at her puppy dog eyes and we are always giving her belly rubs!! We have loved getting to know our Libby, congratulations sweet girl!

August 2020 Camper of the Month

Kieran

Our August Camper of the Month is a ray of sunshine! Kieran is a lovable 8 month old black Cocker Spaniel that is full of life and love to give. He truly is the light of our day when he strolls into Camp. Kieran is quite the sophisticated sole. To start, he not only gets groomed regularly by our friends at Pampered Pups Salon but his dad has also taken on giving him hair trims in between in his appointments. Of course we also can't resist brushing out Kieran, and in fact he has begun to recognize what our grooming tools look like at Camp. He gets so excited whenever we pull out the brush, we just have to do at least his ears! After all, who could resist those puppy eyes? He always has to look his best! Kieran is a very sociable loving guy, and we have loved getting to know him the last few months! We are excited to get to know him even better as he starts out in our July Puppy Social and Obedience Class as well.

July 2020 Camper of the Month

Foxy & Ace

Everything's better with your sibling by your side! Foxy and Ace are siblings that came to Lil' Campers in March for an extended boarding stay. We have been so lucky to get to know these two and they have truly become like our own dogs during their time here. Ace is a 7 year old Maltese mix, and while it took just a moment to warm up, he now loves to play tag with his friends. This normally timid boy really comes out his shell when his friends show up to play! Foxy is a 14 year old Pomeranian that doesn't act a day over 2! This spunky girl absolutely loves getting attention from the Camp Counselors. She is sure to let you know that it is her turn for some cuddles too, because you can usually find her pawing at the Counselor's legs whenever she is ready! The Camp Counselors are probably just as obsessed with these two, as they are with us! You can typically find someone in their Luxury Suite giving them a bed time story at the end of the day. Congratulations to Foxy and Ace!

June 2020 Camper of the Month

Charlie

June's Camper of the Month has a lot of love to give! Although Charlie only weighs a whopping eight pounds, his heart is full of love to share with his counselors and fellow Campers! Charlie is an eleven month old Yorkshire Terrier that has been coming to Camp since early this year. Ever since his first day, he has always been a great addition to our pack. His energy level pairs great with our other campers that love to zoom around the play yards. However, he is still gentle enough to play with even our more timid or slower moving campers. We truly get the best of both worlds with Charlie! Congratulations!

May 2020 Camper of the Month

Arlo

Everyone put their paws together for Arlo! Arlo is our May Camper of the Month! He is a one-and-a-half-year-old Parson Russell Terrier that is full of life and energy! Arlo is quite the gentleman and always greets his counselors with a big stretch and a butt wiggle every morning before running around with his friends. Arlo's favorite way to burn off his energy is with a rousing game of chase; he loves it when his friends chase him all over the yards and under the play equipment. It's also quite fitting we picked a sunshiney month for Arlo to win Camper of the Month, because he absolutely loves to sunbathe! You can usually find him sprawled out catching some rays when it's over 50 degrees!

April 2020 Camper of the Month

Louie

Louie is a spirited eight year old YorkiPoo who has been a key day camper at Lil' Campers! Louie is always in a good mood and ready for some play yard fun any time he's at Camp. He's so lucky that his mom knows how much he loves Camp, that she signs him up for an overnight stay frequently! There's nothing quite like Louie cuddles to start our morning off on the right paw! Louie isn't just in it for the cuddles though, he enjoys a good stroll around the play yard to observe all of his friends. We think if Louie was outfitted with a step counter he would easily meet his daily step goal! This boy is always on the go! Congratulations Louie!

March 2020 Camper of the Month

Oliver

Oliver is an eight month old Parson Russell Terrier that has been coming to Camp since October, and he definitely brings the fun to our paw-ty any time he walks through our door! Oliver gets to have so much fun at Camp, that his parents enrolled him to take our Shuttle drive home (which means even more play time with his friends at Camp!) After a solid day of running around with his friends, and the time rolls around for Oliver to hit the road with our transit driver, he gets so excited! Oliver watches intently through our large windows in the yard as the Big Blue Transit Vehicle parks. He excitedly anticipates the fun ride ahead, and as the transit driver comes in, he barrels to the play yard door ready to go! We think if he had thumbs he would even grab his own leash. In between shuttle rides home, you can usually find Oliver zooming through our play yards with his BFF's Millie, Arlo, or Molly! He is definitely a well rounded, fun loving pup! We are so lucky to have gotten to know him!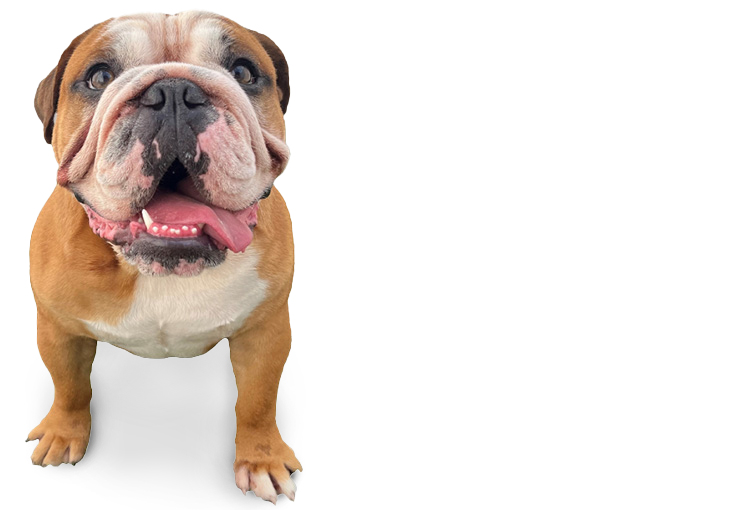 Ready to


Romp. Wag. Play?