We Love

Our Campers
Featured Campers
We LOVE our Campers! Check out our featured Campers at Camp Bow Wow Cranberry. These pups love to play all day in our fun, safe and social environment, and receive lots of love and attention from our Certified Camp Counselors® whether they're in for day care or boarding.
August 2023 Camper of the Month

Chloe R.

Our girl Chloe started regularly coming to Camp just this spring. At first, she always seemed nervous to leave her paw-ther. Over time, she has warmed up to our Camp staff and is always eager play and see her friends, Campers and Counselors alike. We love looking back at Chloe's early days at Camp and seeing how much she's grown. Chloe's paw-ther shares with us how she whines and wiggles when she hears she is going to Camp and we think it is so very paw-some. Cheers to being the August Camper of the Month, Chloe!

July 2023 Camper of the Month

Fleury C.

Fleury is our handsome man with piercing blue eyes. He loves to play and will take down any obstacle in the way to get "his" toys. He walks straight into Camp and behind the front desk to the Lost and Pound, claiming items he believes are his. Fleury has a partner-in-crime, Murray, both of which we really adore.

June 2023 Camper of the Month

Rogue S.

Rogue came to us back in March and she has made a profound impact on our hearts. She is a rescue from one of the local shelters, her parents have fallen in love with her and so have we. Rogue is always ready to play and never wants to go home. The first few times she came to Day Camp, Rogue wanted to stay and play. She has been a lot easier to get out of the play yards and we accredited the frequent visits, attention, and love to her eagerness to come back and her want to stay.

May 2023 Camper of the Month

Hudson R.

Hudson just recently joined our Pack after moving to the area and has made so many furiends. He is a handsome, playful boy who is very easy going. Some of his absolute best friends are the Goldens, we think he thinks they are cute. Congratulations on your achievement, Hudson!

April 2023 Camper of the Month

Kane G.

This guy has been coming to Camp for what feels like ages and we are not complaining, we love our Kane. He has a set schedule and our Camp Counselors and Campers, alike, look forward to seeing the big guy every Wednesday. Kane is so easy going, but he doesn't like eating lunch at Camp, he'd rather play and we get that.

March 2023 Camper of the Month

Chance S.

This little guy has both a big heart and a big bark and we are happy to introduce Chance as our March Camper of the Month. Chance is an excellent workout buddy to all as we can count on him to get the yard moving. He is full of spunk and energy and rarely tries. While Chance maybe our Camper of the Month, we need to give an Honorable Mention to his grandma as she one of the sweetest people we have ever meet. Congratulations, Chance and Margie!

February 2023 Camper of the Month

Lacey Mae P.

Lacey Mae is an absolute darling who started to come to Camp in September. She knows her way around Camp really well. While she might be a bit older than most of our Campers she makes the most of her days by getting pets and helping our Camp Counselors supervise play. Her tail does not stop wagging especially when it is special treat time - which is just one of the many perks of her Unlimited Monthly Membership status. Miss Lacey Mae has found a place in each of our counselors hearts and they get pretty bummed when mom emails that she is taking the day off.

January 2023 Camper of the Month

Chase H.

Super Camper, Chase Lee, is our January Camper of the Month! Chase comes to Camp just about every day. Chase is a typical lab who never tires and goes, goes, goes. Asides from playing with friends all-day, Chases favorite part of Camp is probably the perks of his Monthly Unlimited Membership!

December 2022 Camper of the Month

Ivy B.

Miss Ivy is our December Camper of the month! She has been with us since the doors opened. We love all her little quirks. She always accompanies us to the hose. Ivy also loves a good game of chase and her favorite word is "Roomba".

November 2022 Camper of the Month

Biscotti D.

Biscotti is our November Camper of the Month! Biscotti is one of the bestest boys with such an unforgettable name and personality. He is very polite, friendly, and loving. He is a friend to all which he showcases by being a part of the New Camper Welcome Committee. He just made a lifelong friendship with Elysia the other day, you should have seen them playing together. Picture days at Camp are one of Biscotti's favorite things. He is super stylish and flashes his bright, white smile. Just look at his Bark-2-School photo. Congratulations on this achievement, Biscotti!

October 2022 Camper of the Month

Ellie A.

Miss Ellie joined our Pack back in July and has been a great addition to our Camp family. She is a silly, playful, loving husky who will be turning one at the start of November (we will be sure to celebrate her again then with a special barkday cake)! All Campers and counselors alike adore her and her bright white smile. Ellie is a friend to all! She highly enjoys her Day Camp days especially when there is ice cream.

September 2022 Camper of the Month

Archie G.

Archie and his little ducky plush have stayed over many nights where they slept the night away in their cozy cabin after a long day of play. They say ever dog has their own personality and that is true when it comes to Archie. Our Camp Counselors have seen it firsthand during his enrichments when he is playing, looking for hidden snacks, and simply snuggling. Archie's personality comes out even more when it is time for a Camp Shower. He is not too interested in bath time because it means he cannot take his friends scents home with him. After a day at Camp or a stay, Archie goes home where he has the most adorable puppy dreams that his mom is lucky enough to capture on camera and share with us.

August 2022 Camper of the Month

Snax K.

We all know and love this fella! His unique name sets him apart and he comes to mind whenever we hear our tummies rumble, give it up for Snax! Snax is a happy pup, with a great smile. He has quite the following as he Instagrams his life while he welcomes and cares for foster cats. Oh how generous Snax is! Follow along on his journey @snaxwithfriends

July 2022 Camper of the Month

George G.

George, AKA Little George, is July's Camper of the Month! Little George got "little" added to his title at Camp because of how popular the name George is amongst black labs. However, just like people, George has his own personality. He loves playing ball, he scarfs down his lunch, and he enjoys a nice adventure with his mom. Our Camp Counselors always feel loved by George as he will jump up and give them little love bites and kisses. Not only does George make everyone feel loved, but he makes everyone laugh. We all get a good chuckle when we see George in the play yard taking a nap in the sun after a long day of play.

June 2022 Camper of the Month

Ruby L.

Ruby loves Camp so much that she comes to play daily! She is a friend to all and can be found playing in both the Toy Land and the Small Dog Yard. Some of her best friends at Camp are Jojo, Gizmo, and Ivy. One of our Camp Counselors favorite things about Ruby would have to be how well her and Jojo play together especially since they never tire. Ruby knows her way around Camp so well, she may start giving the Camp Tours soon. Congratulations on this accomplishment, Ruby!

May 2022 Camper of the Month

Cooper C.

Cooper started coming to Camp shortly after we opened. He has been a part of Day Camp and has boarded with us. We watched him grow, literally. His first birthday was just last month. Cooper is quiet a ball of energy always running around the play yard and making new friends. One of his best friends at Camp is Remi, our black lab. All our Camp Counselors must agree, that one of their favorite things he does is, try to stick his head in the water bucket as they are filling it up. We all are going to miss Cooper tremendously as him and his family when they move. Do not forget you will always have a friend at Camp.

April 2022 Camper of the Month

Gizmo D.

Gizmo is a friend to all! Some of his besties at Camp include Ruby, Lexi, Cassie, Sully Bear (we miss you), Buster, and Camp Counselor Sean. One of Gizmo's favorite things to do is give love bites to the counselors. He also enjoys playing hide-and-seek by running under the red play equipment. Our counselors absolutely love it when they see Gizmo either sitting or standing up sleeping in the play yard after a long day of play. Additionally, we love how structured Gizmo's routine is and how he knows his way around Camp.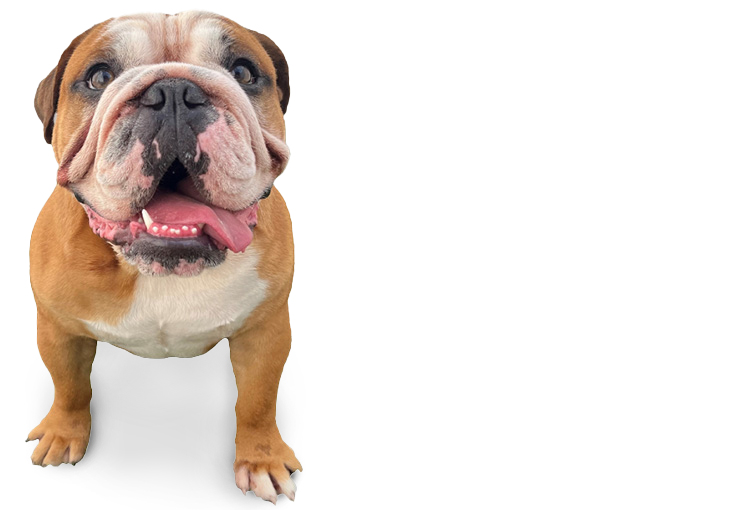 Ready to


Romp. Wag. Play?