Seize the Play® at Camp!
Is your dog getting the exercise and socialization they need? Treat your dog to a fun and active day at Camp and bring home a happy and pooped pooch! Camp Bow Wow® doggy day care services are designed to improve your pup's quality of life in a safe, fun, and nurturing environment. We provide both dog and human interaction that benefits mental stimulation and socialization. Our spacious play areas allow for maximum fun and the chance for your four-legged family member to burn off some of that pent-up energy.
Care You Can Count On
A happy, healthy, and safe dog is our top priority at Camp Bow Wow. You can be confident knowing your dog will be well-cared for while they run, jump, and romp around in our play yards.
Some of the safety standards we adhere to include:
Certified Camp Counselors® who are extensively trained in dog behavior, pet CPR, and pet first aid
Assurance that all our Campers have passed the Camper Interview, are spayed or neutered, and are current on vaccinations. Learn about our Bordetella policy
Live web cams that allow you to check in on your pup on your computer or mobile device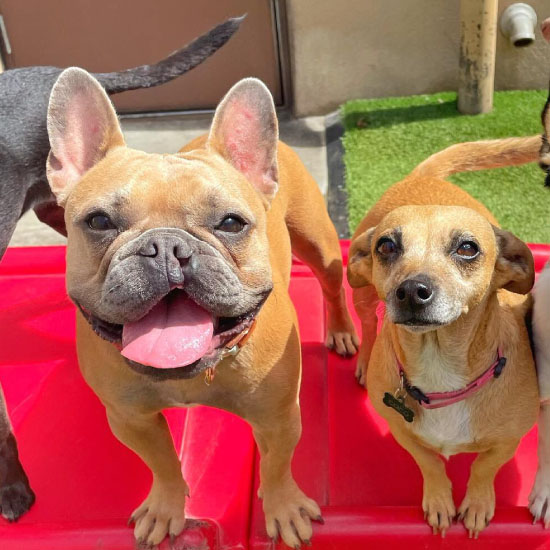 Camp Bow Wow Tucson East Benefits
It's true: dogs love Camp. This is evidenced by the fact that so many of our Campers get excited at the mention of C-A-M-P. They pull pet parents right up to our door and can't wait to join the fun. We can give you peace of mind knowing your dog isn't cooped up at home along with many other benefits our day care services have to offer.
Provides regular exercise to maintain a healthy weight
Relieves boredom, separation anxiety, and destructive behavior at home
Improves socialization with dogs and people
Increases overall happiness
Treat your pup to fun-filled days of play!