We Love

Our Campers
Featured Campers
We LOVE our Campers! Check out our featured Campers at Camp Bow Wow Springfield East. These pups love to play all day in our fun, safe and social environment, and receive lots of love and attention from our Certified Camp Counselors® whether they're in for day care or boarding.
January 2023 Camper of the Month

Kiwi

Meet Princess Kiwi, or PK as we so lovingly call her. She is the sweetest one-year-old lab and loves to give hugs to all her favorite workers. She was recently adopted from Rescue One through our other location, and we couldn't be happier that she found her FURever home!

August 2022 Camper of the Month

Macchiato

Macchiato is the sweetest little chihuahua schnauzer mix. He's almost one year old and has been coming to camp since he was only 4 months, so we got to watch him grow! You can count on him to always have his little lamb toy and red blanket to snuggle up with at camp.

July 2022 Camper of the Month

Nova

Nova is a two-year-old Great Pyrenees mix that loves Camp so much that she visits almost every weekend. As a rescue, it does take her a minute to warm up to you, but once she does, be ready for the best pets, plays, and bear hugs a dog has to offer!

June 2022 Camper of the Month

Bailey

Bailey is an 11-year-old poodle mix that loves to spend his days at camp relaxing. Don't let his age fool you though - Bailey can romp and play with the best of them! Congratulations to Bailey who won over our hearts AND camper of the month!

May 2022 Camper of the Month

Reverend

Reverend is a 12-year-old German Shepherd mix. He is very shy at first but once he warms up to you he will love you forever. Reverend enjoys camp because he gets to socialize with his FURriends but then he also gets to take naps in the yard. He is very easygoing and always a blessing to have at camp! We love you Reverend!

April 2022 Camper of the Month

Keegan

Keegan is a 4-year-old Australian Cattle Dog who absolutely loves his snuggles! Keegan brings nothing but joy and love to camp. He spends most of his time hanging out on the big blue bridge and he especially enjoys his enrichment times! Congratulations Keegan, we love you!

March 2021 Camper of the Month

Walley

Wally is the sweetest Terrier mix ever! He is not quite one year old yet so he has a lot of puppy energy. Camp is a perfect outlet for him to socialize and get exercise.

He is always so excited to visit Camp; he gets whole-body wiggles each morning he sees the Camp Counselors!

You can find him playing with his best furiends Lily & Bodie in Play Yard 1.

We love Wally's facial expressions! While he is lively in the play yard, he also enjoys sitting on your lap and cuddling!

Congrats, Wally

February 2021 Camper of the Month

Teddy Bear

We have major heart eyes for Teddy Bear! He is a fourteen year old Poodle who has more energy than some of our much younger Campers! Teddy is as sweet as the come; he brings his favorite stuffed monkey toy to Camp each time he visits. He pawsitively loves when we use his monkey during a Play Pals enrichment session - he goes bananas for it! The Camp Counselors enjoy that he is equally playful and snuggly in the yards. How can you not snuggle that cute face?! Congratulations, Teddy Bear, we ♥ you!

January 2021 Camper of the Month

Murray

Murray man has been a long time Camper with Camp Bow Wow. He started over at West back in 2016 and moved over to East when we opened up! He is a sweet five year old Chocolate Labrador who loves attention from the Camp Counselors; especially when it involves under the chin stritches! We are thankful when he visits us for boarding & day care as he always brightens our day. Congrats, Murray!

December 2020 Camper of the Month

Misty

Sweet Misty has been a Camper with us for over a year! Her full name is Mistletoe so we couldn't have picked a better Camper of the Month for December. We love when Misty visits us for day Camp. She gets so excited when she walks through the door; she usually does a Beagle whine and wants us to give her belly rubs! Of course she gets as many belly rubs as possible while she's here, and even a treat or two as she is on Santa Paws' nice list. Congratulations, Misty! We love you!

November 2020 Camper of the Month

Murphy

November is the month to be extra thankful and that is how we feel about Murphy! He started his Camp Bow Wow journey at our West location in 2017. Fast forward to now and he is the king of the play yards at East! You can find Murphy chillin' in the play yards or taking selfies with our Manager, Carsen. This sassy guy enjoys extra attention from the Camp Counselors and his lunch time snackies every weekday. Congrats, Murphy!

October 2020 Camper of the Month

Sushi

Sushi joined our Pack in August and has quickly stolen our hearts! This loveable five year old Pug can be found chillin' with his pals in Play Yard 1. He has a calm energy and is loved by all the dogs in the yard. Sushi's favorite things are face and belly rubs from the Camp Counselors. We are sure to give him as many scratches and rubs as we can! Congrats, Sushi, we love you!

September 2020 Camper of the Month

Birdie

Sweet Birdie girl is a one year old Cavachon who has been a Camper for over a year! You can usually spot Birdie in Tea Cup or Play Yard 1 hanging out on the ramp or off to the side observing the super playful dogs. She is a friend to every dog and has such a sweet and calm demeanor in our play yards. She really puts our nervous Campers at ease with her energy. Birdie enjoys any extra lovins she can get in the yards and we love it too because she is so soft! Congrats, Birdie!

August 2020 Camper of the Month

Pedro

August is Pedro's barkday month so we couldn't have picked a better time to celebrate him! Pedro is a one-year-old (as of August 11th) Maltipoo who is the life of the party! This zippy boy always has tons of energy and is ready to P L A Y! He loves to run around and romp with his furiends. Pedro gets along with every pup in the play yard but especially loves playing with Will.I.Am and Scooter. If you can spot him zipping around on the Camper Cams, he usually is in Tea Cup or Play Yard 1. Pedro's mom affectionately calls him "Pedro The Wonder Dog!" and we know why. Weighing at almost 5 pounds, he is the most social tea cup pup you'll ever meet and has a bow tie for every occasion! Congratulations, Pedro! We can't wait to celebrate your barkday with you too!

July 2020 Camper of the Month

Spock and Missy

These two sweet pups are long time Campers from East and West! Spock and Missy are Chihuahua mixes with great personalities. All of us know when they arrive at Camp as Missy's favorite thing to do is bark to greet all her friends bright and early; She gets so excited for Camp! Spock loves attention from the Camp Counselors, especially scratches behind his ears! He likes to hop up on the ramp to survey the play yard. One of our favorite things to do is read their bedtime stories - they each have their own PJs that we put on and they usually fall asleep during the story from how relaxed they are! While they are starting a new adventure in Arizona, we are so thankful to have had them as part of our Pack! They will be greatly missed and we sent them on their way with lots of love and snuggles. It's never goodbye, it's bark ya later!

June 2020 Camper of the Month

Cy

We are paws-itively excited to introduce you to our June Camper of the Month, Cy! Cy is an easy-going twelve year old Terrier mix. We love having him as a Camper! Cy has a calm demeanor and loves to be snuggled and curl up in our Camp Counselor's laps. You can find Cy hanging out in either our Tea Cup play yard or Play Yard 1. He loves to chill on the play equipment and survey the yard while all the dogs run around him. Cy is a super sweet pup when he gets groomed by Delani - we think he thinks he's getting a massage the whole time! Congratulations Cy, we will be sure to give you extra lovins' this month (and every month)!?

May 2020 Camper of the Month

Briggs

Congratulations to our May Camper of the Month, Briggs! Briggs is a special boy and we love seeing him for day camp Monday - Friday. He is an almost one-year-old Soft Coated Wheaten Terrier and Poodle mix. To sum him up, he is a bundle of floofy energy! He loves to rile up our play yards and get our other Campers howlin' with fun! You can find him playing with his best furiend Nova in play yards 1 & 2. He also has the best smile! He does love his lunch time nap as that gives him more energy for afternoon play! It's fun to cuddle with Briggs when he is sleepy ? We love you, Briggs!

April 2020 Camper of the Month

Lily Rose

April showers bring flowers early! Lily Rose is a sweet almost three-year-old Labradoodle who has been part of the East pack since we opened! She also wanted to see what all the woof was about at our West location. While Lily Rose is shy at first, she will quickly warm your heart with her good obedience and cuddle time on the play yard equipment. She is always ready for extra pets and ear scratches! We love it when she smiles as she brightens our day any time she is at Camp! Congratulations, Lily Rose!

March 2020 Camper of the Month

Winston

Winston is a Dachshund mix who turns 4 years old next month! Winston loves coming to camp and making new FURiends! But his first stop is always our manager, Ashley's, office as soon as he comes through the front door. He insists on finding her and saying hello before he goes to play with his pals. Winston always brings a happy and lively vibe to camp. It wouldn't be the same without him! Congratulations, we love you, Winston!

February 2020 Camper of the Month

Sadie Jane

Sadie Jane is a 2-year-old Saint Bernard and Poodle mix who is full of love. Sadie enjoys coming to Day Camp and she is the queen of the Play Yard! We can always leave it to her to make sure the others stay in line! Sadie Jane takes her time getting to know people but once she has warmed up to you, she gives the best cuddles and such big hugs! Congratulations Sadie Jane, we love you!

January 2020 Camper of the Month

Kota

Kota is a 10-year-old, happy-go-lucky Samoyed who loves coming to camp! He never forgets his backpack or his beloved, stuffed bumblebee toy! Kota is a vocal, big fluffy ball of love and joy. We all love when he stays with us and we look forward to seeing him each and every time. Congratulations Kota!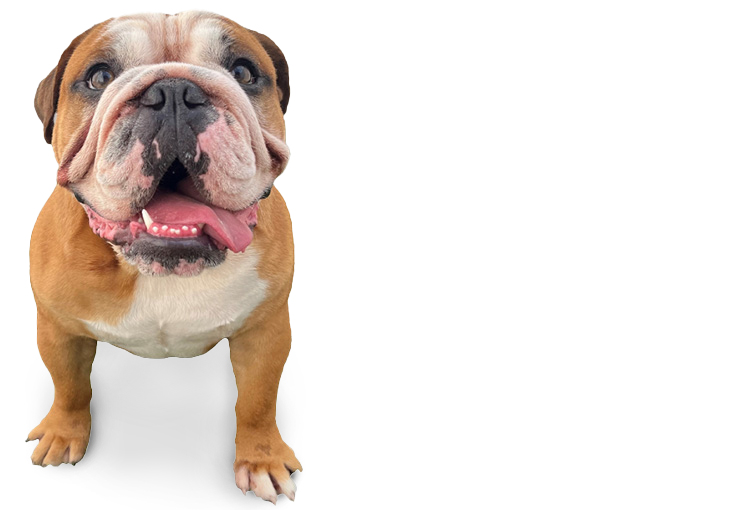 Ready to


Romp. Wag. Play?