We Love

Our Campers
Featured Campers
We LOVE our Campers! Check out our featured Campers at Camp Bow Wow Sherwood. These pups love to play all day in our fun, safe and social environment, and receive lots of love and attention from our Certified Camp Counselors® whether they're in for day care or boarding.
December 2023 Camper of the Month

Hank

Hank is a very good boy who rescued me about a year and a half ago. He was a stray dog in Mexico and made his way all the way to Oregon Dog Rescue where we met up. Hank is a sweet boy who loves people (especially kids) and dogs. He likes to go for walks (unless it's raining) and he loves going to Camp Bow Wow. Camp day is his favorite day of the week!

November 2023 Camper of the Month

Bonnie

Bonnie is a rescue from Fresno, adopting her was the best decision I've ever made! She's the Queen of the Zoomies and loves playing with other dogs at day care and at the dog park. She's the best hiking buddy and loves a good day at the beach! Her favorite toy is her tennis balls, she's mastered the art of napping and is always up for a stroll in the neighborhood. She loves all the staff at Camp Bow Wow as she's a regular here! Thanks to all the staff for putting up with her silliness!

October 2023 Camper of the Month

Ferguson

Ferguson is a German Shepherd and Lab mix. He is such a friendly boy and loves meeting new people. He makes for an excellent vacuum in the kitchen and is always game for a treat! Sometimes Ferguson will make silly grumpy old man noises when lying down and fetch is his favorite game, though dropping the ball is not his expertise. Ferguson is obsessed with the water hose and going on car rides whenever possible.

September 2023 Camper of the Month

Roy

"Roy is a 2-year-old Red Golden Retriever and is the sweetest boy you will ever meet! He is full of love and instantly befriends everyone he meets. Roy LOVES all of his 4-legged friends and Camp Counselors at Camp Bow Wow and is sure to greet everyone individually once he is checked into Camp in the morning. While at Camp, you can often find him either playing with his friends, napping in the corner/on the bridge because he is pooped from all of the playing, following a Camp Counselor around to get pets, and/ or playing in the pools/running to eat the water coming out of the Camp Counselor's hose. Roy loves belly rubs, pup cups, playing fetch, and trying to get his 2 cat brothers at home to play with him.

August 2023 Camper of the Month

Linq

Linq is our 3 year old French Bulldog who loves long walks on the beach, cuddling by a fire, and making sure everyone knows it's their turn to provide scritches. He's the first one to join you on the couch for a good movie (as long as he can sit in your lap) or the first alarm if any other dog walks within 20 feet of the fence. He's a lover, a ham for attention, and he'll happily test the bacon first to make sure it's cooked properly.

July 2023 Camper of the Month

Odin

Odin is a big lap dog. Since the day we rescued him at 3 months old he has been the biggest cuddler. Even now at a year and a half and 58 lbs he still thinks he is a lap dog. When he is not at daycare you'll find him snuggled up with his human sister or running crazy all over the house. He loves to play with his toys and say hi to everyone that will give him attention.

June 2023 Camper of the Month

Alice

Alice is livin' her best puppy life! In her spare time, she likes to chase her older siblings, chew on bones, and people watch on her balcony. She strongly feels that with imagination anything can be a toy. On her walks she likes to smell the flowers and often wonders what kind of flower is an Alice. Peace, Love, and Tackle is how she strives to live her life.

May 2023 Camper of the Month

Winnie

Winnie is a 2-year old labradoodle who loves peanut butter, tennis balls, and playing with other dogs. When Winnie was a puppy, she enjoyed knocking over her water bowl and splashing water all over the kitchen floor. Winnie was also responsible for chewing through many shoes in her younger days. Despite this, Winnie is the best thing that has ever happened to her mom and loved to the moon and back.

April 2023 Camper of the Month

Luka

From Luka's Mom: "He may look like a wolf but he's also as lazy as a house cat. Luka loves going on car rides, going to the dog park and his daily naps. Luka is very shy with other dogs but once he's comfortable he likes to run around with others. If you look into his multi colored eyes you'll see a soft hearted good boy who loves his blankie." 

Luka is a sweetheart and we love having him at Camp!

March 2023 Camper of the Month

Cedar

Cedar came to my life as a healing pup - after losing three of my elderly dogs within six months, it was time to mend the space in my heart with a new friend. Cedar trees are a medicinal and spiritual healing tree, honored by my native heritage, and so Cedar's name fit his life role perfectly. He was rescued out of a feral situation involving 200 dogs a little over 4 years ago, and I am honored to be chosen to be his person, and to still be connected with the rescuers and over 150 of the adopters still today. Cedar and I have been through a lot of life and adventures in our four years together, but I bet he'd tell you his favorite pastime is how much he loves his pack of rescue friends. He loves his feral barn kitty playmates, as well as his once feral mustang friend Sweetpea. But the pal he spends most of his time with with his macaw buddy Keoke, who is the "official manager" of my art studio! These two are a hoot together! Cedar is the best friend a girl could ask for, probably the closest friend I've ever had.

February 2023 Camper of the Month

Rio

Rio Rogue Dickinson is our 6 month old Portuguese Water Dog. He loves to take walks, do tricks and is very motivated by food. He joined our family in August and has brought so much joy to our lives. Rio loves the pack at Camp Bow Wow - he jumps out of the car and runs to the front door when we arrive! It is wonderful to take him to a place where he is well loved.

January 2023 Camper of the Month

Willow & Olive

Olive and Willow love laying by the fire, eating cheese and stealing socks! They also love coming to play with their friends at Camp Bow Wow!

December 2022 Camper of the Month

Kash & Bogey

Kash and Bogey have charmed our staff with their cute fluffy fur and their brotherly love. They are both professional posers for pictures and we love seeing them a Camp snuggling together in their Luxury Suite at night!
From Pawrents: "Meet Bogey & Kash our Doodle boys, if you see them be sure and say Hi or Kash will cry."

November 2022 Camper of the Month

Lil' Tucker

We adopted Lil' Tucker from an adoption event when he was 4 months old. He traveled to Oregon from Texas and won our hearts immediately. He was 18 lbs at four months and we were told he wouldn't get to more than 45 lbs. Now, a year and a half later at 80 lbs, he's a big fur ball of love. He has a favorite blankie that he likes to cover him at night and loves when he's getting hugs. When we mention 'do you want to go to Camp Bow Wow?' he starts wagging his tail with excitement and looking for his leash. When we told Tucker that he was Camper of the Month, he was so excited, we celebrated with a puppaccino! Thank you, Camp Bow Wow!!

October 2022 Camper of the Month

Porter

Porter came into our family via Oregon Dog Rescue when he was just a puppy old enough to adopt out. Originally from Porterville, California! He loves balls & water, but not balls in the water! Porter can be very shy and it takes him quite some time to warm up to new people. Porter serves as neighborhood watch for all emergency vehicles and sounds his own howling alarm every time he hears a siren. (Just in case you aren't paying attention.) Porter is such a happy guy; especially when he gets to go see all his friends at Camp Bow Wow. He is particularly fond of all the individual attention he receives from his many girlfriends. Porter is so lucky to have such a safe, clean and caring place to just be the best dog he can be!

September 2022 Camper of the Month

Archer

Archer is a young and curious Miniature Australian Shepherd who has stolen the hearts of all our Camp Counselors. He is a lover of all humans and a big snuggler but is also slowly finding his playful side here at Camp Bow Wow.

August 2022 Camper of the Month

Vinny

Vinny is a Bernese Mountain dog mix, he is the biggest snuggle boy who hasn't learned how big he is yet. If there's water around Vinny will absolutely be playing in it. He is a wild boy, but such a sweetheart who loves making new friends. He loves all his buddies at Camp Bow Wow!

July 2022 Camper of the Month

Bo

Bo is a sweet chocolate lab, he loves stealing trash out of the trash can and zooming around the yard with his favorite toys! He likes to play all day at Camp and cuddle up with you when he's tired before he goes to bed. We love Bo and love having him in our family even when he gets into everything!

June 2022 Camper of the Month

Blue

Blue will become friends with anybody. If you want to say Hi, he will gladly let you pet him. When he's not chewing up a toy, he can be found taking a nap in just about any position. He goes crazy for Camp!

May 2022 Camper of the Month

Porter

At 7, Porter has got it figured out. He loves a long car ride, napping in the sun, eating potato chips, and chasing bunnies. He recently accepting the position of Director of the Choir at Camp Bow Wow and has been very pleased with his fellow singers' rapid progress. He hopes to stage the new Opera "Bow to the Wow" for all the pawrents in the coming months. Stay tuned.

April 2022 Camper of the Month

Kali

Kali turned 10 in January. She was the smallest of a litter of 15 that was rescued from a shelter in California. She loves chasing flies in the house, sleeping, and the Oregon coast. She has visited Palm Springs, Napa, the San Juan's, and Seattle, but Bend is her favorite! She has lots of friends at Camp!

March 2022 Camper of the Month

Kane

Kane used to be a show dog. He didn't like it and had too much energy for it, so his mom adopted him at 2 years old. He is very sweet, has lots of energy, and LOVES to run! He loves everyone and learning new things daily as he is now at home. He has lots of friends at Camp!

February 2022 Camper of the Month

Willow

Willow is a frequent flyer at Camp Bow Wow! She is a Goldendoodle but leads heavily toward a Standard Poodle! Willow is 8 months old and enjoys barking, chewing, and running! She is very loyal and has the sweetest disposition!

January 2022 Camper of the Month

Louie

Louie the Lagotto is a playful, energetic 18-month-old that love people and love to talk! He has lots of friends at Camp!

December 2021 Camper of the Month

Rosie

Rosie is an exuberant one year-old who really puts the "spring" in Springerdoodle. She loves family time, chasing after bouncy toys, long walks in the sunshine, working for tasty treats, and trying to make friends with the family cat (no such luck yet). She has made so many friends at camp!

November 2021 Camper of the Month

Baron

Baron is a big goofball at home! His favorite cat sister is Gerri because his other cat sister is too feisty! His favorite toy is a stuffed frog with long legs so we can play tug of war before he chews all the stuffing out! His nickname is Mr. Handsome Pants because he really is a handsome boy! He's also naughty and destroys his mom's flower beds! But he's so proud of himself....He soaks up all the love from the Camp Counselors while playing at Camp!

October 2021 Camper of the Month

Canelo

Canelo loves showing everyone his squeaky toys and meeting new people and animals. He's sweet and loves lots of cuddles. he also gives the best hugs at Camp!

September 2021 Camper of the Month

Lily

Lily is an 11 month old Great Dane. She is an energetic, gentle giant who loves playing with her 5 and 4 year old human brother and sister. She loves coming to Camp Bow Wow and meeting new freinds and playing with dogs of all sizes!

August 2021 Camper of the Month

Mya

Mya is a sweet Siberian Husky with a loving personality. She loves Camp Bow Wow and looks forward to going there so her mom can get work done at the office. She loves to look at herself in the mirror when her mom is getting ready. Her mom wonders what she is telling herself!

July 2021 Camper of the Month

Scarlet

Scarlett came back to Portland with her mom after her Christmas trip to Alaska. her full name is Scarlet Nova. Scarlet is an energetic, funny, loving, and intelligent 8 month old, 7.6 lb. Pomsky. She loves to be around people! Oh, she likes to tease too! She definitely knows when she is chewing something other than her toys and looks at you with an expression of, "What? I can't chew this"? Scarlet loves snuggles, a little bit of cheese at bedtime, and going to Camp Bow Wow

June 2021 Camper of the Month

Pippin

Pippin is almost a year old. She was born 7/5/2020 near Jacksonville in the Rogue Valley. Her dad is a mini Aussie and her momma is a Dachshund mix, so she has all kinds of personality! She gets along great with dogs and cats, but wants to chase birds, squirrels and bunnies. She really loves going to Camp!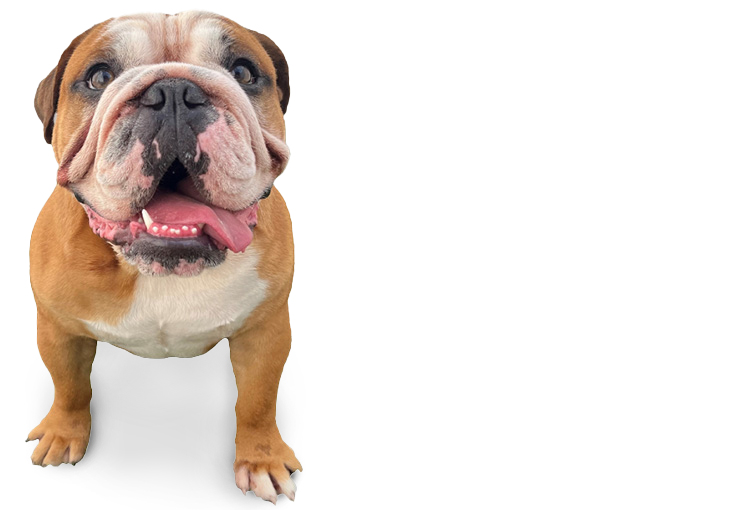 Ready to


Romp. Wag. Play?