At North Durham

We Love Our Campers
Featured Campers
We LOVE our Campers! Check out our featured Campers at Camp Bow Wow North Durham. These pups love to play all day in our fun, safe and social environment, and receive lots of love and attention from our Certified Camp Counselors® whether they're in for day care or boarding.
February 2022 Camper of the Month

Celine

Starting February off with a WOOF is our Camper Of The Week, CELINE! She's a very sweet & refined camper, full of love & wags! She keeps it cool with our other little campers, catch her playing a little bit of tag, and stealing counselors hearts (and affection)!

February 2022 Camper of the Month

Argos-Pickles-Christmas

Put your paws together this Valentine's day for Argo-Christmas! Our Camper Of The Week! Argo-Christmas is notorious for making funny faces & filling camp with laughter! A beautiful camper with an even more beautiful personality! Argo-Christmas, how's it feel to have it all? If you ever see Argo-Christmas be sure to ask if you can give him a boop on the snoot!

February 2022 Camper of the Month

Molly Z

Introducing MOLLY! She's our Camper Of The Week! It is well deserved, she has a heart of gold & can make anyone fall in love. She brings out the best in every camper & counselor she meets. She teaches young pups the ways of the world, and fills old hearts with a new youth. She's so special & if you're ever blessed enough to meet her, give her a head pat & a thank you- she deserves it. Trust us.

January 2022 Camper of the Month

Ace

Yappy Monday! With every Monday comes a new camper of the week to brighten the day! This week? IT'S ACE! We think his personality radiates in this photo & really we wouldn't have it any other way! That smile brings smiles any and every time we see him! He loves his counselors here at camp and he isn't afraid to show it! When he's here where there's a human, there's an Ace. Don't expect too much loyalty though, he always thinks the pets are better on the other side and will abandon you for any new face he sees! (No hard feelings though, there's enough love to go around with this one!)

January 2022 Camper of the Month

Blue

Put your paws together for our camper of the week, BLUE! Have you ever looked at a dog and thought "I bet you that dog knows the wonders of the world."? I never had, that is, until I met Blue. Such a kind hearted, caring, wise & relaxed camper. Blue takes everything in stride & goes with the flow! Long vacation at camp? He settles right in & prepares to share lots of wags with other campers & staff. He has no problem bouncing between a full energy yard going all in on play time, and a calm set of campers who've settled in for nap time. You can also find him sitting stoically on the slide- probably sharing wisdom & life advice with his fellow campers. (Be great if he could share it with us too, huh? Guess we'll have to settle for excited wags and snuggles... for now!)

January 2022 Camper of the Month

Garrus

Is anyone else jealous of how pretty our camper of the week Garrus is? Tall, dark, handsome, what more could you want? A dashing smile? Check. A loving & goofy? Check. Up for adventure? Check! He's a catch who loves to play catch- and chase. You can find Garrus running with the big dogs, he's still a puppy so you'll be able to watch him grow right before your eyes! And if you ever catch him in the lobby you simply must give him a pat, that fur is oh so soft you won't wanna miss it!

January 2022 Camper of the Month

Vinnie

Can you touch your nose with your tongue? I can't. But our camper of the week Vinnie can! What a talent!! Of which he has many; like looking cute & stealing hearts! You can find this handsome camper in play yard 1 with the small crowd! Don't be fooled though, he has the spirit of a big dog! Vinnie love love loves to play! Seriously he could go all day and night, then do it again the next day! He only stops for pets, and treats (how do you think I got such a stunning photo!?)

January 2022 Camper of the Month

Jetro

This is Jetro! The first in his family of four to be Camper Of The Week! Congratulations Jetro! He's got lots of big muscles but his biggest one is his heart! He's the family guardian & leader, it's a tough job but some puppy's gotta do it! If you ever see him, blow him a kiss and hold open the door because he's always on a mission to go go go!

August 2021 Camper of the Month

Sugar

Ladies and gentlemen, put your paws together for one of our sweetest and favorite golden doodles, Sugar! She is quite the affectionate pup and loves her snuggles in the play yards! Whenever she needs extra back rubs, she loves booping her nose on her camp counselors for extra lovin'! When Sugar's feeling extra pumped, she loves to hop all day long in our outdoor yards and its a sight you can't miss! Please join us in congratulating Miss Sugar!

August 2021 Camper of the Month

Loki

Meet a pup who lives up to his name, Loki! Loki is our Camper of the Week and well deserves it! He joined Camp early this year as an addition to his big sis, Aubrey! Loki is a total goofball and is always down to clown. He is not picky about who to play with at camp, so long as they are open to chase and roughhouse. He always makes sure to check in on his big sis before bounding off to make new furiends. When he finally slows down, he is all about getting love from the camp counselors and gives you this big goofy grin with his ears flopping everywhere. Congratulations to our silly Loki for being our Camper of the Week!

August 2021 Camper of the Month

Riley

Meet Riley, a handsome Airedale Terrier that joined the North Durham pack in 2020. This big teddy bear is all about the love. He loves his fellow campers and has never met a canine stranger! He hangs out with the pups in the big dog yards so you can find him running about in yards 2, 3, or 4. If he doesn't have a big ol' grin, he's suckering you in with his big ol' puppy eyes! Cuddles and scratches are at the top of the list for Riley and we are always happy to oblige! Congratulations on being Camper of the Week, Riley!

August 2021 Camper of the Month

Boz

Meet our Basset-Terrier mix, Boz! This goofball is practically friends with just about every small dog at camp. Although it took several interview attempts for Boz to come around, he absolutely loves spending time with his fur-iends and getting snuggles from his favorite camp counselors. You know Boz is in a good mood when he spends the rest of his day playing with his best friend Bowie the doodle! Once this munchkin is all tuckered out, he loves to pick his favorite spot, alongside the wall to snooze the day away! Congratulation to Boz, our Camp of the week!!!

August 2021 Camper of the Month

Jack

Our handsome beagle mix, Jack is our Camper of the Week! This sweet boy is the best at asking for snuggles from the camp counselors in the play yard. He will sneak right between your legs and then tilt his head up to get the best angle for his big puppy eyes. You cannot resist. He is a little more selective with his play mates and is most active first thing in the morning; the afternoon is dedicated snuggle time. You can find Jack in play yard 1 with his fellow little campers! Give him a big congratulations for being our Camper of the week!

July 2021 Camper of the Month

Bella

Meet a camper who has been with us since 2009! Bella here is an old champ when it comes to Camp Bow Wow! We met her years ago when she was only a little puppy and have been incredibly lucky to watch over her as she's grown. Don't tell Bella she's getting up there in years, she will surely deny it! Bella still has those puppy eyes that sucker you in and makes sure she gets all the scratches, rubs, and attention she can get! Bella's also the perfect dog to meet our newest campers during an interview as she matches their energy and helps ease them into being part of the pack! Thank you Bella for being such a good girl and Congratulations on being Camper of the Week!

July 2021 Camper of the Month

Baby

Give a BIG hello to our sweet Baby! This little lady rules the big dog yard, despite being a little on the shorter side. She doesn't let that stop her and she's ready to zoom and play with whoever is closest. Baby joined us last year and has been rocking in the play yards ever since! Once she's run her zoomies and she's tired out her furiends, Baby is happy to let the Camp Counselors spoil her too! Check in on the cameras and see if you can find this speedy lady playing! Congratulations Baby for being Camper of the Week!

July 2021 Camper of the Month

Lily

Meet Lily, our water loving, zoomie spaniel! Lily joined the pack last year and just turned 1 year old this past March. She started off in the little pup yard but has since graduated to the big kid yards! Lily LOVES to run and can regularly be found running off her zoomies in the play yards, encouraging her furiends to play a game of chase! And if the puppy pools aren't down for her to play in, she's knock over a bucket or water so she can splash around inside. She's a very silly pup and we love having her! Congratulations Lily on being Camper of the Week!

July 2021 Camper of the Month

Nelson

Meet our ball pit hunting, obstacle course hopping, handsome boy, Nelson!! This cutie is our Camper of the Week! Nelson has been with the pack for nearly 3 years! He also recently got a new brother, Archie! Nelson is a big goofball and loves to initiate play with other campers by bonking them with his tail and his body from the side. He's also a masterful cuddler and will follow around his favorite camp counselors to make sure he doesn't miss a moment of head scratches! Congratulations Nelson for being our Camper of the Week!

June 2021 Camper of the Month

Zuko

Meet the goofiest prince to date: Zuko! This little man captured our hearts from the get-go when he walked in, chatting it up with everyone going by. Zuko has some husky in him, so he's a great conversationalist and will give you a 'wooo-woo' type greeting when he get's really excited. Zuko is in our small dog play yard, but don't let his size fool you; this pup is full of spunky silliness. He's notorious for booping other dogs on the head and has a long list of furiends: Boomer, Zubi, Atticus, Bowie, etc. When he's not chasing down his fellow campers, he can be caught sun bathing outside! He'll either curl up for an afternoon nap or streeeetch out to catch those NC rays! Congratulations to Zuko for being our Camper of the Week!

June 2021 Camper of the Month

Trinity

Say hello to a little lady with a big voice! Trinity is our Camper of the Week and she is so excited! To be fair, this cutey is ALWAYS excited and we just love her energy! Trinity bounded into our pack all the way back in 2014 and has made many furiends along the way! You can find her in the small dog yard, telling everyone what's going on and talking to the camp counselors all about her day! She's always up for some belly rubs and loves to show off her balancing act of standing and dancing on her back legs. Trinity is the life of the party, to be sure! Congratulations Trinity on being our Camper of the Week!!

June 2021 Camper of the Month

Finn

If you haven't met this gentle soul, you are missing out. Meet Finn, an Australian Shepherd whose goal in life is to relax and keep watch over his humans and fellow campers. He's been with the pack for a little over 2 years and we couldn't be luckier to have him amongst our campers! Finn is awesome for new campers as his gentle demeaner eases them into the camp life! He also does the most precious wiggles when he knows his best furiends are around! Congratulations to Finn for being our Camper of the Week!

April 2021 Camper of the Month

Bengal

Meet Bengal, our silliest Camper of the Week! Bengal joined the pack last year and made some immediate best fur-iends. His bestie, is Stella, an equally goofy goldendoodle. The love to stare each other down from opposite sides of the play yard bridge before pouncing and zooming around the yard, gathering other campers in their game of chase. It's always a riot to watch Bengal play as he bounces, rolls, and runs around the yards. He is sure to make you laugh as you watch him on our Camper Cams! Make sure to congratulate our handsome Camper of the Week!

March 2021 Camper of the Month

Maz

Breed: Schnoodle (Schnauzer/poodle mix)
If your pup has interviewed at camp within the past couple of months, chances are you fur baby has met this our lovely Maz! Miss Maz is always super eager to show any new pup the ropes here at camp!! Maz is such a wiggle worm and wiggles to her favorite dance whenever she needs extra snuggles from a counselor or extra play time from her fur-iends! Maz loves to play with everyone and we love her so much for always having such a great attitude! Congratulations Maz for being our camper of the week!

March 2021 Camper of the Month

Tallulah

Breed: Boxer
Have you met our sweet pea Tallulah? This lovely and patient pup is amazing when she is being walked to her cabin or the yards. She always makes sure to wait patiently for her camp counselor to follow closely when she is leashed. Ms.Tallulah is a pro when it comes to her bath and loves getting pampered when she comes to camp! Tallulah never miss a chance to get some quick pets and back scratches when she's super tired in the play yards. Congratulations Tallulah!!

March 2021 Camper of the Month

Geronimo

Breed: Pembroke Welsh Corgi
A round of appaws for Geronimo our Camper of the Week! This sweet fella loves to announce his entrance with an ensemble of barks. Once Geronimo is familiar with all of his fellow campers, he loves to run across the yards to get straight to business. When this little cutie is all tuckered from a full day of play, you are sure to find Geronimo on his back and staring at the ceiling! Congratulations to our little goofball for being Camper of the Week!!

March 2021 Camper of the Month

Penny

Breed: Lab Mix
Ladies and gentlemen, I present to you our gentlest and sweetest dog Ms.Penny! Once she finds her closest in the yard, she loves to dart across the yards like there's no tomorrow! She loves to get attention from one or two of her favorite camp counselors! Although she may be a bit timid at first, once Penny has opened up to you, she loves to snuggle and play tag all day long! Congratulation Penny for being our Camper of the Week!!

March 2021 Camper of the Month

Archibald

Breed: Hound Mix
Have you met our wonderful Archibald? This sweetheart has been with us since he was just 4 months old! Archibald loves playing hard with the favorite pals and is typically out like a light in his cabin during his rest breaks! When its time to go home, Archibald always waits patiently while we put on his harness after a long day of play! Congratulation Archibald on being Camper of the Week!

February 2021 Camper of the Month

Hooch

Breed: Boxer-mix
Give it up for the one and only, Mr. Hooch!!! This lovely pup has a lot on his mind and loves to vent to the camp counselors about all this thoughts and how his day went! If he's not running outside or following the crowd, you can bet he is yapping away with our counselors or some of his close pals in the play yards!

February 2021 Camper of the Month

Porter

Breed: Black Lab
Congratulations Porter aka P-Money for being our Camper of the Week! This sweetheart loves to have a blast in the play yards and encourages any pup to join him in his daily charades! Once P-Money is all tuckered out, he loves to shoot his adorable eyes at the camp counselors for some extra back scratches.

February 2021 Camper of the Month

Pink

Breed: Bullmastiff
Have you met our precious Pink? This gentle giant has the biggest heart and melts all our hearts with her kindness! She gives the best bear hugs but can sometimes be too much for our counselors given her size! Despite her size, Ms. Pink is timid and always resorts to her camp counselors for reassurance and comfort! Pink is always cordial to our new campers and always willing to show the ropes to any new doggos!

February 2021 Camper of the Month

Buddy & Tobias

Breed: Pekingese & Sheltie
Please put your paws together for Tobias & Buddy, our Campers of the Week! These two are the cutest bunch you have ever seen! Mr. Tobias never misses a play pal and has a blast with our camp counselors. While he is in the yards, Mr. Tobias always loves to follow the crowds and loves to hop in when other pups are rolling and zooming around. Buddy is such a snuggle bug and this little munchkin fits like a glove in your lap!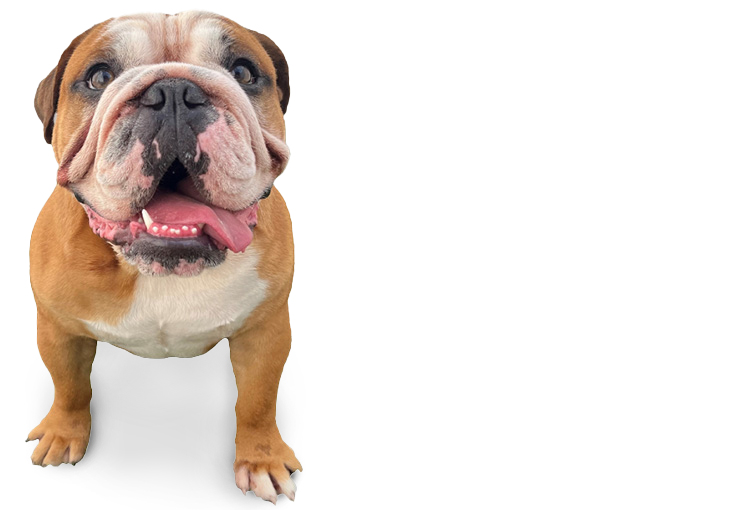 Ready to


Romp. Wag. Play?