Meet Our Current Foster Dogs Who Are Looking for Their Loving Fur-ever Homes in Golden
At Camp Bow Wow Golden, we believe every dog should have a loving fur-ever home. We work closely with local shelters and rescues to help with their adoption efforts, and often have foster dogs staying at Camp. These dogs get to play all day with other Campers, snooze the night away in individual Cabins, and get lots of love and attention from our Certified Camp Counselors®.
Meet Bootsie!
Bootsie is a 13-year old Beagle looking for her FUR-ever home. She is a sweet, laid-back girl who enjoys lounging around and will always find the comfiest spot in the room to curl up and take a nap! She is independent, but still enjoys attention from her humans. She can't play as much as she used to, but she gets along well with other dogs!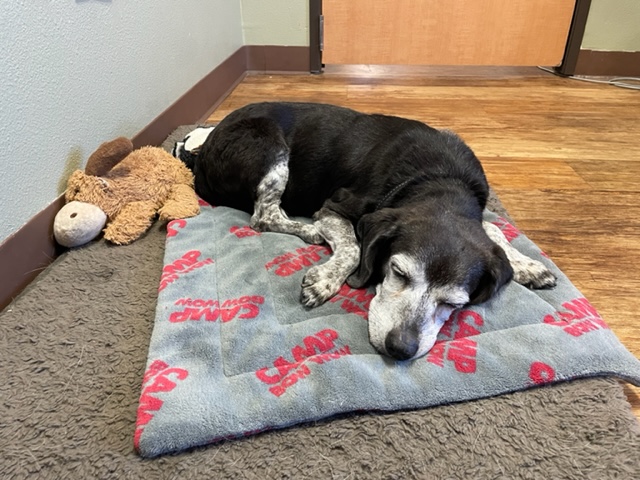 Izzy

Available

Age: Adult

Breed: Boxer, Labrador Retriever Requirement: No cats

Personality: Izzy is available for adoption through Colorado Canine Rescue (CCR), a nonprofit dog rescue located in the Denver area. She came to CCR from Houston TX and there is very little history on her. CCR has been told that she may be a boxer/lab mix, but that is just a guess made by shelter staff, rescue volunteers, and our veterinarians. Izzy was adopted out as a puppy a year ago and was recently returned due to no fault of her own. It was a situation that the family was no longer able to care of Izzy. Izzy is ar

Adoption Information: If you are interested in adopting Izzy, please submit an adoption application located on our website, www.coloradocaninerescue.org. We are asking for a $200 adoption donation for Izzy. Please note, CCR cannot guarantee the breed composition or ages of our dogs as we usually have no history prior to them entering the shelter. In addition, most dogs listed as potty trained will experience an adjustment period as they learn the routines in their new home.