Diablo Valley

We Love Our Campers
Featured Campers
We LOVE our Campers! Check out our featured Campers at Camp Bow Wow Diablo Valley. These pups love to play all day in our fun, safe and social environment, and receive lots of love and attention from our Certified Camp Counselors® whether they're in for day care or boarding.
February 2020 Camper of the Month

Chi Chai

Chi chai is a teacup chihuahua with a lot of spunk! She loves to play with the other small pups; leaping around them, and barking at them so they run around with her. We all love this sweet little girl! She has been coming to us since she was 6 months old and she will be celebrating her 1 year birthday with us this month!! She is a rescue pup from the Humane Society of Silicon Valley and very very loved by everyone around her. We are lucky to have her and her family apart of our Camp Bow Wow Diablo Valley Family!

January 2020 Camper of the Month

Bonanza Hall

Bonanza Hall is a STAR at Camp Bow Wow Diablo Valley! His happy expression and confident posture makes him the perfect model! This Bernese Mountain Dog is one of the best boys we know! When Bo plays he is the camp clown. He tosses himself around the yard while playing with his camp friends! He loves to play with the other pups but also enjoys the company of the camp counselors to get some affection! We are happy to have Bo and his Family apart of our Family at Diablo Valley.

December 2019 Camper of the Month

Quinn Clark

Quinn Clark is a spirited and fun-loving boy! His human mother calls him a spaz but that is because he is a young pup with a TON of energy!! This English Labrador Retriever is the definition of a water dog! He will happily spend his days swimming in the pool at camp and at home. Quinn came to us as a big-headed puppy ready to hug and kiss you at any moment but he has grown into a handsome young man with proper manners. It is our honor to watch Quinn and all other pups grow up with us here at Camp Bow Wow Diablo Valley.

November 2019 Camper of the Month

Yoshi & Asia

Yoshi & Asia Brown have only been with us for a couple of months but the whole staff has completely fallen in love with them! They are both sweet & energetic young puppies who want to play with every dog and hooman in the yard! Asia is a bulldog who LOVES belly rubs so very much. She will cuddle you every second if you let her, while Yoshi is ready to play the day away!! When it's time to relax and recuperate their puppy power, the babies will take a nap together and have a good cuddle before long they will be blasting off for more play! We are lucky to have the Brown family as our clients!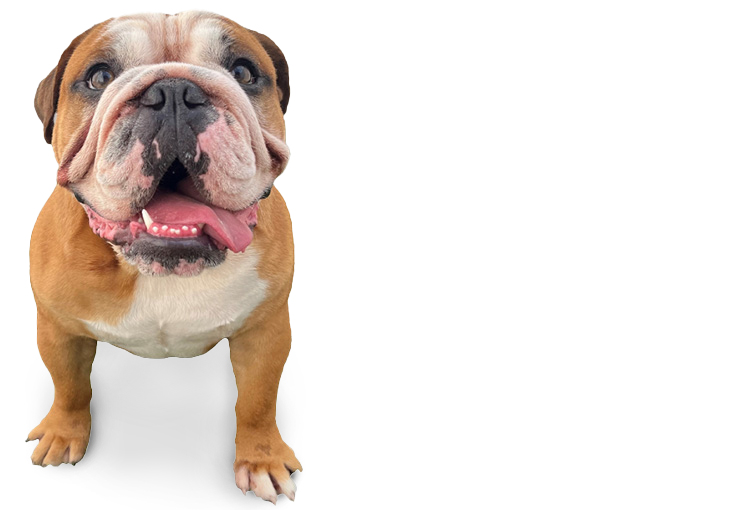 Ready to


Romp. Wag. Play?