Diablo Valley

We Love Our Campers
Featured Campers
We LOVE our Campers! Check out our featured Campers at Camp Bow Wow Diablo Valley. These pups love to play all day in our fun, safe and social environment, and receive lots of love and attention from our Certified Camp Counselors® whether they're in for day care or boarding.
February 2020 Camper of the Month

Chi Chai

Chi chai is a teacup chihuahua with a lot of spunk! She loves to play with the other small pups; leaping around them, and barking at them so they run around with her. We all love this sweet little girl! She has been coming to us since she was 6 months old and she will be celebrating her 1 year birthday with us this month!! She is a rescue pup from the Humane Society of Silicon Valley and very very loved by everyone around her. We are lucky to have her and her family apart of our Camp Bow Wow Diablo Valley Family!

January 2020 Camper of the Month

Bonanza Hall

Bonanza Hall is a STAR at Camp Bow Wow Diablo Valley! His happy expression and confident posture makes him the perfect model! This Bernese Mountain Dog is one of the best boys we know! When Bo plays he is the camp clown. He tosses himself around the yard while playing with his camp friends! He loves to play with the other pups but also enjoys the company of the camp counselors to get some affection! We are happy to have Bo and his Family apart of our Family at Diablo Valley.

December 2019 Camper of the Month

Quinn Clark

Quinn Clark is a spirited and fun-loving boy! His human mother calls him a spaz but that is because he is a young pup with a TON of energy!! This English Labrador Retriever is the definition of a water dog! He will happily spend his days swimming in the pool at camp and at home. Quinn came to us as a big-headed puppy ready to hug and kiss you at any moment but he has grown into a handsome young man with proper manners. It is our honor to watch Quinn and all other pups grow up with us here at Camp Bow Wow Diablo Valley.

November 2019 Camper of the Month

Yoshi & Asia

Yoshi & Asia Brown have only been with us for a couple of months but the whole staff has completely fallen in love with them! They are both sweet & energetic young puppies who want to play with every dog and hooman in the yard! Asia is a bulldog who LOVES belly rubs so very much. She will cuddle you every second if you let her, while Yoshi is ready to play the day away!! When it's time to relax and recuperate their puppy power, the babies will take a nap together and have a good cuddle before long they will be blasting off for more play! We are lucky to have the Brown family as our clients!

October 2019 Camper of the Month

Benji

Benji Crane is one of the sweetest pups we have at Camp Bow Wow Diablo Valley. She will take a long time to warm up to you but when she does she will love you forever. This Beagle mix is has been with us since October of 2017, which is only a couple months after we opened! We have known her almost her whole life and we couldn't be happier to see her grow. Benji needs her tummy rubbed at all times and her ears scratched otherwise you'll have an upset puppy whose looking at you with sad eyes. Benji is much loved by her parents and our counselors. Thank you so much for being apart of the family!

September 2019 Camper of the Month

Ghost

Ghost Marinelli has been coming to us for over a year now! We have watched as this talkative boy grow into the confident dog he is today. Our Counselors love to talk with Ghost, give him encouragement and love as he tells us about his day. "Arruuuuuu!" He'll say to us with a big smile on his sweet face. This Samoyed lives up to the breed standard with their beautiful white fluffy coats, their quirky attitude, their smarts, and their love to talk. At Camp Bow Wow Diablo Valley, Ghost has become a regular member of the family. The big dog play yard would be so different without him. Thank you Marinelli Family for becoming part of our Family!

August 2019 Camper of the Month

Alia

Alia Arnold has been a camper since 7/2018 and has been growing up with us at Camp Bow Wow Diablo Valley. She has matured into a still rambunctious but sweet girl. This pocket pitty is ready to play the moment she gets into the yard! She will ruff and tumble with the biggest dog in the yard and handle herself with grace. When she is done playing it is time to sun-bath. You can find her on the grass-turf relaxing in the sun, gaining vitamin D. Her big eyes will stare at you until you notice her and give her the attention she craves but we of course do not mind giving it. We love Alia and are so happy to have her and her family as customers!!

July 2019 Camper of the Month

Lola

Lola Olson is very much loved by our Counselors! She is a beautiful Double Merle Cocker Spaniel which means she is also deaf and hard of seeing but doesn't stop her! This girl is super sweet to us Hoomans and the other pups! When Lola comes into the play yard you know its time to party! She loves to bounce around and put her paws up in the air like a bear to get our attention which we are completely happy to give. Lola must get her kindness from her Mother (owner) because Mrs. Olson is also the best! We couldn't ask for a better combo!

June 2019 Camper of the Month

Jager

Jager Reynolds loves all the counselors! Specially when they give him love and attention. You must have a hand on him or it's the end of the world!! oh no! We call him a big teddy bear because all he wants is to do is cuddles all day and we wish we could give it to him! He can make friends easily with the other dogs because of how sweet and playful he is and because of this it makes him a perfect camper to have! Though it is hard to keep him still when hes in play mode!! I.E. the picture! haha!

May 2019 Camper of the Month

Boogie

Boogie is a wild child with a lot of heart! He loves to play with his brother Yogi and with the rest of the campers in the yard! Anyone will do even if they are double his size!! This sweet French Bull Dog is very much loved by the Counselors and he knows it! He is a master of the puppy dog eyes and if you say to him "Boogie Woogie" he will wiggle his whole body and give you all the love and hugs!! We can't wait to see Boogie grow up into a rambunctious young man.

April 2019 Camper of the Month

Harper & Maddie

Harper & Maddie are very loved by the Counselor's at CBW Diablo Valley. These Golden Sisters love each other even more than we love them! You can't separate the two for longer than 2 seconds without hearing a cry. You can find them cuddling when relaxing in the yard together or playing with their Camp friends!! Harper is really smart and picks up new commands and tricks really quickly! Maddie is super snuggly and will sit on our feet in the yard to make sure she is close enough to us! Both girls love attention and we are happy to give it to them but you must pat both heads at the same time! They brighten up our days and we are lucky to have them as Campers!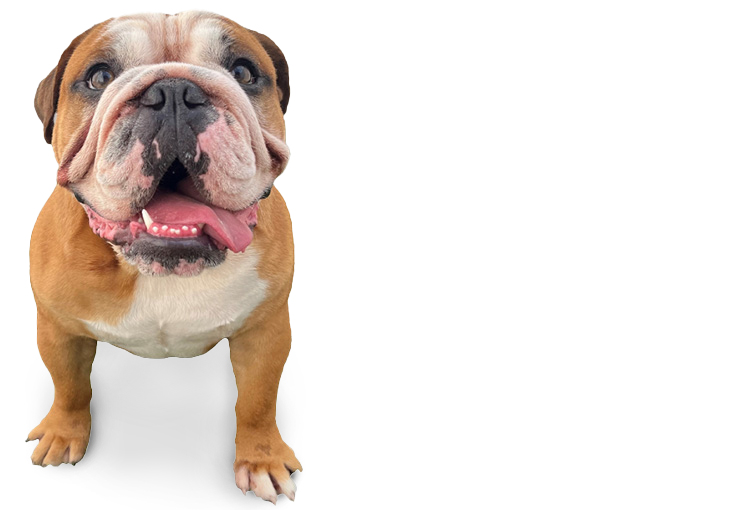 Ready to


Romp. Wag. Play?