At Columbia MD

We Love Our Campers
Featured Campers
We LOVE our Campers! Check out our featured Campers at Camp Bow Wow Columbia MD. These pups love to play all day in our fun, safe and social environment, and receive lots of love and attention from our Certified Camp Counselors® whether they're in for day care or boarding.
May 2023 Camper of the Month

Bailey

November 2020 Camper of the Month

Cider

Age: 1 Year
Breed: Lab Mix

Cider is a 1 year old super sweet and energetic pup who LOVES to romp and play! We have had the pleasure of watching Cider grow from a shy puppy in our small dog play yard to a big girl who is confident and outgoing! You can see Cider running around the big dog yard playing chase with her BFF's Winter, Shiloh, and Jaxon, or you can find her laying outside in the sun getting a belly rub from her favorite counselor Nicole! Congrats Cider, you are one PAWsome pup!

October 2020 Camper of the Month

Kooper

Age: 1.5 Years
Breed: Lab Mix

Kooper is an easy going goofball. He instantly wins over all of the counselors with his sweet personality and fuzzy bearded face. You can find him in the play yards wrestling and chasing his best-furry-friends Cider and Bacon. Kooper is such a joy to have at camp and spreads love and fun wherever he goes. Congrats Kooper you're a PAWsome camper of the month!

September 2020 Camper of the Month

Winter

Age: 1.5 Years
Breed: German Shepherd / Husky Mix

Winter is a big, handsome, white German shepherd/ husky mix. Although Winter looks big and tough, he's actually gentle as a lamb. He can be found romping in the play yard with his BFF Jasper, a black German Shepherd, who is the yin to his yang. When he is not romping he can be found sunbathing or getting belly rubs from his favorite Camp Counselor Jessica. Congratulations Winter for being selected as September's Camper of the Month!

July 2020 Camper of the Month

Jaxon & Shiloh

Age: 1.5 Years & 1 Year
Breed: Goldendoodles

The most doodle doodles you will ever meet are Jaxon and Shiloh! These happy, bouncy "brothers" just have to make you smile. Jaxon and Shiloh have been at Camp Bow Wow since they were puppies and we've enjoyed every day they've been here. Big brother Jaxon keeps a watchful eye on his little brother Shiloh but they both know how to romp and play the day away! Although they like to hang out together, Kapri is their BFF (best furry friend). to Jaxon & Shiloh for being selected July's Campers of the Month!

June 2020 Camper of the Month

Maggie

Age: 3 Years
Breed: German Shepherd

Maggie is a rambunctious girl who just has to be where the action is! She a big talker and goes around the play yard checking in with everybody. When she takes a break she likes to hang out with the counselors, especially Kenny. Her BFF's (best furry friends) are Ozzy and Winter. Congratulations Maggie on being Camper of the Month!

May 2020 Camper of the Month

Lily

Age: 6 Years
Breed: Lab Mix

Lily is a lovable pup who loves to romp and play with her best friend Big Bailey (a bernie) just as much as she enjoys sunbathing on the bridge and getting snuggles from the Camp Counselors. Her favorite Camp Counselor is Jordan! Contrast Lily, you're a PAW'some camper of the month!

April 2020 Camper of the Month

Remi

Age: 2 Years
Breed: Chihuahua Mix

To see Remi romping in the play yard with Mina you'd never know this playful pup was a timid little guy who was afraid of his own shadow when he first came to camp. Now Remi is one of the "yard bosses". He's outgoing and energetic and likes to know what's going on. He also enjoys taking a break from monitoring the yard by stretching out in the sun and catching some rays.

March 2020 Camper of the Month

Max

Age: 10 Years
Breed: Daschund Mix

Congratulations to Max for being selected as March's Camper of the Month! You can generally find him playing with his best pals Chaos and Remi, or snoozing on one of the bridges! Max's favorite counselor is Amanda. We love having you with us at camp Max and look forward to many more play dates with you!

February 2020 Camper of the Month

Thor

Age: 1.5 Years
Breed: Husky

Thor enjoys spending his days at camp romping,playing and lounging with his best fur-friends Keeonah, Scout and Daisy! He also enjoys hamming it up for the camera, as if you hadn't noticed. Congratulations Thor! You are one pawtastic pup!

January 2020 Camper of the Month

Orie

Age: 1 Years
Breed: Maltipoo Chihuahua Mix

Orie is as lovable as she is sassy! She is a big dog packed in a little body with a whole lot of personality! You can find her playing with her best pals Oliver and Chaos, snoozing on one of the bridges, or getting a belly rub by one of the counselors! She has long been a favorite of all the counselors because she is so much fun!

December 2019 Camper of the Month

Parker

Age: 2 Years
Breed: Beagle

Parker is a lovable 2 year old Beagle with lots of energy! He loves spending his time romping and playing chase with all his friends in the big dog yards. Parker especially loves giving kisses and snuggles to all the camp counselors, especially his favorite counselor Jamie!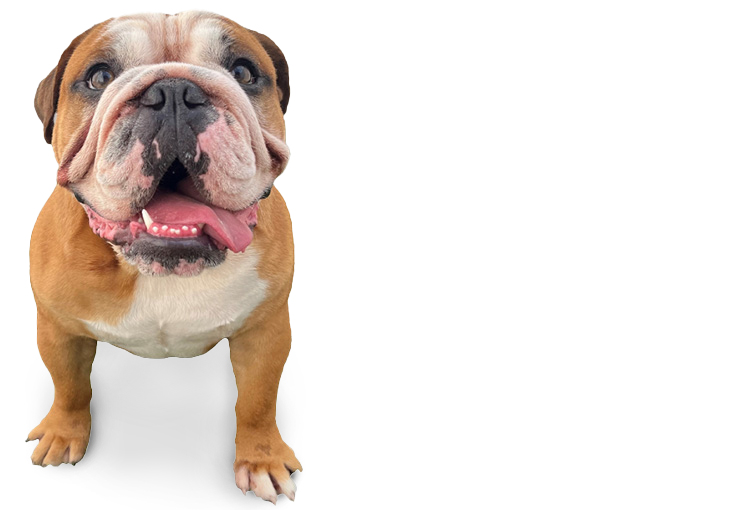 Ready to


Romp. Wag. Play?