Do you love to dress up your pooch? Looking for sun protection? Are doggie diapers just not attractive enough? We found some online pet stores that have cute and unique items for you and your pets. Of course, if you prefer in-store shopping, you can always head over to PetSmart, Petco, and Chuck & Don's Pet Stores. They have a nice selection too. Just remember to measure your dog for a proper fit. Each online store has measuring instructions to keep it easy. All the stores below accept PayPal and have deals for free shipping.
If you like modern styles, head over to www.shopdogthreads.com – from Minnesota! With each purchase, they will donate a portion of your order to help non-profit animal rescues. From now until June 19th they will give 20% of your order to the Minnesota Animal Humane Society - use code AHS at checkout. These shirts are quite unique, and you can also get matching outfits for you and your pup!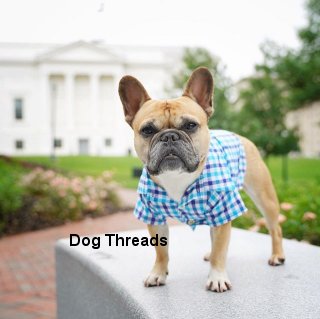 If you're looking for bandanas and other accessories, this online shop will not disappoint: Paws Up for Bows from Florida! Specializing in bandanas, bowties, and hairbows, the products are all handmade with durable fabrics and will ship to you with a surprise inside. Some bandana prints are double sided for a paw-fect look. You can customize any bandana with your dog's name or a sentiment! Paws Up for Bows also supports animal shelters by donating a portion of your purchase.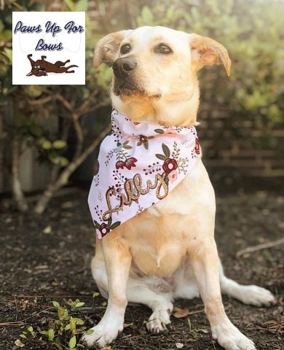 Next up is Posh Puppy Boutique! We chose to include this online shop because of the huge selection of designer clothes, toys, jewelry, and accessories. Need wedding dog clothes? Got 'em. Gift wrap? Got it. Training tools? Yup. Birthday Treat Boxes?!? You betcha. When you sign up for their newsletter, you'll get a code for 20% off your order and flat rate shipping is only $8.95 on each order. Free shipping is available for orders over $100.
Baxterboo.com is one of our favorites because of their wide variety of clothing and free shipping. This place isn't just a store – it's a Doggy Partyland! They have a birthday club, a Toy of the Month club, and a page called Baxter Buddies where you connect with other pet parents. Located in Colorado, this store has it all. Check out their dresses, harnesses, collars, hoodies, t-shirts, coats, jackets, pajamas, sweaters, polos, and personalized items. Closeout sale items for 70% off! Baxterboo will give you a 20% off code when you sign up for their newsletter…and THEN…you can post photos of your pup in their clothes to enter a photo contest!
If you really want to pamper your pooch, look at the Dog Pet Boutique. Located in California, this online store provides a plethora of clothing, airline approved carriers, pet strollers, backpacks, dog slings, and personalized dog gifts. Besides typical clothing, you'll also find swimwear, underwear, life vests, costumes, birthday attire, and more. Need to keep your dog cool? They have iCool products! They also have unique furniture, ramps, stairs, toys, car seats, and rugs – all for your furry friend. Free shipping on orders over $49 and gift cards are available! Grab their discount code from the Pink Discount link on the side of their website and sign up for their newsletter before you purchase!
Other notable online stores to consider: Chewy.com, Etsy.com, and Amazon.com.
If you know of any noteworthy pet stores with style, let us know on Facebook or Twitter.